Building Peace in Sri Lanka
Michelle Waduacharige '17 is a political science major from Sri Lanka. In her first two years at Gordon she has been involved with the International Student Organization, Office of Community Engagement, and International Justice Mission. She received the 2015 Gordon College Humanitarian Award. This summer, she led a team of Gordon students on a month-long mission trip to her home country, an experience she relates below.
Having been born and raised in Sri Lanka, it was an honor and privilege for me to lead an eight-person team from Gordon on a short-term mission trip to my country. We spent most of our time at the Ape Kedella (Our Nest) orphanage, which is two hours  from the capital city of Colombo, my home. It only took a matter of hours for the kids at the orphanage to become comfortable with the team, and our time with them was truly rewarding.
Each of our team members was specifically skilled in a certain area—from art to elementary education to music—which proved to be extremely helpful when planning activities for the kids. Julia Glatfelter '17, an art and early childhood education double major, carefully planned our daily English lessons for the kids. Our hosts at Ape Kedella asked the team not to learn much of the native language, Sinhalese, which encouraged the kids to learn more English in order to communicate with the team.
Every other day, recent art graduate David Popa '15 and current art and Christian ministries double major Sara Golden '17 held art lessons, including both art therapy sessions and more structured lessons for the older girls and boys with advanced skills. We also played music with the kids and taught them how to make musical instruments out of what they could find in their surroundings.
During our time there, Ape Kedella was facing challenges on the donor front. We were privileged to help create profiles of each of the 35 kids at the orphanage, and created video interviews to share and circulate with the hope of securing new donors. (Want to learn about how you can help? Contact Ape Kedella.) Our team put a lot of thought and effort into this project, and it allowed us to get to know the children better.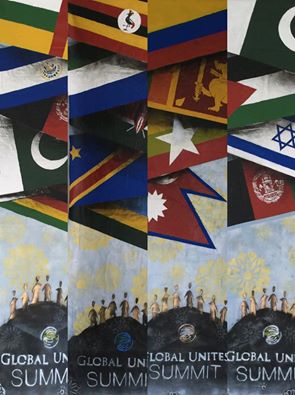 We were also able to attend and be part of the Global Unites Summit 2015. Global Unites is a youth reconciliation movement founded by Prashan De Visser '08, a fellow native of Sri Lanka. Bringing together representatives from more than 18 countries in conflict zones (like Kenya, Israel and Pakistan), the conference focused on countering the radicalization of youth by building stronger and more powerful networks of peace that can stand against extremist rhetoric and actions. Our team helped by creating artwork for the conference, including banners (pictured left) that represented the countries' flags according to natures of conflict. These banners hung as signposts for breakout sessions. We also created artwork on canvas where participants and staff could express their thoughts about their time at the conference.
This was a remarkably enriching experience. We were able to meet peace builders from across the globe and engage in incredible conversations. It also gave us the opportunity to see a different side of Sri Lanka—a side that hosted guests from across the world and led the conversation on conflict transformation. For a nation that is coming out of a civil war, this was a great step in the right direction.
After the conference, when we returned to the orphanage for our final week, art major Chapman Bettis '16 led our team in designing and building an interactive playground. We were fortunate to see this project completed during our stay. It was such a joy to see the kids play on it and take ownership of it.
Goodbyes are always difficult, but there was joy in having gotten to know so many wonderful children and the comfort of knowing that they are in great hands. We are so grateful for the opportunity to have spent a month at Ape Kedella orphanage.
We ended our trip by spending a couple of days in Sigiriya and Anuradhapura, ancient kingdoms of Sri Lanka with preserved ruins that are more than 2,500 years old. This side of Sri Lanka showed the ingenuity and industrious nature of our ancestors and the rich heritage and culture our nation is steeped in. It was a joy to have had this experience with a team of dynamic individuals who fully embraced the culture and people of Sri Lanka and strove everyday to give their best.