Clinical trials, Washington & an immunological viewpoint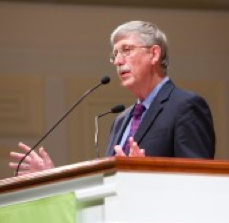 News stemming from the field of science and medicine has a strong influence on what's talked about around the watercoolers in the Ken Olsen Science Center (KOSC). Last week, the Associated Press reported on the recently concluded phase 1 trials for a global Ebola vaccine, and the pioneering research of Dr. Francis Collins of the National Institutes of Health (NIH). With echoes of gratitude coming out of Washington, D.C. from the President of the United States, we asked Dr. Craig Story (biology) to comment. After all, Dr. Collins has a personal connection in the Gordon community. During his last visit to campus for a lecture on "Genomics and the Human Condition," the former Director of the National Human Genome Research Institute left the podium after speaking to  over 1,500 attendees from the regions' higher education community, science fields and medical professions, and ventured to the classrooms of KOSC. Collins' time with Gordon students in the familiar surroundings of Gordon's classrooms and research labs offered an opportunity for our students to engage in conversation about science and vocation with one of the most influential scientists in leadership today. Here's what Dr. Story, who directs Gordon's pre-health professions program, had to say about the vaccine news from Washington and about Dr. Collins for this week's Faculty Reflections on the News.
News Headline: Obama—Ebola still priority as public focus shifts
Media Source: AP, by Jim Kuhnhenn and Stacy Anderson
Faculty Reflection on the News: Dr. Craig Story, biology, Gordon College
"I am encouraged that some of the resources of the developed nations like the United States are being devoted to working on an Ebola vaccine, which is striking at the heart of some of the most impoverished parts of the world. This unprecedented outbreak has demonstrated the critical need for knowledge of how to create an Ebola vaccine. Which of the Ebola proteins will provide protection? Only methodical research will reveal the answers. Vaccine development is a mix of science as well as a degree of luck or divine providence—one can never be sure whether a particular antigen will result in a strong response, nor is it certain whether such antibodies produced, for example, will be protective against disease. It is wonderful news this week that we are making strides, with safety trials being done, in which some of the volunteers showed signs of a response (presumably production of antibodies). With an effective vaccine, and widespread implementation in areas surrounding an outbreak, much tragedy can be averted in future outbreaks. Medical professionals will also benefit from such a vaccine. Finally, we need basic research on such viruses to continue. Funding vaccine research is as important today as ever. It is exciting to hear President Obama and NIH Director Francis Collins talking about this." — Dr. Craig Story
Dr. Craig Story, Professor of Biology
B.S. Gordon College
Ph.D. Molecular Biology, Brandeis University
Post-Doc at MIT and Harvard Medical School
Craig Story is a professor of biology and the director of Pre-Health Professions—a concentration more expansive than traditional pre-med tracks for integration into a variety of health profession careers. Dr. Story's research interests include studying immune function using a molecular and biochemical approach (MIT, Harvard, The Whitehead Institute) and immunological studies  (Koch Institute for Integrative Cancer Research at MIT). Visits to campus by leaders in the field of science—such as the fall 2013 visit of Gina McCarthy, administrator of the U.S. Environmental Protection Agency—are among the many opportunities a Gordon education provides.
Photo: Dr. Francis Collins speaking at Gordon College.