Color the Night 2015
Electricity was in the air on Saturday night as we counted down the minutes to Gordon's bi-annual Color the Night Dance. Music could be heard from the Hill to the Road Halls as the students began their excited trek to the Old Tennis Courts behind Barrington Center for the Arts. Lined up outside the gates, the student body, a majority dressed in all white, filed in slowly and were handed sunglasses along with cups of powdered colors.
Students pushed and clumped together on the tennis-court-turned-dance-floor as everyone held cups full of yellow, blue, purple, pink, and green colors in their hands shaking with adrenaline. Some people, unable to contain themselves, threw small amounts of powder at their friends.
The countdown started abruptly. All of a sudden everyone was chanting, "8, 7, 6." The energy was high. "5, 4, 3" and we got our cups ready. "3, 2, 1."
A cloud of multi-colored powder exploded into the air. No one could see or breathe. It was glorious. The dancing started raucously and didn't stop until the sounds of the last song died out. Michael Lacson '17 started a conga line and people were on their friends' shoulders all in what can be described as a celebration of color and life.
Within what seemed like chaos, a beautiful sense of unity was formed. Mary Buckley '17, a member of Campus Events Council, was working the event. She said, "In a way it represents the colors of Gordon." A vibrant junior, Suubi Phyllis, was tearing up the dance floor. I caught her in between songs, "I love the vibe, the colors, the music, everybody dancing together and having fun," she elaborated. "We are all one big community and we are all bonding together and that is awesome." After this she ran back into the swell of color and sweat.
Students from first-years to seniors, even commuters, came together to forget the common collegiate stress of the day and dance crazy and carefree into the night. Everyone came with their friends but, by the end of the night, were dancing with people they had never talked to. Even after the music ended and the colors were blown away with leaf blowers, people took to Instagram and Facebook to post pictures from the night, indicating that this would not be a night soon forgotten.
It lives on in our memory as a symbol of unity, joy, and vibrant color.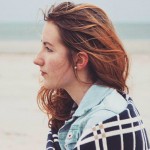 Sierra Elizabeth Flach '17 is a junior at Gordon College double majoring in communication arts and English with a concentration in creative writing. Currently assistant director of the Student Venues Council and #27 on the Gordon Commissioners Frisbee team, she plans to study abroad in New Zealand next fall. Until then, you can find her studying in Jenks with a scone and a chai latte.