Economics and Business Students Take on New York City
Fifteen members of Gordon's Economic and Business Organization (EBO) recently travelled to New York City to network for two days with Gordon alumni in the fields of business, finance and economics—and do a little exploring. Emily David '16 (who double majors in business administration and recreation, sport and wellness) writes about the experience.
The trusty blue La Vida bus, driven by Chan Yoon '17, carried us through the 500-plus miles of our whirlwind New York City tour. The EBO's bi-annual networking trip gives students an opportunity to connect with Gordon alumni who have established themselves in business, finance and economic careers in the Big Apple. Our four days were full of valuable opportunities for everyone in our group—from first-year students to seniors. Younger students gained memorable first-time professional interactions, while older students were able to network with alumni for potential career recommendations or connections. During the course of the trip we met with six alumni either at their workplace or over lunch.
"The EBO trip to New York City was such a unique opportunity that gave me so much insight into how to make connections and the importance of doing so outside of the Gordon community." –Kara Dry '18
Our first stop: Bloomberg Business. We were given a tour by recent Gordon graduate Ashlin Mathews '08 (economics), and were greeted by one of the top managers of the organization. In our meeting with Ashlin, who is a financial applications developer, were able to ask practical and personal questions about his career patterns and transition.
"The NYC networking trip provided me insight into opportunities in the finance world that I would never have gotten in the classroom." –Andrew Huang '19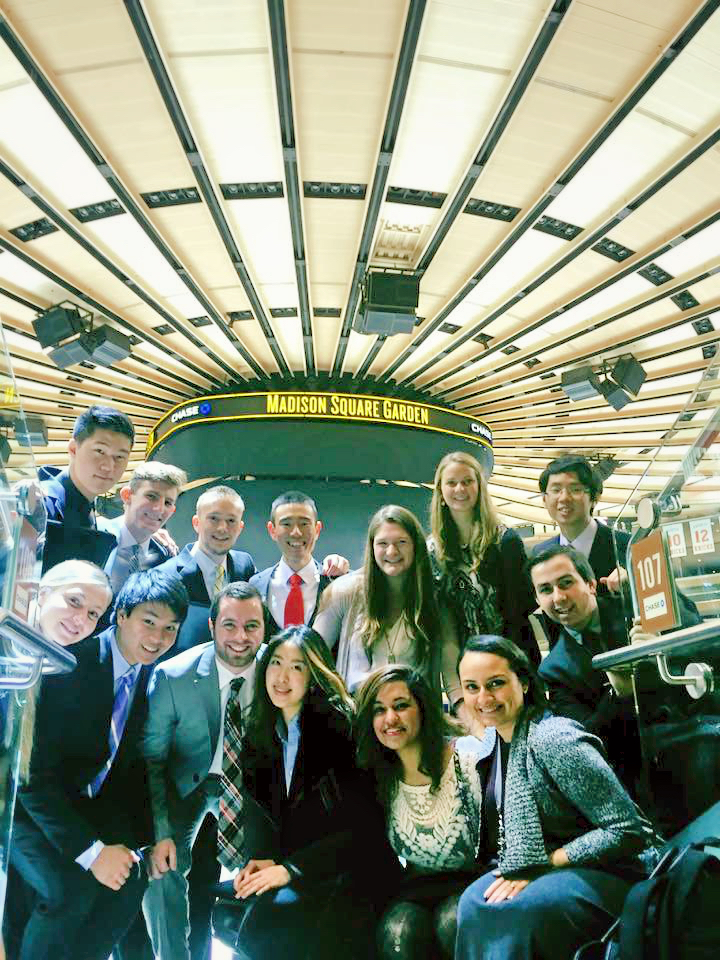 Next we rushed through the subway to Madison Square Garden, where Kris Elvgren '00 (accounting) gave us a VIP tour of the facility. We asked questions about his job as vice president, partnership strategy, and he provided advice from his perspective as a Christian in the cutthroat world of sports marketing. Before we left, we grabbed a group shot at Madison Square Garden.
"The New York trip was an awesome and exciting networking experience which was very informative as I look to enter the corporate world!" –Joseph Reedy '16
We wrapped up the day with a late lunch with 2014 graduates Sigmund Morriar (finance), whose first position after Gordon was in sales with a risk management firm, and Jessica Rabe (economics), who works for a financial services firm. This lunch gave us the opportunity to be professional, but also to ask questions in a more intimate setting. Both Sigmund and Jessica were very helpful and provided practical suggestions for us as we seek careers in business, finance and economics. Many in our group identified this as one of the most helpful appointments of the trip.
It wasn't all meetings all the time—we had a little fun, too. Later in the afternoon we explored the city together in small groups.
"It's been an overall blessing to have participated in this trip as I feel I have learned so much! From Bloomberg to having a heart-to-heart conversation with two great Gordon alumni, this trip had so much to offer me. God bless the alumni and God bless this EBO trip as I've learned so much!" –Aaron Park '19
We started the following day with an appointment with Greg Thonsen '10 (business administration) at Golub Capital. He gave us personal advice regarding transitioning between jobs, the importance of professionalism, and the importance of your co-worker community.
"The biggest thing I learned on this trip can be summed up in three words: Networking is critical." –Andrew Huang '19
We closed out the New York City trip with a visit to Chris Formichella '01 (political science), vice president of Waterfall Asset Management. Chris is as warm and friendly as he is accomplished. He graciously filled us in on the winding path to his current career.
We rushed back through the city to board our blue La Vida bus and head back to Gordon, finishing off a successful and informative adventure in New York City.