Five Insights from Dante Rutstrom '80, Former Fortune 500 Executive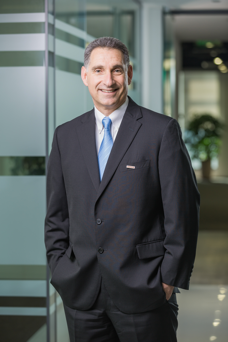 Attending college was as far as future plans went for Dante Rutstrom '80. Growing up with three sisters and a single mother in the affordable housing projects of nearby Beverly, MA, it was expected that he would go to college—though it would take working 20 hours per week at a bank to afford it. Vice presidency at a Fortune 500 company was hardly on his radar.
But after diligent work, Rutstrom recently retired from a 12-year career in several vice president roles at the multi-billion-dollar Eastman Chemical Company. On Friday, Gordon's 2014 Alumni of the Year returned to campus for a Conversation with the President, offering insights to current students, and prospective students visiting campus. Here are some of the top takeaways from Rutstrom's interview with President D. Michael Lindsay:
Embrace the liberal arts opportunity. From hiking in Tasmania and learning Japanese to analyzing the effects of microplastics in water, Rutstrom has pursued a diverse range of experiences and gained a versatile skillset—but he wishes he'd started sooner. Instead of focusing on the sciences as a chemistry major, he says "I wish I had taken more classes outside of my major to be better prepared for other pathways later on in life," he says.
Year one on the job matters. Entering into Eastman Chemical Company, Rutstrom says, "I did not aspire to be a vice president, and I didn't have a game plan," Rutstrom says. His promotion came from working hard, setting a good track record and showing up. "There were a lot of people who saw something in me early and helped on my career path. People make decisions about you during that first year."
Put others first. Rutstrom says his Christian faith has been important to him since the very beginning, and the call to servant-leadership in Philippians 2:3–4 provided a specific mission to apply to the workplace. "As a leader, one of the things I always strive for is modeling Christ—how you treat people, and what your objectives and motives are behind what you're trying to achieve for your team and yourself," he says. "You can't compromise the goals of the team or step on people to gain merit."
Take initiative. When Rutstrom applied to work at Eastman, the company wasn't advertising a job. But he pursued an opportunity, nevertheless. "Send in your résumé and let companies know you'd like to work for them," he says. "When you get the interview opportunity, do some homework."
Don't limit your vocation to what you do for a paycheck. In 1996, Rutstrom and his family were relocated to Singapore for four years. "There was something telling me that God wanted me there for something besides work," he says. His family got involved in several ministries over their time in Asia and were impacted deeply by the relationships they built. "If you get the opportunity to be relocated or go abroad, don't be afraid to take on the challenge," he says. "I'd encourage you to stretch yourself."
The next Conversation with the President features Marvin Ellison, CEO of Lowe's, and his wife, Sharyn, on February 17 at 10:25 a.m. in the A. J. Gordon Memorial Chapel.
By Ellian Chalfant '22, communication arts and Spanish