Gordon Hosts New York Times Columnists at NEXT Summit
Gordon hosted Christian secondary school headmasters from around the country for the College's annual NEXT Summit on September 19 and 20. "Launch to College" featured two highlight lectures presented by New York Times columnist Frank Bruni and college guidance editor Edward Fiske, author of the Fiske Guide to Colleges.
Bruni and Fiske addressed conference attendees in addition to Gordon faculty, staff and students, discussing the flaws in many current methods of assessing higher education. College, they said, is more about finding a good fit for the individual than about arbitrary prestige.
Between 2004 and 2009, Bruni was the chief restaurant critic of The New York Times. During that time, he was a guest judge on Top Chef, and had a cameo appearance in the film Julie & Julia. Now, higher education is a major topic of interest his writings as a columnist at the Times.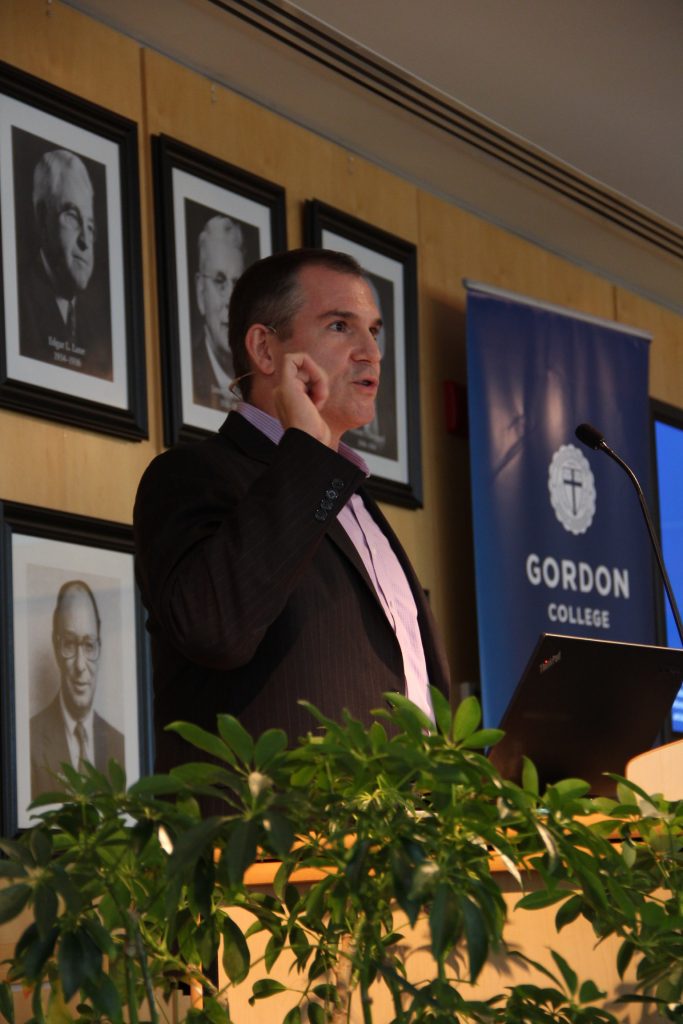 In his lecture, Bruni expressed concern that high school students are pressured to attend elite colleges for the wrong reasons. When he published a satirical article that Stanford's acceptance rate had dropped to zero percent, Stanford received a number of panicked calls from newly accepted students. The University's acceptance rate is not too far from zero, actually, and the heightened competition attracts many high school students (and their families) to apply. "With no one admitted to the class of 2020, Stanford is assured that no other school can match its desirability in the near future," he wrote.
But this is not a healthy mindset, Bruni insisted. The competition of low acceptance rates attracts students who value acceptance into a hyper-selective college instead of what the college actually has to offer. The real value, Bruni said, is taking on challenges, investing in experiences and becoming engaged in opportunities. At the end of the day, he said, success has more to do with the talents and passions of the person on the path, than the path itself.
In 1982 when Fiske was the education editor at the Times, he felt compelled to publish a reliable guide to colleges, which later became the Fiske Guide to Colleges. In Wednesday's Conversation with the President hosted by Michael Lindsay, Fiske claimed that there is no such thing as "the best college." While college rankings like the U.S. News & World Report offer helpful guidelines for students seeking the right college, there is more to the story. What the rankings cannot measure are factors like a school's culture, extracurricular offerings or opportunities for mentorship that contribute to a holistic experience. The point of college, Fiske said, is for a student to discover opportunities that he or she didn't know existed.
Instead of only listing prominent, elite schools in the Fiske Guide to Colleges, he makes a point to analyze a wide variety of colleges, representative of various niches that prospective students may look for: Christian or Jesuit persuasions, environmental or ecological studies, for example. Instead of ranking schools numerically, he gives them stars based on an evaluation similar to that of restaurant criticism.
Of Gordon, Fiske wrote in his guide, "Evangelical Christian values are at the heart of almost all aspects of life at this New England college, where faith and religious values set the tone for campus life inside and outside the classroom. The college, founded as a missionary training school 'to prepare the people of God to do the work of God,' is always evolving, sharpening its offerings across the board, from neuroscience to music education, and looking to increase its diversity."
Photo by Caleb Cole '17