Highland Games and a Hall Hoedown
On Friday evening, with the week of classes behind them, the Gordon student body gathered at the mini quad between Chase and Evans Hall to celebrate a hoedown. The Chase Hall Events Council and the Road Hall Events Council collaborated to plan the combined event as a way to bring students together from the "HUD" (Chase, Lewis and Wilson) and Road Hall (Grace, Gedney, Hilton, Conrad, Macginnis and Rider) residence halls. Complete with bobbing for apples, donut-eating contests, a fall themed photo booth, marshmallow roasting, and (of course) line dancing turned full-on dance party, it was a night of togetherness topped with hot chocolate and chocolate covered pretzels.
The following day, despite the chilly October weather, droves of banner-wielding students descended on the quad to participate in the second annual Highland Games, a student-run residence hall competition. Residents of each hall came out in their respective colors covered in face paint, blaring bullhorns, spraying silly string and proudly chanting their residence hall name. They came in from all directions like a flood—from up on the Hill to the nearby HUD halls, some from the Road Halls even riding in on bikes, with passengers on bike pegs waving their golden flag.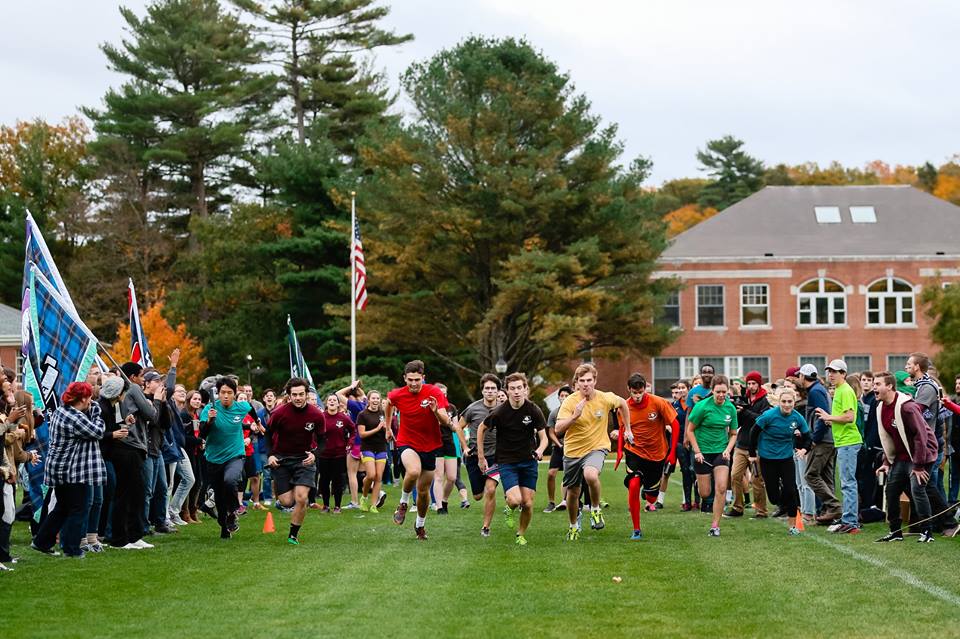 The games began and the kettle corn, candy apples and four kegs of root beer went quickly. Harkening back to founder A. J. Gordon's Scottish roots, each hall competed in games such as throwing the Braemer Stone and Open Stone. The Relay Race and Tug-of-War competition were both swept by Bromley Hall. The Caber Toss was a crowd favorite, as spectators gathered around to watch the strongest of their hall throw a roughly trimmed tree trunk in the hopes of it flipping and landing on the opposite end. The final event of the day, the Weight-Over-Bar, looked like a tie between Wilson and Fulton, but the win went to Wilson, with less misses overall.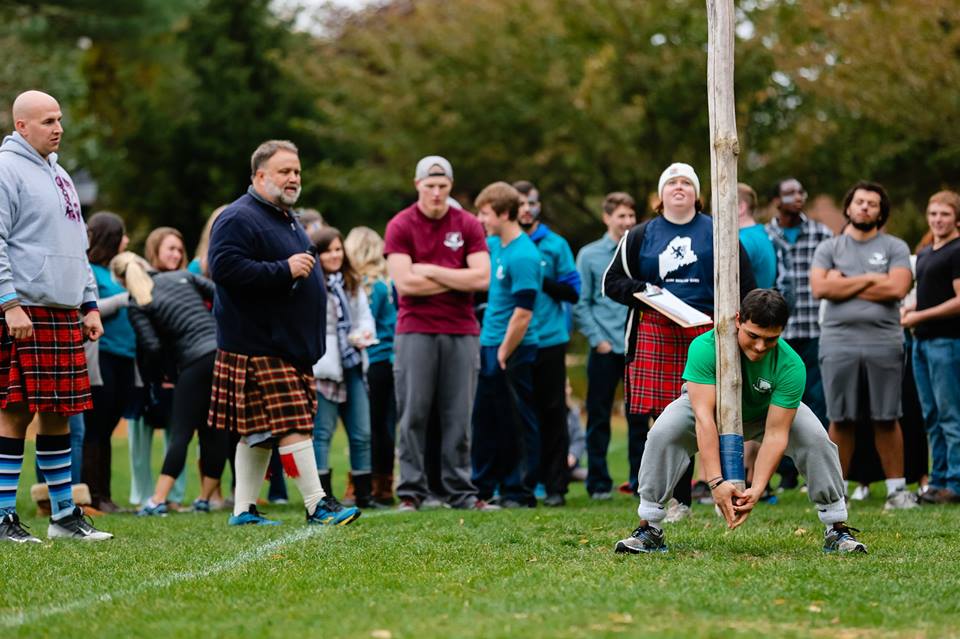 Evans Hall resident advisor (RA) Adila de Souza '18 said, "It's a great experience to be out here with the residents and getting them to feel excited about something that happens every year." She said that although Evans had not won anything they were going for the Most Spirited Award. "We're having a good time anyway. We're still cheering on other people and we've been having a lot of fun. We actually nominated two pep leaders in our building to get the crowd pumped up. Even if we don't win," she concluded, "we have candy and Jesus, and that's all we need."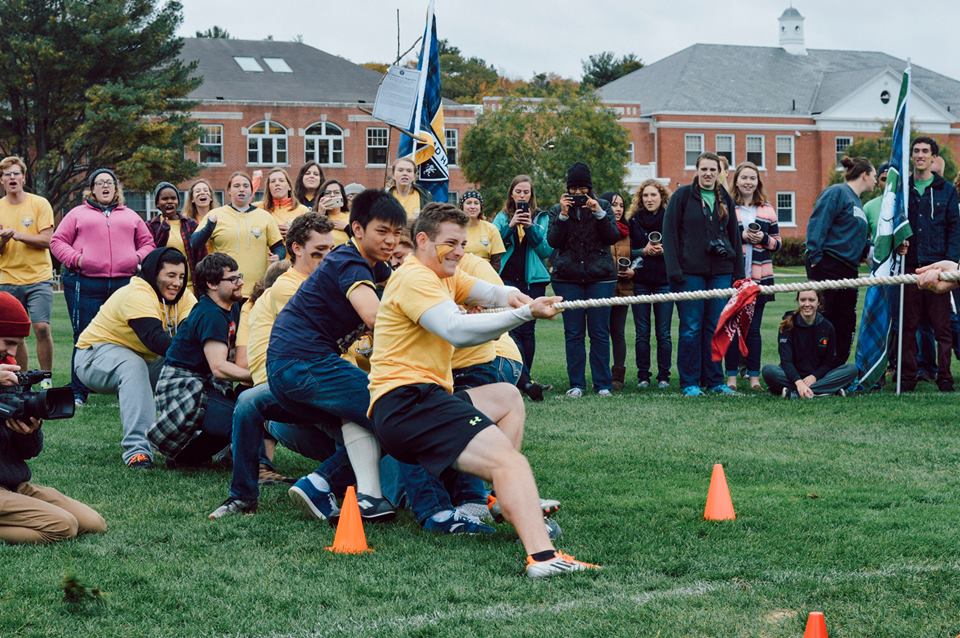 At the awards ceremony after the Games, Evans did win the Most Spirited Award. Others—such as Jonathan Fitzner '17 (Heavy Weight Men's) and Alaina Page '18 (Women's Weight-Over-Bar)—took home trophies for winning individual games. In the end Fulton Hall became this year's reigning champion. Fulton will house the trophy until the next Highland Games.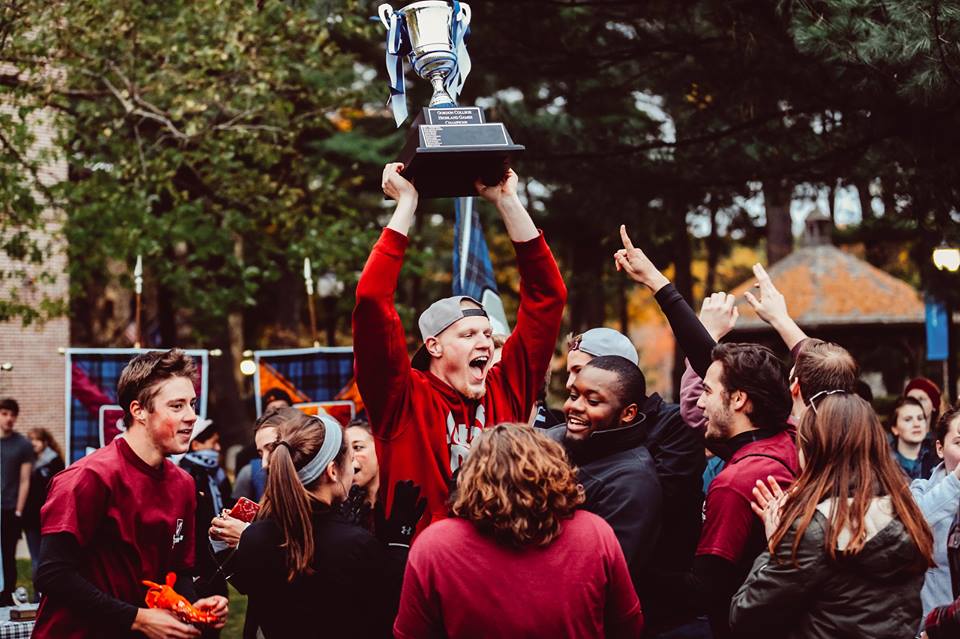 As for the legacy, one of the creators of the Highland Games, alumnus John Buckley '15, said, "I think it's fantastic. It's a bigger turnout than we had [at the first Highland Games] in the spring, which is phenomenal. I think Chris Carlson and the Center for Student Development, the Gordon College Student Association, and the residence life staff have all done a really fantastic job building up the momentum. Hopefully it will be something that will continue; it helps build more culture in the halls and it should be the start of more traditions that add to the community."
The Highland Games is a time for school pride and togetherness. While it appears to pit hall against hall, it really brings the entire school together with friendly competition and a chance to show some spirit. Connor Wilson, one of the RAs of this year's champion hall, Fulton, said, "I think the Games are great for hall spirit, which is connected to school spirit, but also very different. I think it's a great way for people to really take ownership of where they live and connect with the other residents. I think there is something very valuable in how the games help create a sense of community that's unique to each hall."
By Sierra Elizabeth Flach '17, communication arts and English language and literature (creative writing)