Homecoming and Family Weekend: Continuing the Gordon Tradition
Gordon College held its annual Homecoming and Family Weekend celebration on October 2 and 3. Despite the cold, drizzly weather, alumni and parents of current students descended on campus to reunite with old friends, or children they've been away from since August, and enjoy all the events that Gordon had lined up.
The festivities began on Friday night with the Barrington Merger Anniversary Dinner, which celebrated 30 years of shared heritage between both institutions. The Homecoming Awards Celebration followed, honoring the service, work and lives of alumni and friends of the college. Dr. Roger J. Green, professor of theology, received the Lifetime Achievement Award.
For students, Campus Events Council (CEC) hosted a local band showcase in Gillies. The lights were low and the atmosphere was energetic. People waited in eager anticipation sitting on top of the booths and laughing with friends as Caleb McCoy, ACElfe, DJ Triple Threat and others took the small stage.
Saturday morning came with chilly winds and rolling rain clouds, but that didn't stop the 9th Annual Scot Trot and Kids Fun Run from kicking off promptly at 9 a.m. on the Quad. All sorts of people—from current students to alumni and even local runners—participated in the 5K race that wound around the Quad and through the Gordon Woods. Chan Yoon '17, a finance and accounting double major at Gordon, won the race, but everyone who crossed the finish line seemed to have a great time.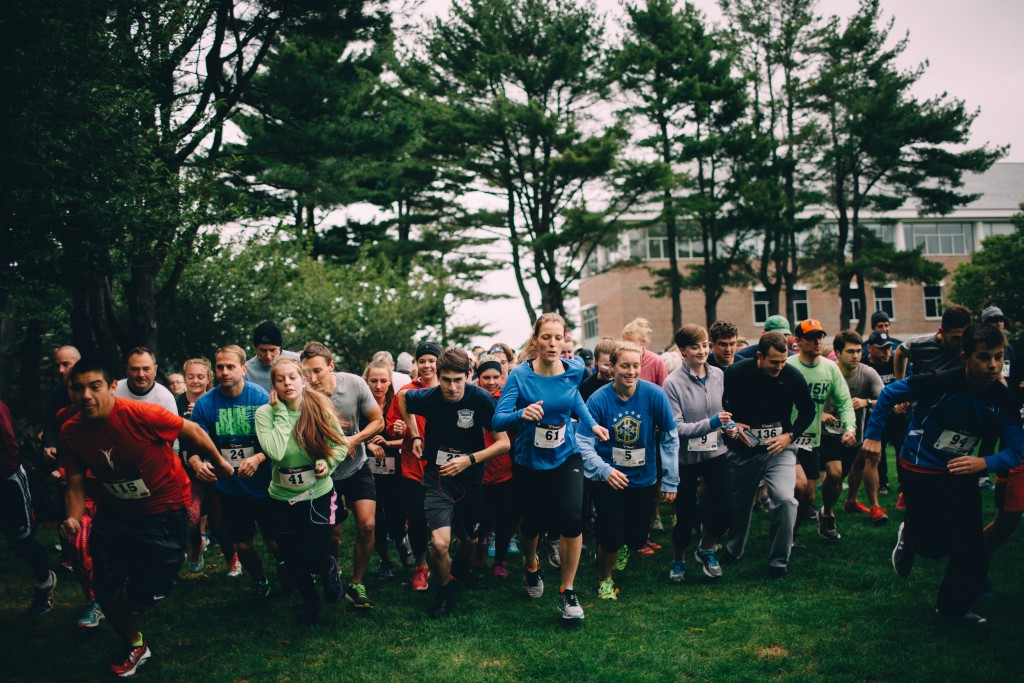 While enjoying refreshments in the Welcome Tent after the race, one alumnus said, "It feels great to be back. Homecoming is nice to kind of reconnect." Another runner said, "Next year I'm going to have my son run with me," continuing the Gordon tradition.
At lunchtime, lines wound around the Quad for the local food trucks stationed there. With their free meal vouchers in hand, students and Homecoming guests stood bundled in coats to get the specials: Taco Truck grub and Ipswich Clambake lobster rolls.
Gordon's athletic teams had a busy weekend with five games, and many recruits in town for the festivities. The Women's Lacrosse team came out to root for the Field Hockey team with spirited cheering and homemade signs. In typical Gordon fashion, there was a palpable sense of community among the sports teams on Homecoming weekend.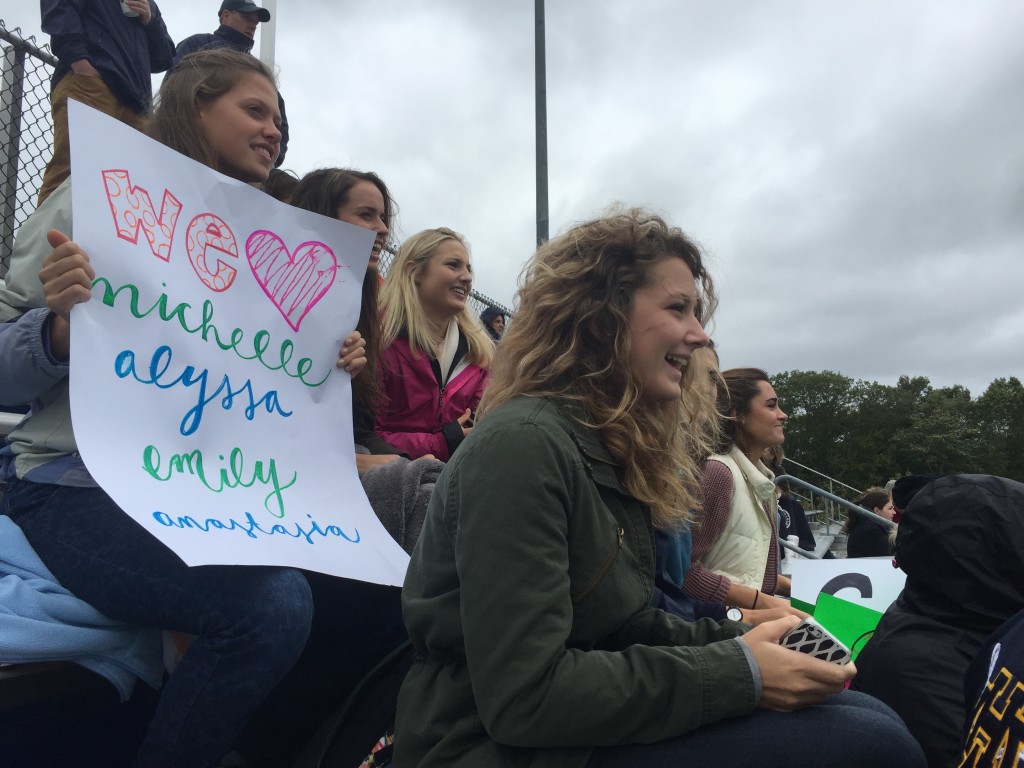 Alumna Stephanie (Fitzgerald) Dantona '14, who was a business administration major at Gordon and member of the Women's Lacrosse team, said "It's been so fun to come and see familiar faces." Over lunch in Lane, she continued, "I'm from the area so it's fun to see a lot of the people in my community. People from my church are here and a lot of young alums, which is fun. I will come every single year because I love it so much. My parents are actually alums, too! I've been coming here since as long as I can remember for Homecoming, so it's really special to me."
Exit 17 Live!, Gordon's student-run comedy show, ended the weekend on a high note. Students, alumni, parents, faculty and prospective students packed out the Chapel as they came together one final time to watch some of Gordon's finest perform the much-hyped comedy show. Bryan Imke '17 and McKenzie Dion '16 hosted, with special guests such as associate vice president of technology and operations Chris Jones' mom and Dr. Graeme Bird, associate professor of linguistics and classics.
Toward the end of the weekend, Lance Crossett, parent of a biblical studies major, said, "Oh we've loved the experience! We came in on Friday night for the first time since we dropped him off in August. All the activities and all the things that there are to do, and just the school making it enjoyable for us to be here, really means a lot. It's just great to connect and be a part of the Gordon community."
As Homecoming wrapped up, there was a sadness in the air that matched the weather. We can hope that next year there will be sunny weather to match the festivities and good memories made when members of the Gordon community—past, present and future—come together as one.
View more photos of Homecoming and Family Weekend >>
By Sierra Elizabeth Flach '17, communication arts and English language and literature (creative writing)