Hunkering Down and Venturing Out on Snow Days
When two back-to-back snow storms roll through, Gordon students take advantage of the campus shut-down. On the docket were cross-country skiing, blanket fort building, sledding, snowball fights on the quad, and, of course, catching up on homework with a cup of hot chocolate in hand. Here's what a few of them had to say about their snow day plans.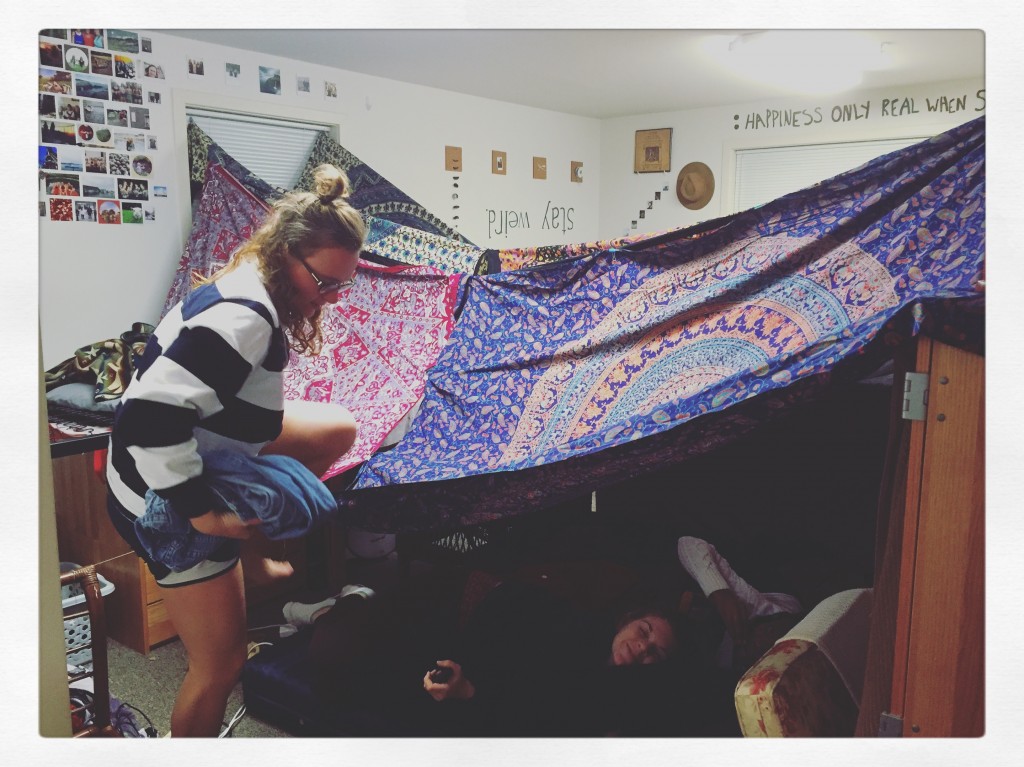 "Homework. I had swimming practice, but the rest of the day free. I'm just going to work on homework, color, make pasta, and probably watch movies and hang out with friends. The Norwegian word 'koselig' means 'a sense of coziness' and this is how they get through their winter without feeling depressed. I feel like snow days give us the opportunity to snuggle up in our blankets and drink hot chocolate. You shouldn't do that every day but it's good in college to recharge." —Leah Snavely '17
"I watched 'The Office' and did some homework, and now I'm shopping for birthday presents for my family. I would have had Scientific Enterprise at 8 a.m., New Testament at 11:25 a.m., Greek at 3:20 p.m., and Intro to Jazz Dance at 7 p.m. It's nice because the stuff I didn't get done over the weekend, now I have a leg up to try and finish—although it stinks that you have to walk through the snow to get food. Tonight, I'm going to learn how to knit." —Paige Keenan '18
"Sleep copious amounts, catch up on homework and eat absurd amounts of food." —Andy Pevzner '17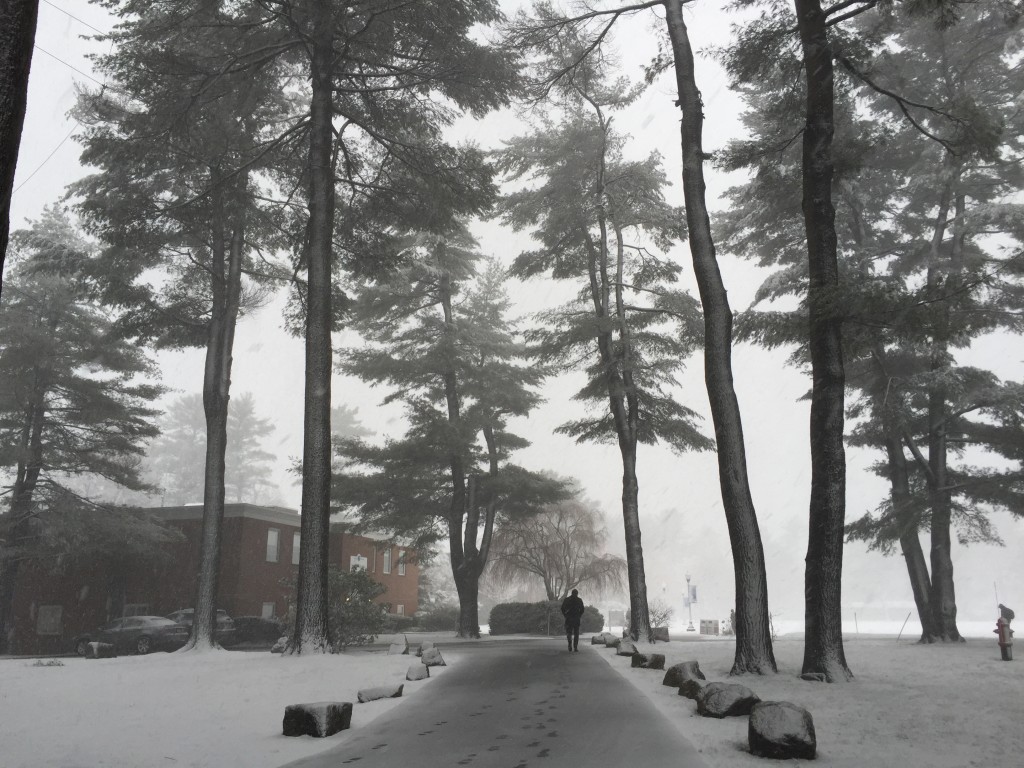 "I don't feel obligated to do anything because I got my homework done. And I like that I don't have do anything and no one else had to do anything. It's very stress free and liberating. I might go on an outdoor adventure with some people; I'm not entirely sure what that entails, maybe taking pictures. I think it's so ideal to have a day with no responsibilities to sit here and literally read and drink tea under my blanket. It's the quintessential college winter dream." —Megan Hammes '19
"After waking up at 7:30 a.m. to see that classes were cancelled, I promptly went back to bed until 11 a.m. I took the afternoon to do my homework at a leisurely pace so that I could watch a movie before dinner. I know, something totally unheard of. Rather than being overrun with homework for the evening, I will gladly spend it watching Olivia dig her nails into the set of 'The Bachelor' as she is slowly and painfully dragged off the show." —Carter Crossett '17
"I went to a Super Bowl party last night and then had to wake up at 5 a.m. for off-campus lacrosse practice this morning. It was nice because we didn't have to rush back for classes, and I went back to sleep after. We did conditioning, drills, and really worked on the defensive play. I think it's good we practiced—I love going to practice even though it's a hard waking up. I feel like we're really ready for this season, getting strong and fit. I think it will really be worth it when we start playing." —Cassidy Allen '18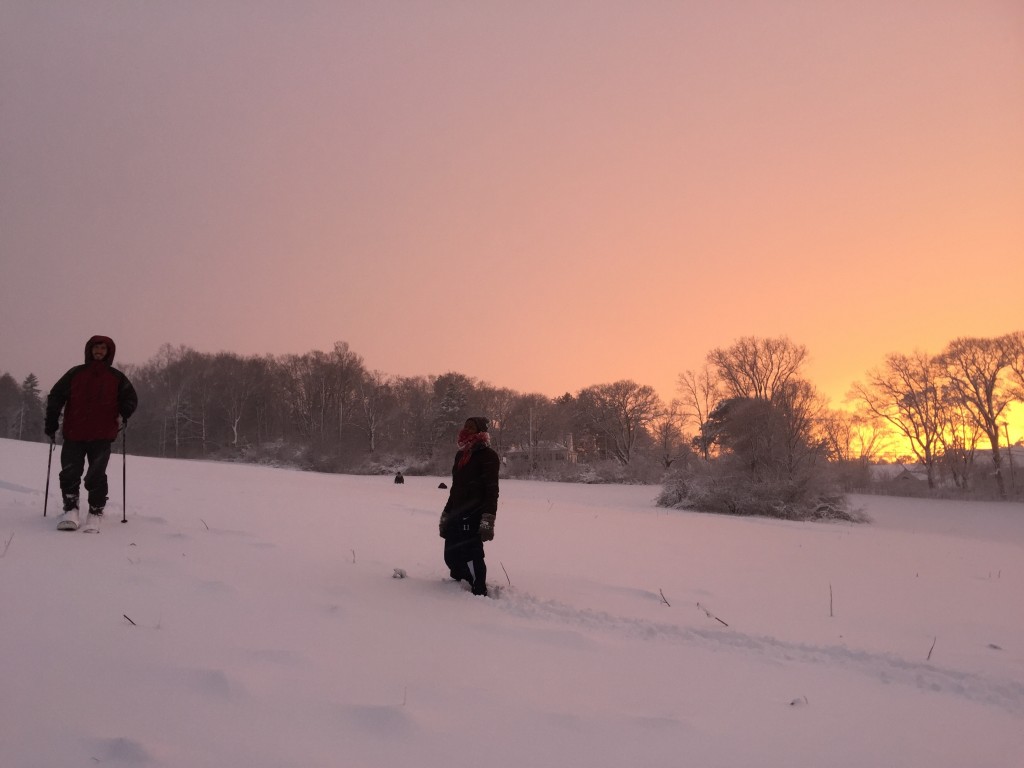 As for me, when classes were canceled on Friday, a great cry of joy rang out through the halls of Jenks. Some friends and I got together and went sledding and skiing in nearby Topsfield before the weather got too bad. The sunset was magnificent. Then my roommates and I converted our whole dorm room into a huge blanket fort. We laid in it and played banjo and ukulele, ate ice cream, and watched movies. Monday has been a little more low-key, most people were up late for the Super Bowl and this was kind of a godsend because I had put off a lot of my homework. I slept in and made lunch with my roommates. It's really important to take advantage of these times because you don't know how many snow days you're going to get. Don't waste them.
See more photos on Instagram via #gordonmoments >>
By Sierra Elizabeth Flach '17, communication arts and English language and literature (creative writing)