Jack Hanke '16 Stars in Netflix Documentary, Asperger's Are Us
A version of this article, written by Langdon Kessner '17, was originally published in Gordon's student newspaper, The Tartan.
Jack Hanke '16 (pictured left above) accomplished something most people normally don't. He got to be in a movie that premiered at one of the most famous culture festivals, South by Southwest (SXSW), and is now headed for Netflix.
The movie—Asperger's Are Us, directed by Alex Lehmann—is a documentary about a sketch comedy troupe by the same name. Much like Gordon's own Sweaty-Toothed Madmen, they do comedy. Unlike Sweaty-Toothed, however, all members have Asperger's Syndrome.
"All of us are diagnosed with Asperger's Syndrome, a high-functioning type of autism," Hanke said, "and our name is obviously a play on that. As far as we know, we're the first comedy troupe ever to be composed entirely of people on the autism spectrum."
Back in 2010, Hanke teamed up with Ethan Finlan, New Michael Ingemi and Noah Britton to form the comedy troupe. Over the years, "Asperger's Are Us" has performed in Austin, New York City, Philadelphia, Vermont, and at MIT and all around Massachusetts—including at Gordon in collaboration with Sweaty-Toothed. "Some of the articles that were written about us got a lot of traction, to the point where we were eventually featured in USA Today," Hanke said.
Then, "In 2013, a guy named Alex Lehmann who works in the Hollywood scene was Googling for an interesting thing to do a documentary on and stumbled across those things, and he found us so hilarious and interesting that, after meeting up with us and talking to us, he decided to do a full-length movie about our troupe." This is the first film for Lehmann, who worked as a camera operator and cinematographer.
"The movie was shot mostly in 2013 (some of it at Gordon), with some bits from 2015, and after the filming ended we weren't very involved in how the movie turned out, aside from giving some editorial input," Hanke noted. Thankfully, all four members are very happy with the film turned out, and had a blast at the SXSW world premiere in Austin.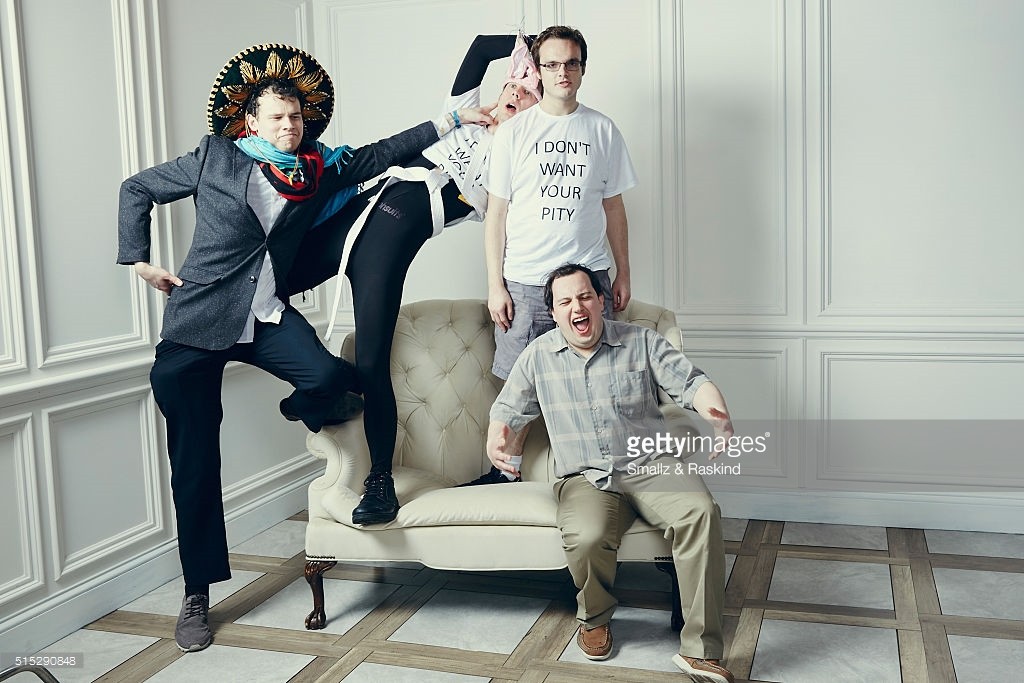 "Watching the movie with a live audience was a lot better than I expected. Like most people, we all hate listening to ourselves speak, and having hundreds of people listening at the same time was intimidating. But I think we were all surprised by how great the final product turned out. I was barely embarrassed of myself by the end of it, which is saying a lot," Hanke said.
But perhaps the most surprising part of it all is that Netflix acquired the license to stream Asperger's Are Us. "We were hoping that Netflix would pick it up, because it's the kind of movie that has a large potential audience but not a very geographically concentrated one. It couldn't possibly have been commercially successful in the pre-Internet age, I suspect," Hanke said.
Starring in a Netflix movie was certainly an unexpected path for Hanke, a double major in political science and English language and literature. His life "went in a completely different direction than I thought it would, but that's fine, because God is way smarter than I am and is much better at figuring out where I should go. You don't have to be afraid in the face of uncertainty, because the very unpredictability of life is what makes possible many of the biggest blessings we'll ever have.
"This is especially poignant for me because people on the autism spectrum tend to have a particularly strong fear of the unknown, and this is a great reminder that the unknown is a source of blessings as well."
Asperger's Are Us will be released later this year.