Journalism Students Get Up Front with Presidential Candidates
It's not every day that students have an opportunity to interview presidential candidates—but students in Gordon's Journalism class recently did just that. They applied their classroom learning to a real-world experience, traveling as reporters to nearby New Hampshire to attend rallies and events for the presidential primaries.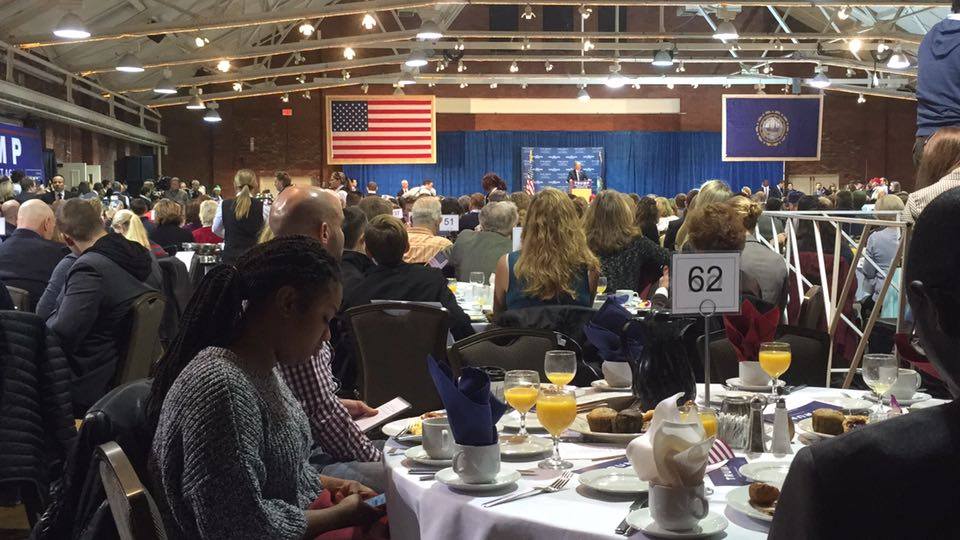 Marianne Yap '18 (pictured at top) briefly interviewed Republican candidate Carly Fiorina. Kelly Turk '16, Paul Crookston '18 and others attended an event for Democratic candidate Hillary Clinton. Anthony Farenwald '18 and Sierra Flach '18 joined the "Politics and Eggs" breakfast for Republican candidate Donald Trump (pictured right).
Journalism lecturer Eric Convey planned these specialized field trips for his students. He said, "It's important because students see the real journalism world up close and hopefully have a lot of fun, too." Experiences like these, he said, "simultaneously meet several goals: creating opportunities for students to do real journalism, arranging situations where students have to think on their feet, and giving students memorable experiences that reinforce classroom lessons."
This experience of assuming the role of a reporter gave students the real-life experience that Convey believes is so critical. He explained, "Students only know what they've learned in a class like this when they have to apply the knowledge. A huge additional benefit is that some students who love studying journalism find out in a hurry that they hate doing it, and some students who are lukewarm about studying it find out they love doing it and then try to learn more." He continued, "Gordon's location is fabulous for students wanting to learn and practice journalism. Very few Christian colleges have the proximity to small newspapers, major media outlets and all the fascinating cultural opportunities one finds in a city like Boston. No other Christian college has a ring-side seat to one of the most important political stories in the world as it plays out over months. It was fun seeing students take advantage of that opportunity."
The Communications Arts department will introduce a new class in the fall called News Workshop. Taught by Convey (whose work for the Boston Business Journal has included stints as a reporter and as the digital editor), the workshop-style course will challenge students to produce compelling digital journalism, and provide opportunities for real-life experience.
By Sierra Elizabeth Flach '17, communication arts and English language and literature (creative writing)