Katie Thompson '12: Engaging a "Politically Homeless" Generation
"If every human is created in God's image, what does that mean for how we engage in politics and justice issues?"
Meet Katie Thompson '12—author, D.C. dweller, game changer.
As the editor of Shared Justice and co-author of Unleashing Opportunity, Thompson is on a mission to shape how the millennial generation approaches politics. Why? "I was one of those students who had a heart for justice issues, but didn't really know what to do about them," she explains. "So, I'm preaching to myself."
This communication arts major originally had her sights set on being a reporter. But after accidentally falling in love with political science her junior year, she shifted her course. Thompson landed a position with the Center for Public Justice (CPJ), managing and growing its new Shared Justice platform right after graduation.
Last year, she teamed up with nationally syndicated columnist Michael Gerson and CPJ CEO Stephanie Summers to write a book. Unleashing Opportunity: Why Escaping Poverty Requires a Shared Vision of Justice is "specifically for young people who may have a disenchanted view of politics or see these issues as so overwhelming, so burdening," Thompson says.
The issues, she explains, are "what we've been calling 'hidden in plain sight,' meaning if you're not paying attention to it, you're not seeing it." And they are having a devastating impact on low-income Americans.
The book walks readers through five of these issues: early childhood development, the foster care to trafficking pipeline, juvenile justice reform, the graduation gap, and predatory payday lending. For each, Gerson highlights the magnitude, Summers offers a public justice framework, and Thompson infuses personal stories of dozens of people who are impacted first-hand by these issues.
Why do these domestic poverty issues matter to the millennial generation?
First, Thompson says, "We wanted to write to that group and say, politics is really important. The role of government is really important. It's not perfect, but it's necessary and there are ways that the church is stepping up, government is stepping up, other institutions are stepping up to work together on these issues."
And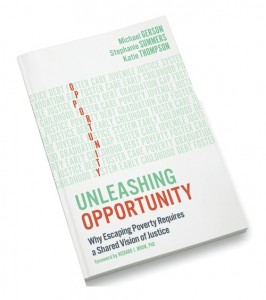 second, "some of today's justice issues have a tendency to be sort of flashy and trendy, but that's not sustainable. We want to find a way to cultivate that passion that young people have and equip them with a framework for working on these issues in an impactful and long lasting way."
Unleashing Opportunity was published in early October. Last month, Gerson, Summers and Thompson visited Gordon as part of their book tour, following stops in Michigan, Iowa and Georgia. They participated in a panel discussion about predatory payday lending—one of the five issues outlined in their book. Gerson also spoke at Convocation (watch the video).
As for being on tour and seeing her name on bookstands these days, Thompson says, "I never thought I'd write a book, so that was a fun surprise. I feel really honored to be part of this."