Kika Ghobrial '16: Growing Friendships and Cultivating Faith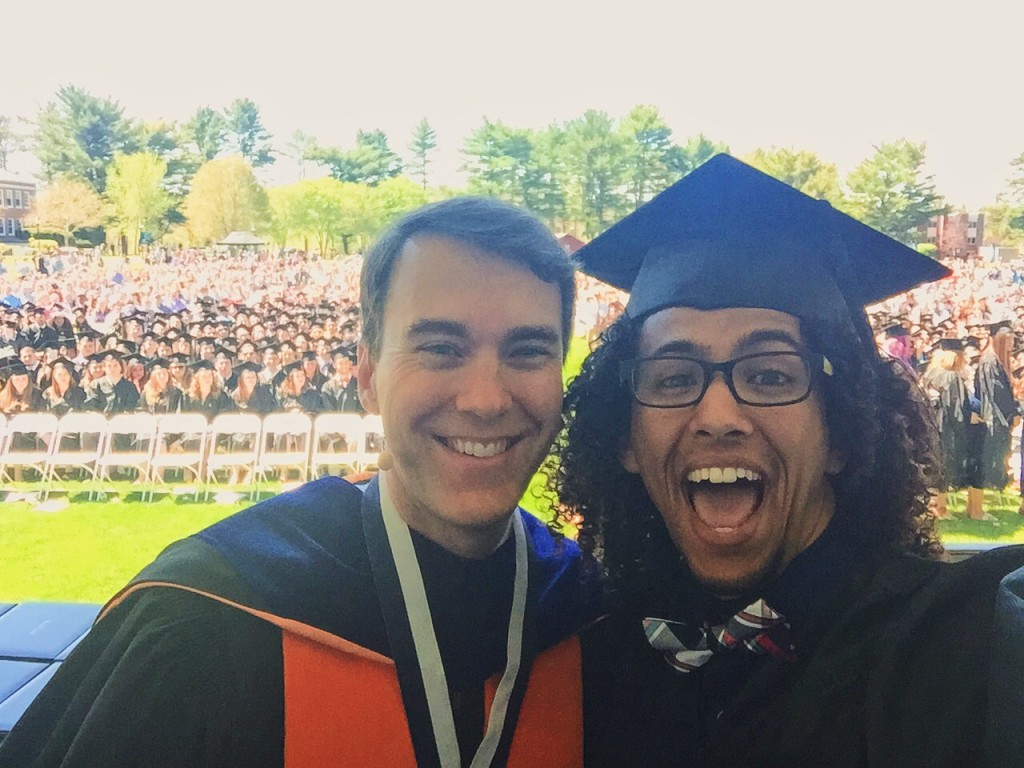 Last month, Kika Ghobrial '16 walked across Gordon's Commencement stage, received his diploma—and snapped one of his famous selfies with President Lindsey and his fellow graduates in the background. This fall, Kika will continue his studies as a Young Life Fellow at Gordon-Conwell Theological Seminary.
Through the fellowship, which fuses ministry and education, Kika will earn a Master of Religion and Young Life staff associate training. As a full-time staff member for Boston North Shore Young Life, he is simultaneously working to establish a chapter in Lynn, Massachusetts.
Balancing Young Life work and schoolwork is not a new challenge for Kika. As a Gordon student, in addition to double majoring in business administration and biblical studies, he got involved with the local Young Life chapter during his first year, and steadily deepened his involvement.
"The best part is the ability to go into the local schools, meet the kids, become their friend, and tell them about Jesus," Kika says of Young Life, an international ministry for adolescents that offers opportunities to build relationships with college students while hearing about the gospel.
Developing those relationships involved substantial "contact work" at Beverly High School. Kika even decided to become a track coach and an Ultimate Frisbee coach (team pictured above) to meet more students. "It's all about the contact work and being willing to put yourself out there even though you might get rejected by them. Rejection happens, and the initial fear of it is valid—but Jesus was rejected dozens of times by those he approached," Kika says. "That didn't stop him."
After getting to know the students, Kika and fellow leaders then invite them to Young Life gatherings. "Young Life is always held at someone's house rather than a church. Most of the kids haven't grown up in a Christian environment and we want them to feel as comfortable with us and with the atmosphere as possible," he says.
Not only does the program teach students about the gospel, it serves as an important resource for helping them navigate life, including college searches, academic support and overall character growth.
When it comes to building a new chapter, Kika says, "It will be important to have these conversations with the kids, to learn and to understand what it means for them in the environment of Lynn," a city with a large international population.
"There was a huge push for diversity and outreach towards a new, different group when considering this program." As Kika lays the groundwork for the new chapter, he is inspired by the impact of other Young Life chapters on high school students, especially those he has personally worked with.
"It's so incredible to see this light turn on in their minds and realize how incredible God's love is."
By Alex Rivera '16, English language and literature