Lahey's Howard Grant Diagnoses Health Care Issues at CEO Colloquium
The exorbitant cost of health care is a burden shared by nearly every employer. "It's the number one, two and three issue facing businesses," exhorted Dr. Howard Grant, president and CEO of Lahey Health, at a gathering of senior executives at the Peabody Marriot Hotel yesterday.
Lahey feels the sting, too—shelling out a hefty $120 million per year on employee health care.
The weighty costs don't appear to be letting up, and Grant predicts that "it's going to make businesses unsustainable." He reports that Massachusetts spends 40 percent more on health care than the national average—and the budget continues to increase at the expense of other critical services, like public safety and education.
During the CEO Colloquium interview with Gordon College president Michael Lindsay, Grant discussed the challenges that Lahey Health and other health care providers in Massachusetts face in financially competing with the well-resourced Partners HealthCare giant.
Grant's vision for reducing health care costs includes keeping care close to patients' homes and exporting services to local communities. A key element in accessible local health care is educational outreach to CEOs and financial managers of businesses to demonstrate cost savings potential. The CEO Colloquium provided a platform to talk candidly with guests and move toward re-education.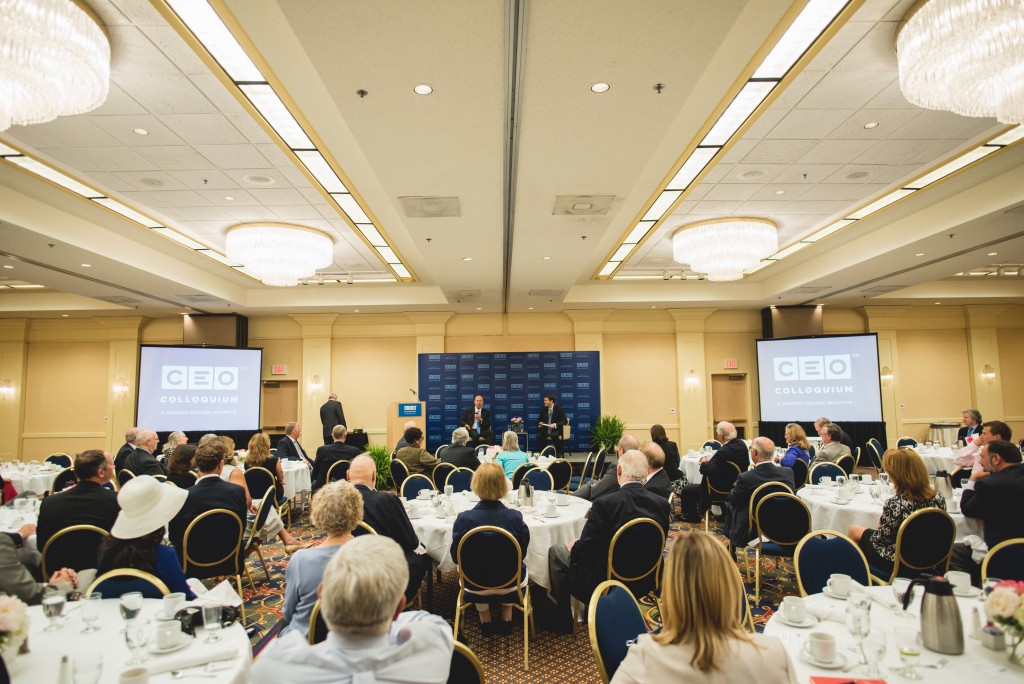 Taking questions from the audience through moderator Lindsay, Grant also touched on crushing pharmaceutical expenses, the North Shore's escalating heroin epidemic, and the critical role of mental health care.
"We've treated mental health like a stepchild" and "divorced it from routine health," Grant said, citing the 7.4-times higher expenses that Medicare patients with behavioral health issues experience.
When asked how he might grade the Obama administration on the Affordable Care Act (ACA), Grant offered a C+/B- mark. Despite a suboptimal roll-out, he said, it "forced us in the medical provider world to think differently."
Grant also noted landmark changes to the ACA, such as allowing young adults to remain on their parents' health plans, which "provided enormous security" for that population, and relieving society of pre-existing condition stipulations. But, he said, it's "unconscionable" that more than 40 million Americans still go to sleep every night without health insurance, and there is still much work to be done.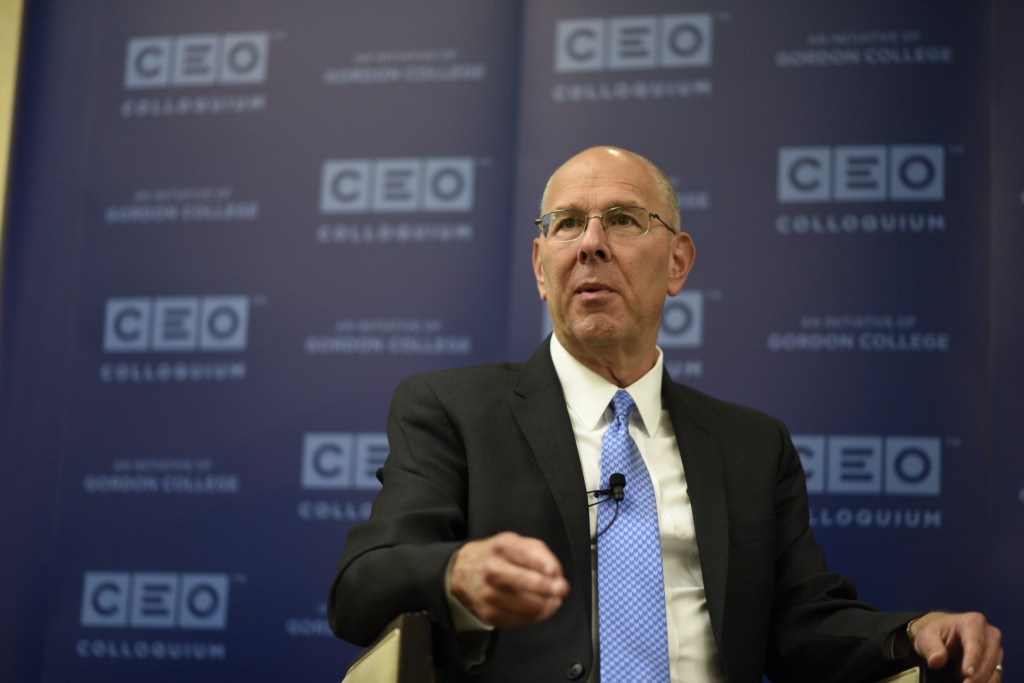 Grant, a pediatrician, attorney and chief executive—whose "resume makes my head spin," joked Caleb Loring III of the 1911 Trust Company during the keynote introduction—has been at the helm of Lahey since 2010. Under his leadership the Lahey Clinic Foundation and Northeast Health System merged to form Lahey Health, an integrated network that offers community-based, quality health care.
"Leadership was always a calling," Grant told the audience. "I just didn't know where I'd end up." He joked that his childhood dream was to "lead the Chicago Cubs to their first world series," and added, "This is the year, everybody. It's going to happen."
But after his losing his mother to cancer when he was a teen, Grant's focus shifted to the medical field. Back then, he noted, there was almost no communication with the family about his mother's illness or preparation for the inevitable outcome. Although she was treated at the highest quality institution, there was "no treatment of spiritual or familial needs."
Today, Grant said, he's proud that Lahey Health's 15 thousand employees are committed to caring for "every patient, every time"—greeting them as they walk through the doors heavy with emotion and anxiety, taking time to share meals as they endure long treatments, and helping each one navigate an "unbelievably convoluted system."
When it comes to patient care and effective leadership, Grant said he often thinks back to his English teacher, who ended every class with a pause and a simple phrase: "Words matter." Today, Grant says, that feeds into his actions and interactions because "people pay attention to what you say and how you say it."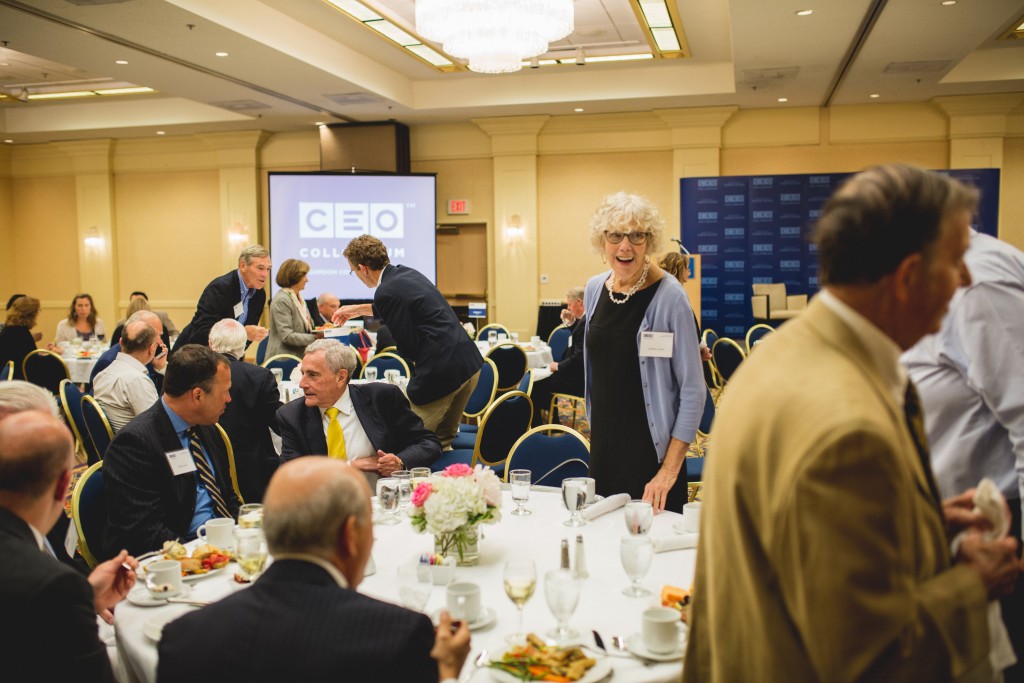 The CEO Colloquium is an initiative of Gordon College and the brainchild of Peter Rollins, founder and former president of the Chief Executives Club of Boston. Notable guests included Jim Bacon; Jonathan Sloane; Robert Bradford, president of the North Shore Chamber of Commerce; David Dearborn of Harvard's Varsity Club; Tim Cahill, president of Compass Securities Corporation; Jim Roosevelt, former CEO of Tufts Health Plan; Joe Grimaldi, president of the Boston Youth Symphony Orchestras' board of directors; Marian Heard, president and CEO of Oxen Hill Partners; Raymond and Priscilla Lee, friends of Gordon College; Neal Finnegan, former CEO of U.S. Trust; Gary DiCamillo, managing partner at Eaglepoint Advisors; and Karen Andreas, publisher of the North of Boston Media Group.
Photos by Dan Ebersole '11, Ebersole Photography