Matriculation Chapel—Starting the Year Together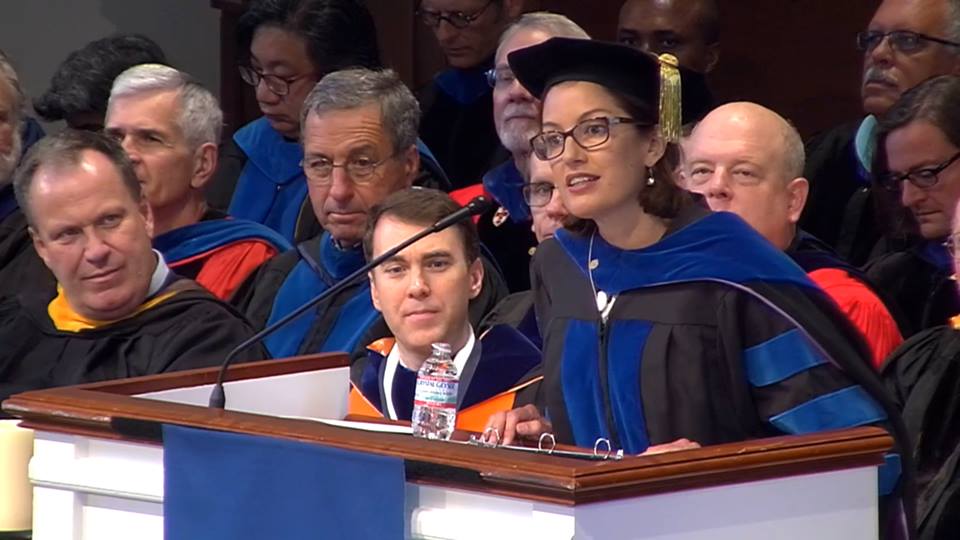 On August 28, 489 first-year students and transfers arrived on campus. Classes began on Wednesday but it was at Friday's Matriculation Chapel service that the entire campus community came together as one. As the sound of the bagpipes rang through the A. J. Gordon Memorial Chapel and students and faculty sang hymns in unison, there was an overall sense of togetherness that covered the entire service. Faculty in full regalia and students in casual dress sang the traditional Matriculation Service hymn "My Jesus, I Love Thee," composed by A. J. Gordon.
President D. Michael Lindsay opened the ceremony with his welcome and invocation to "recommit our lives and the service of this institution" to the "task of intellectual and spiritual growth." The Call to Worship was given by Nathaniel D'Andre '17, Melissa Jeanty '16, Jaehyun Lim '15, and Jade-Candice Waweru '17, who invited us in Russian, Haitian Creole, Korean, and Swahili, respectively, to stand and sing. The presentation to President Lindsay of the scrolls inscribed with each new student's name was also a highlight, symbolically indicating that the new students are officially signed and sealed as a part of Gordon College.
Dr. David Goss, professor in the practice of history, was presented with the annual Dr. Marv Wilson Award for Teaching Excellence in the Humanities. Dr. Ruth Melkonian-Hoover, associate professor of political science, delivered a charge to new and returning students and promised "to dream with you about what is to come…and to help navigate a way forward in a place that may feel simultaneously inviting and challenging."
Rev. Tom Haugen closed the service with a prayer thanking God for the opportunity to gather together as his people united in love. He prayed that God would give us courage to stop and to listen and to love—that he would give us opportunities to have deep conversations, to be encouraged, to be pointed back to his Word. "Father God," he prayed, "we give this year to you. We give our lives to you. We thank you that you have brought us here for a time such as this. Time to be prepared. Our time to be challenged. A time to be encouraged. A time to love and to be loved."
—Sierra Elizabeth Flach '16 is a an English and communication arts double major from Ravena, New York.