Presidential Perspectives: Connections on Capitol Hill
In this series on The Bell, President Lindsay brings a variety of perspectives from his corner office in Frost to the far-flung corners of the world where he travels—and everything in between.
John Dilulio, a democrat who worked for the Bush Administration, says that Washington D.C. is run by "a confederacy of kids." Most legislation is drafted by men and women under the age of 35, and almost all the staffing work is done by people in their 20s. They are the heart of work that affects every American. This is scary for someone who is over 35, but I am excited for the opportunity this presents to college graduates. For our Gordon students, I want to share what I see more and more each time I take a trip to D.C.
A few weeks ago, I was on Capitol Hill for two days to talk about the importance of Christian higher education and the upcoming reauthorization of the Higher Education Act. The new budget has slashes to financial aid that could be crippling for some prospective students, and so the Christian College Consortium (CCC) and the Council for Christian Colleges and Universities (CCCU) asked Dr. Jim Adams, president of Life Pacific University, and me to join them in speaking with some key people, including Senator Elizabeth Warren (D-MA).
We walked everywhere. One day I walked 17,530 steps, making me wish that I was a part of one of those Fitbit competitions some of my colleagues talk about. There were school groups and tours around every corner, and people were lined up for the historic James Comey hearing. Each time I visit D.C., I'm struck by how quickly everything blurs together as I try to take it all in.
Thankfully, the members of Congress we met are very aware of how fast-paced and scripted D.C. can become, and they did something I thought was fascinating: each one offered snacks that come from their state. Georgia was my favorite, with Diet Cokes and Chick-Fil-A potato chips (something I didn't even know existed). It was a way of bridging a gap, making a connection between them and their visitors.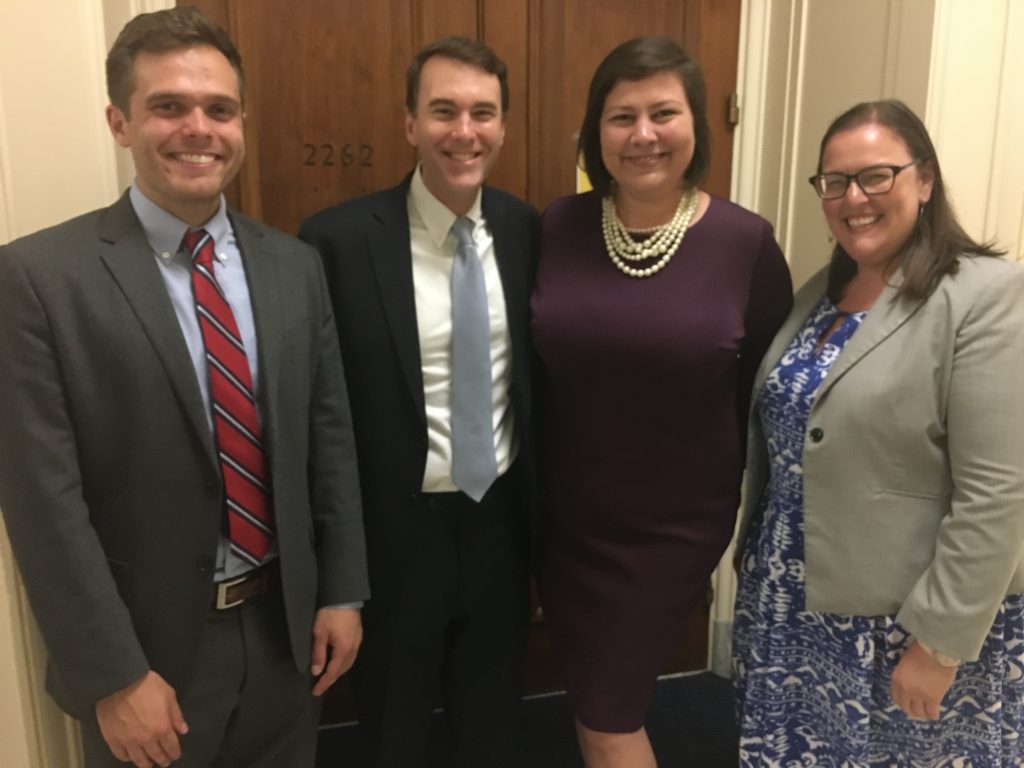 Washington D.C. is all about these relationships and connections. Senator Warren, a petite woman with immense energy, found a way to make a connection with every single person in the room. In the web of connections, I even found some Gordon grads, like Courtney Butcher '07 (pictured, second from right), who was highly praised for her work by Dr. Virginia Foxx, the chair of the Education and Workforce Committee of the House of Representatives.
Perhaps the connection I was most encouraged by was shown by one of our newest trustees, Shapri LoMaglio '02 (pictured, far right). A Gordon alumna, Shapri serves as vice president for government and external relations for the CCCU, and is incredibly gracious with her time. She invites every Gordon alum she knows to attend church with her, and then takes them out to brunch after to get to know them better. She fully sees this "confederacy of kids"—and instead of acting in apprehension, reaches out to them.
In D.C., we had anywhere from 30 seconds to a few minutes to make connections with people, so quite literally every second and every word counted as we lobbied Congress for changes to the budget. For our politically minded students, I encourage you to learn how to make connections fast and make them well. There is significant work to be done in D.C., and you are perfectly positioned to be a part of that change.