Q Commons at Gordon
President D. Michael Lindsay opened last Thursday's Q Commons event by asking how many in the packed MacDonald Auditorium audience do not attend Gordon College. A large contingent seated in the center raised their hands. Clearly, this was not the average event in which one could obtain Christian Life and Worship credit.
In fact, the TED-talk style event was conducted over satellite broadcast, and reached more than 65 other locations. Over 10,000 participants worldwide engaged in discussions on how to "empower learning and collaboration in one's respective community."
New York Times bestselling author Malcolm Gladwell (pictured above) began the evening with an 18-minute broadcasted "Q Talk" about legitimacy and how to be an effective leader in an unjust society. "They look at their schools which look prison camps and they compare them to schools in the suburbs which look like country clubs and they say, 'There's no fairness here.' Maybe they believe the system is arbitrary," Gladwell remarked about the state of inner-city schools in the American education system, acknowledging why some may question our current system's legitimacy.
Dr. Wesley Hill, author and assistant professor of biblical studies at Trinity School for Ministry, was one of the local speakers and gave a nine-minute talk titled "Celibacy for the Common Good." He explained, "Celibacy makes it possible to think about marriage as a vocation or calling, not a right."
Nika Elugardo of Emmanuel Gospel Center in Boston tackled the topic of innovation in the second nine-minute local Q Talk of the evening. "God is a tremendous, tremendous, tremendous planner of change and planner of hope. His plans will succeed. If we step into that plate, then there's no way we can fail—not on our own strength, but because even our mistakes become gold in the Kingdom of God," Elugardo concluded.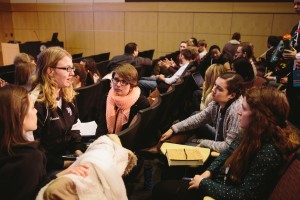 Audience members were then encouraged to discuss the issues that Gladwell, Hill and Elugardo presented, and provide their own answers and opinions. Prompted by Gabe Lyons, founder of Q and host for the broadcasted portions of Q Commons, there was a moment of silence and prayer for the 21 Egyptian Coptic Christians who were recently martyred.
This was followed up by the second broadcasted Q Talk, a nine-minute presentation on "Race in America" by award-winning journalist Soledad O'Brien. "Many people, of all races, like to think, 'The history of race in America is something like this: There was slavery. It was bad. Lincoln freed the slaves. Then, Martin Luther King Jr. brought in civil rights. Then, Obama was elected. Then, it's all good,'" O'Brien said with irony.
Emmy-winning television producer Mark Burnett, the brains behind The Bible TV miniseries and producer of Son of God, engaged in a broadcasted interview with Gabe Lyons about "Virtue in Entertainment." Burnett donned a sweatshirt that read "Spiritual Gangster," much to the audible appreciation of the MacDonald Auditorium audience. "In Canada, by the way, The Bible series beat hockey and that's saying something," Burnett remarked. "We are the noisiest Christians in Hollywood by a million years."
Chaplain and urban minister Mako Nagasawa, the third and final local speaker, concluded the night's discussion with a nine-minute talk on reconciliation. "We all crave something that we call justice, even though we don't know exactly how to define it or how to apply it. Maybe it's because we are alienated from a God of restorative justice, who wants to restore every single person to Himself and to one another. Yet, we are made in His image and we need Him to fill our vision of Him," Nagasawa asserted.
Q is coming back to Boston from April 23 to 25. One of 30 featured speakers, President Lindsay will be presenting on "Do We Have to Agree?" Learn more and register today.
By Daniel Simonds '18, Communication Arts