Strategic Growth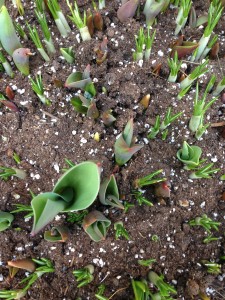 We are happy to report that this past winter's mini-Ice Age is finally over. Long-buried parking spots have reemerged. Snowdrops and daffodils are poking through the thawed topsoil. The peepers are peeping. It's a season of renewal and growth.
We are also pleased to report numerous signs of growth and vitality at Gordon College. This "spring growth" includes:
The hiring of seven stellar new faculty members (read about three of them here), who will begin teaching this fall. They include a former Google software engineer, the co-author of a book about women's influence in the early Church, and a psychologist who researches bilingual language learning.
Summer Research Fellowship grants were awarded this month to seven faculty-student teams thanks to a generous six-figure gift recently received; they'll research topics in political science, biology, English, kinesiology, math and psychology—from antibody cloning to the meaning of modernism.
The College received the launch gift to endow the Caleb Loring Jr. Institute for Public History, which will deepen our primary research opportunities available to  history and museum studies students.
We recently received gifts in excess of $1.1 million in support of advancement initiatives to prepare the College for transformative growth in advancement, alumni relations, and external relations.
Pastors in two states took news of the College back to their congregations from conferences co-sponsored by Gordon's Office of Church Relations. In March President Lindsay and Dr. Jim Denison addressed 160-plus pastors and lay leaders at the Dallas Leadership Symposium; in April, Associate Professor Dr. Sharon Galgay Ketcham (Christian ministries) spoke in Denver.
All of these are steps in realizing the goals of the recently approved 2015–2020 Strategic Plan. The Trustees' unanimous March decision to extend President Michael Lindsay's contract through 2019 ensures consistent direction of the strategic plan, from the start of the planning process through the broad sweep of its implementation. During President Lindsay's tenure, which began in July of 2011, the College has set new Gordon records for overall enrollment and philanthropy, and introduced a number of new program initiatives.
"I am deeply honored to continue the good work that God is doing at Gordon, particularly through our outstanding faculty, staff and students," President Lindsay said. "We live in a time of unique challenges for Christian institutions, but in moving forward together we can strengthen the foundation that will support and sustain Gordon College well into the future."