The Annual Crum Lecture—Augustine and the Art of Politics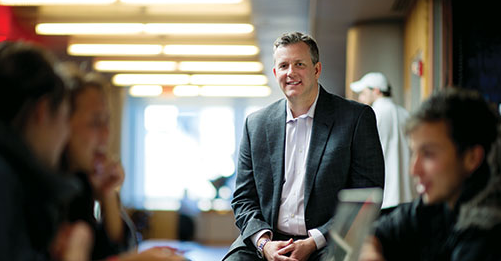 FOR IMMEDIATE RELEASE
November 24, 2014
MEDIA RELATIONS CONTACT
Cyndi McMahon
978.867.4235
[email protected]
WENHAM, MA—Dr. Eric Gregory, professor of religion at Princeton University, presents "Augustine and the Art of Politics" on Monday, December 1, at 1 p.m. as the keynote speaker for Gordon College's annual Crum Lecture. The event will  also mark the rededication of the Gregory Auditorium, in honor of the speaker's grandfather, Dr. Carlton Gregory—a long-time and beloved professor of philosophy at Barrington College., which merged with Gordon in 1985 to create the United College of Gordon and Barrington.
"[Eric] Gregory's work is especially important for pushing beyond a merely 'realist' reading of Augustine—especially, one that emphasizes the reality of human sinfulness—to something far more robust, one that emphasizes Augustine's emphasis on Christian love as the central Christian virtue," said Paul Brink, professor of political science. "His careful account offers us a Christian politics in which love matters."
Gregory is the author of Politics and the Order of Love: An Augustinian Ethic of Democratic Citizenship (University of Chicago Press, 2008). His interests include religious and philosophical ethics, theology, political theory, law and religion, and the role of religion in public life. In 2007 he was awarded Princeton's President's Award for Distinguished Teaching. A graduate of Harvard College, he earned an M.Phil. and Diploma in Theology from the University of Oxford as a Rhodes Scholar, and his doctorate in religious studies from Yale University. Gregory has received fellowships from the Erasmus Institute, the University of Notre Dame, the Safra Foundation Center for Ethics, Harvard University, the National Endowment for the Humanities, and the Tikvah Center for Law & Jewish Civilization at New York University School of Law. Among his current projects is a book tentatively titled What Do We Owe Strangers? Globalization and the Good Samaritan, which examines secular and religious perspectives on global justice.
"Eric Gregory is the most sophisticated and subtle Christian ethical and political thinker of his generation," writes Cornel West, a well known activist and professor of philosophy and Christian practice at Union Theological Seminary in New York City who reviewed Gregor's book and follows his research. "He also is a major voice in contemporary discourse on love and justice, freedom, and democracy. His powerful defense of Augustinian civic liberalism is a tour de force!"
In addition to his faculty position at Princeton University, Gregory directs graduate studies in the Princeton University Department of Religion and sits on the executive committees of the University Center for Human Values, the Interdisciplinary Doctoral Program in the Humanities, and the University Public Lectures Committee.
"The history of American Christianity can be seen as a long back-and-forth between periods of fascination with political life—'taking back America'—and calls to avoid the 'the siren song of temporal power,'" said Brink. "Gregory believes that Augustine offers an important antidote to this on-again, off-again relationship with political life."
Who: Dr. Carlton Gregory
What: Annual Crum Lecture, "Augustine and the Art of Politics"
When: Monday, December 1, 1 p.m.
Location: Gregory Auditorium, Gordon College, 255 Grapevine Rd., Wenham MA
The annual Crum Lecture is named in honor of Terrelle B. Crum, who served as Dean of Faculty for 40 years at Barrington College. Hosted by the Center for Faith and Inquiry, the lecture series is free and open to the public. For information on this event, contact Susanne McCarron at [email protected] or 978.867.4227 in the Center for Faith and Inquiry at Gordon College.
###