Western Expansion for Gordon's Road Trippers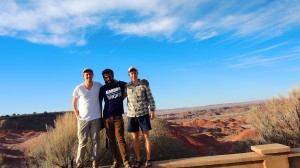 Three of Gordon's most intrepid students spent their spring break trekking across the country to visit the American Southwest's collection of national parks. The idea came to Alex Bostian '16, Nathan Landis '15 and Matt Galiano-Williams '16 during a five-day hiking trip through the Adirondacks over Thanksgiving break. The three are experienced outdoorsmen, having worked as sherpas in the Adirondacks for Gordon's summer camping and canoeing expedition, La Vida. Their only plan: Drive to national parks as far as Las Vegas and turn back.
In total the trio drove for 12 days, touching down in 26 states, visiting seven national parks, and adding 6,993 miles to the odometer of Nathan's car, "Wolfie," a 2001 Honda Civic that brought them virtually no trouble except a single parking violation in New Mexico.
Initially we had planned to circumnavigate North America and get all the way to Seattle and come back, but we realized that wasn't feasible," said Alex. Deciding to take the southern route instead, the three made their first stop in Washington, D.C. "We were able to see members of all three of our families on the trip," said Alex—Matt's in New Jersey, Nathan's in Michigan, and Alex's in D.C., Virginia and North Carolina.
After brief visits, they were soon back on the road, heading from North Carolina to Nashville, TN, for a night. The next morning they embarked on a grueling 18-hour stretch from Nashville to Albuquerque, NM, where they planned to explore new hiking terrain in petrified forests.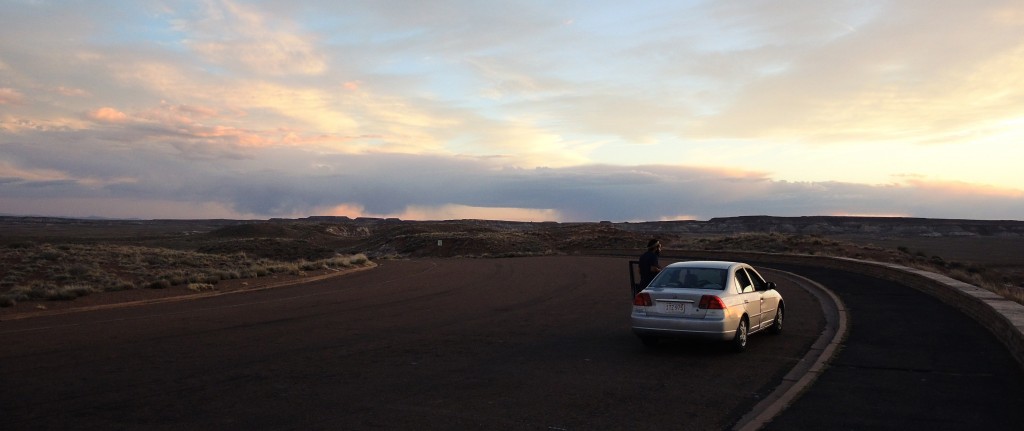 "In the car we listened to all of Serial," an NPR podcast about a decade-old high school murder mystery, said Alex. They had also prepared plenty of music playlists weeks in advance. Driving responsibilities were divided every couple of hours, either to stay awake or keep from getting bored.
"Once we made it to the Southwest, it was surprisingly restful." For eight days straight Nathan, Matt and Alex spent a few hours in Wolfie and explored new parks. Drive, hike and camp at the park. The next morning, wake up and do it all over again. Opportunities to bathe were few and far between. As for food, "We made plans to stop at different coffee shops and diners. We ate a lot of southwestern breakfast burritos. But we brought a lot of their own food too," said Alex. They kept hydrated by filling up gallon jugs of water along the way.
The first day was spent at a petrified forest park in Santa Fe, NM. "We weren't originally planning to stop there but saw it on the road map and it turned out to be a highlight of the trip!" said Nathan. "From New Mexico we drove to Grand Canyon National Park, but stopped there," said Alex, to hike 15 miles of the South Rim. There they encountered someone who knew of Gordon—the son of former Gordon president Dr. Richard Gross's roommate. "Strange, small world!" Nathan remarked.
After soaking up what they could of the Grand Canyon, they took the scenic route through California and Nevada to get to Zion National Park in Utah, where they also visited Bryce Canyon National Park, Capital Reef National Park and Arches National Park. In Colorado they spent a day at Rocky Mountain National Park. The three said that seeing the sunset in Boulder was among the highlights of the trip.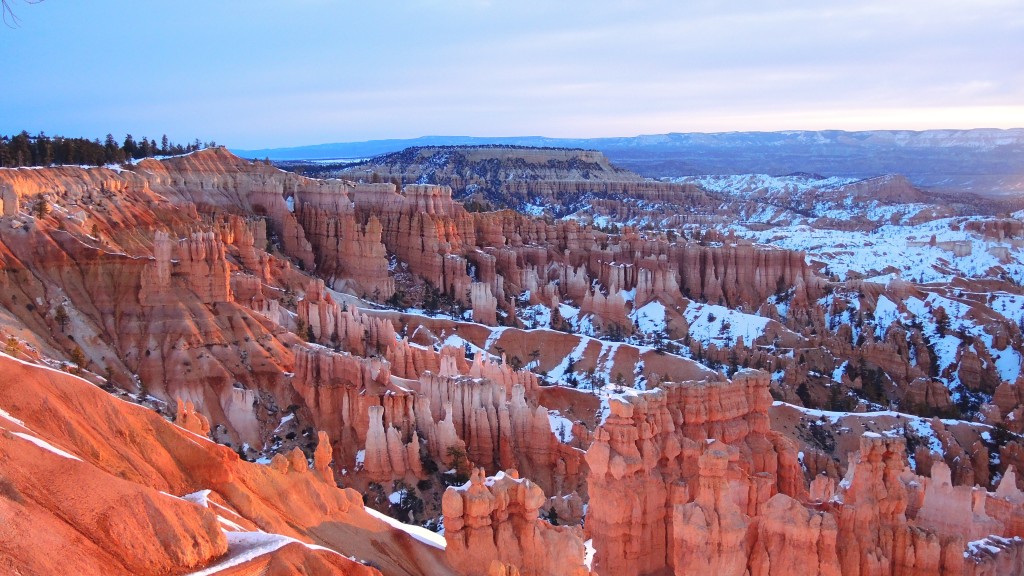 The return trip started in Colorado, and took 23 hours. "Driving through Nebraska was tough. It was nine hours and we passed time by counting tumbleweeds across the highway," said Alex. "But we made it back in under two days, so it seems unreal that we did all that," said Alex. And after all that, they still managed to find the energy to get to class the next day.
The real story is told through their photos. During and after the trip, the gang received a great deal of notoriety from the online Gordon community for frequently posting photos from their hiking and driving exploits on Instagram.
Check them out at #southbeyondsouthwest >>
By Jimmy Sicord '16, Communication Arts
This slideshow requires JavaScript.