What 106 West Coast Wildfires Can Teach Us About Delayed Gratification
Mark Twain famously said, "The coldest winter I ever spent was a summer in San Francisco." This is false now for two reasons. 1) Mark Twain never said it. And 2) the Bay Area's long history of cool, temperate summers ended in August with an outlandish heatwave and a record high of 106 degrees Fahrenheit (in a month with average temperatures in the 60s).
Meanwhile, there was a raging wildfire for every degree on the thermometer—106 across the West Coast, many of them across Northern California. They displaced more than 500,000 people and have burned more than four million acres in California alone. (This is more than double the record that was set in 2018 with the Camp Fire.)
To add a third catastrophe—in what could only be described as a perfect storm—nearly a million residents of San Francisco County needed to run air conditioning units at nearly all hours, which overloaded the energy grid. The Public Utilities Commissions shut off the electricity and instated rolling blackouts in the middle of the county's worst heatwave.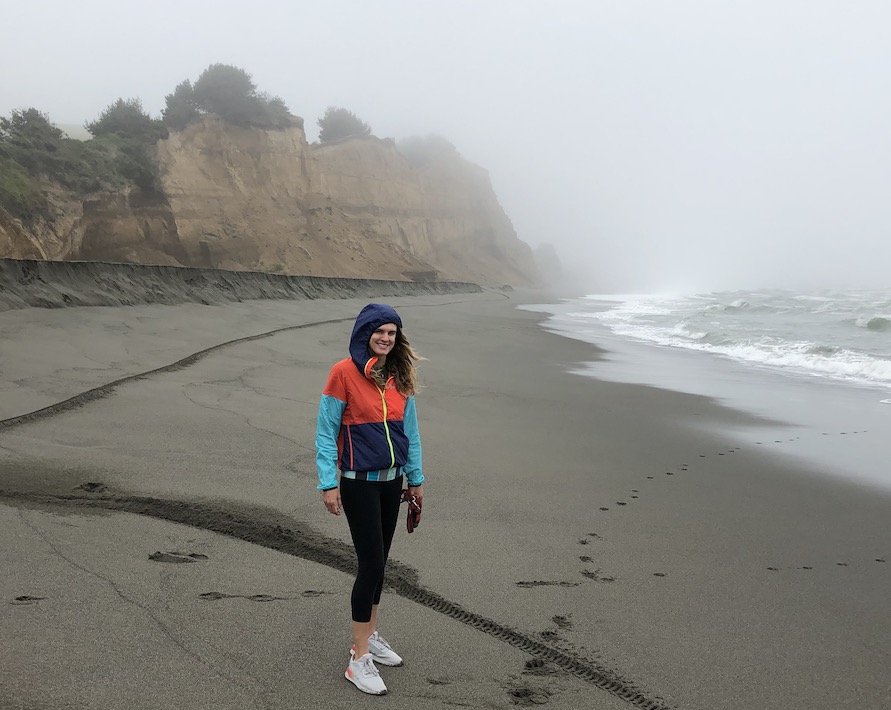 So, to investigate the cause of the West Coast's record-breaking summer—for wildfire damage, grid failures and heatwaves—The Bell sought out the expertise of Bay Area resident and clean energy professional Maggie Alexander '10. In addition to being an important player in the decarbonization of the Bay Area's energy sector, Alexander has a Master of Science in Environmental Science and Policy from Johns Hopkins University and a passion for educating people about solutions to human-caused climate change. Today, she is the director of business development and commercial strategy at Apparent Inc, a company that designs zero emissions solutions for businesses and organizations. Recently, she's enabled a manufacturing facility to switch from grid power to solar power and is helping various cities and municipalities across California develop electrical vehicle (EV) charging stations for its new wave of fully electric city buses.
Wildfires, Heatwaves and Blackouts Oh My!
During much of August and September, Alexander has been on lockdown at her house in Oakland because it hasn't been safe to breathe the outside air. (California, Washington and Oregon now officially have the worse air quality of any region in the world.) These events have made her realize just how much her life is changing already as a result of climate change. She says, "Living in California for the past three years, I'm really on the frontlines of climate change. We are seeing exactly what has been expected: longer, more intense weather patterns, higher temperatures over longer periods of time, less rain and more intense rainfall when we happen to get rain. All of this has led to where we are today with unprecedented wildfires in the West."
Without a Clean Energy Grid, Electric Vehicles Still Use Fossil Fuels
Alexander's work is focused on climate change mitigation—the strategy of preventing emissions from entering the atmosphere in the first place. "That's what inspired my transition into the energy space," she says. "Our electricity sector is the largest producer of emissions. Second to that is the transportation sector." While the transportation sector is making a concerted effort to switch from gasoline to electricity, the electric grid primarily generates electricity using fossil fuels. EVs, like Teslas and Honda Es, make the most impact on reducing emissions when their electricity comes from a clean energy source, like wind or solar. Otherwise, they are still using fossil fuels—they are just coming from an outlet instead of a gas pump. "If you plug your EV into a charger at night, but you're using power from the grid and the grid power is coming from a coal plant," Alexander explains, "you're really just displacing dirty electrons."
Another challenge inherent to EVs is that they need a large amount of electricity to run. This is creating a problem for California because the state has an ambitious goal to make all public transit buses electric by 2040. "Charging three buses that typically have a 300-kilowatt battery is the same amount of electricity required to charge over 150 homes," says Alexander. "We're talking about huge amounts of electricity that are going to be needed and we have this opportunity to put infrastructure and systems in place for generating electricity from clean sources."
Climate Change is Largely a Problem of Short-term Gain
Because the transportation and energy sectors are evolving together there is a real opportunity to design zero emissions charging programs, says Alexander. It's not a quick or easy solution, but that's the point. Many of our quick and easy solutions have exacerbated climate change and created an environment in which disasters are the norm. For instance, by preventing wildfires from happening, we helped created large swaths of dry, flammable vegetation, which gave rise to a new, more devastating type of wildfire capable of burning hundreds of thousands of acres. We put our waste in the world, not thinking about how it would come to poison us and our planet later on.
This tendency toward myopia is something Alexander likens to smoking (a metaphor she found recently in a scientific paper). "If you're a smoker, you know smoking is bad for you," she says. "We have all the science that proves it causes lung cancer—that second-hand smoke impacts others. But there is such a desire to have a cigarette today because nicotine is so addictive and [it's easier] not to think about the long-term negative implications. I think our struggle with climate change is similar. We are seeing a fraction of the bad effects now, but we still want to emit. We want to produce. We want a strong economy. The idea of putting measures in place that are going to limit those things today for the future good of the planet is a hard decision to make."
Clean Energy is Ready to Change the Grid as We Know It
Although the implications of climate change can sometimes keep Alexander up at night, the decarbonization of the grid is a real possibility that gives her hope for our planet and our future. "The cost of solar panels has come down significantly in the last couple of years," she says. "Now, the cost of batteries is coming down too. We are also starting to see that long-term profits can be supported by clean energy. We are seeing more of an adoption of these clean energy and clean tech solutions, which is super exciting."
The key to a healthier planet and a better quality of life for all people is this practice of delayed gratification—both in public policies and in personal decisions. A long-term mindset is exactly what we need to help prevent devastating wildfires, scorching heatwaves, grid failures, and to ensure that our blue skies and breathable air are there for the generations to come.