6 Quirky Thanksgiving Traditions You May Want to Adopt in 2019
We may not know why some of our Thanksgiving traditions exist—like the President pardoning a turkey on live television or the breaking of a (less fortunate) turkey's wishbone—but we still take comfort in them because they remind us of the people we love.
In the spirit of Thanksgiving, The Bell collected a few quirky traditions that belong to some of our students, staff and alumni. They may just inspire you to create some of your own!
Never Too Old (or Too Cool) for Family Traditions
Every year, Christian Celentano '22 watches the 1934 film March of the Wooden Soldiers (also known as Babes in Toyland) with his younger brother. While they're no longer children, they still enjoy it. Christian explains, "It's a really cheesy movie about a bunch of nursery rhyme characters like Little Bo Peep, Peter Piper and the three little pigs. We honestly don't even mind at this point. The movie is still pretty entertaining."
Through the Woods to Great Grandmother's Hunting Cabin We Go
For most, the thought of spending Thanksgiving without electricity, running water or an internet connection would seem more like a punishment than a wild adventure. But not for Lexi Palleschi '21 and her family. Each November, they make the journey to her great grandma's two-bedroom hunting cabin in the backwoods of northern Maine to uphold a 40-year-old tradition. Before rounds of Yahtzee and Skip-Bo, they cook an entire Thanksgiving dinner on an "old-fashioned wood powered cooking stove." Lexi says, "We use gas-powered lamps, get drinking water from a spring up the road and break through the ice in the nearby river to get water for cooking and dishes."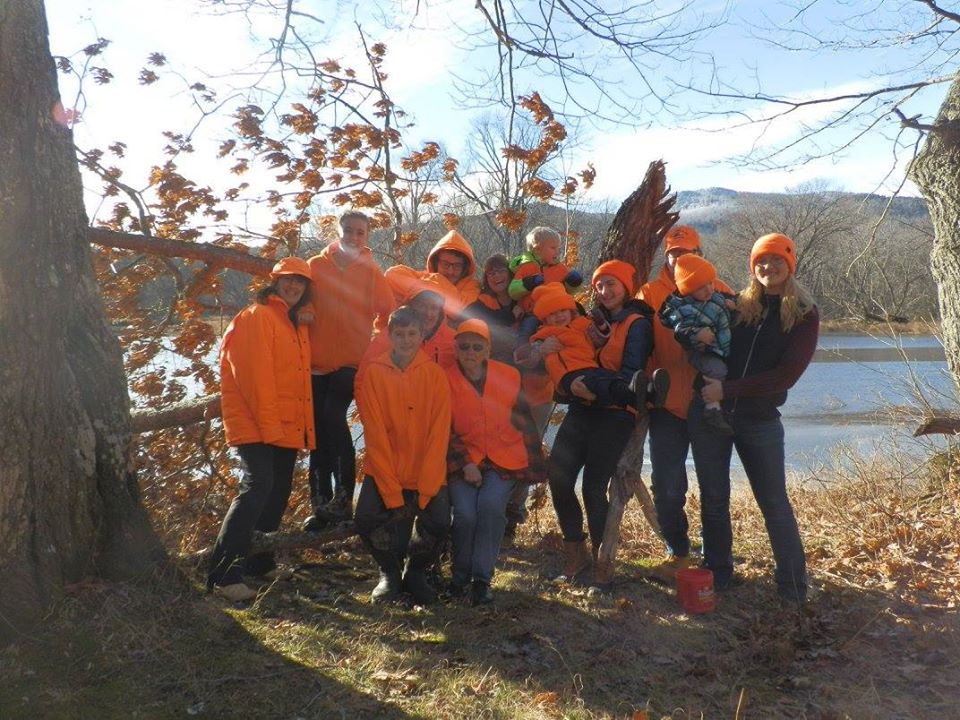 How to Do Holidays When We're Missing Our Loved Ones
Holidays can be challenging for those who have lost loved ones, and we can miss them a little extra on these special days. In 2016, Bridget Mellon '20 lost her uncle Joe to pancreatic cancer. Now, in honor of her uncle, on Thanksgiving morning, she and her family host and participate in a neighborhood Turkey Trot to raise money for pancreatic cancer research (hence the purple garb). It's a true grassroots effort shared by family, friends and neighbors in Morris Plains, New Jersey. Bridget says, "Donations are made to run in the race, and the winner gets to wear the very fashionable turkey hat."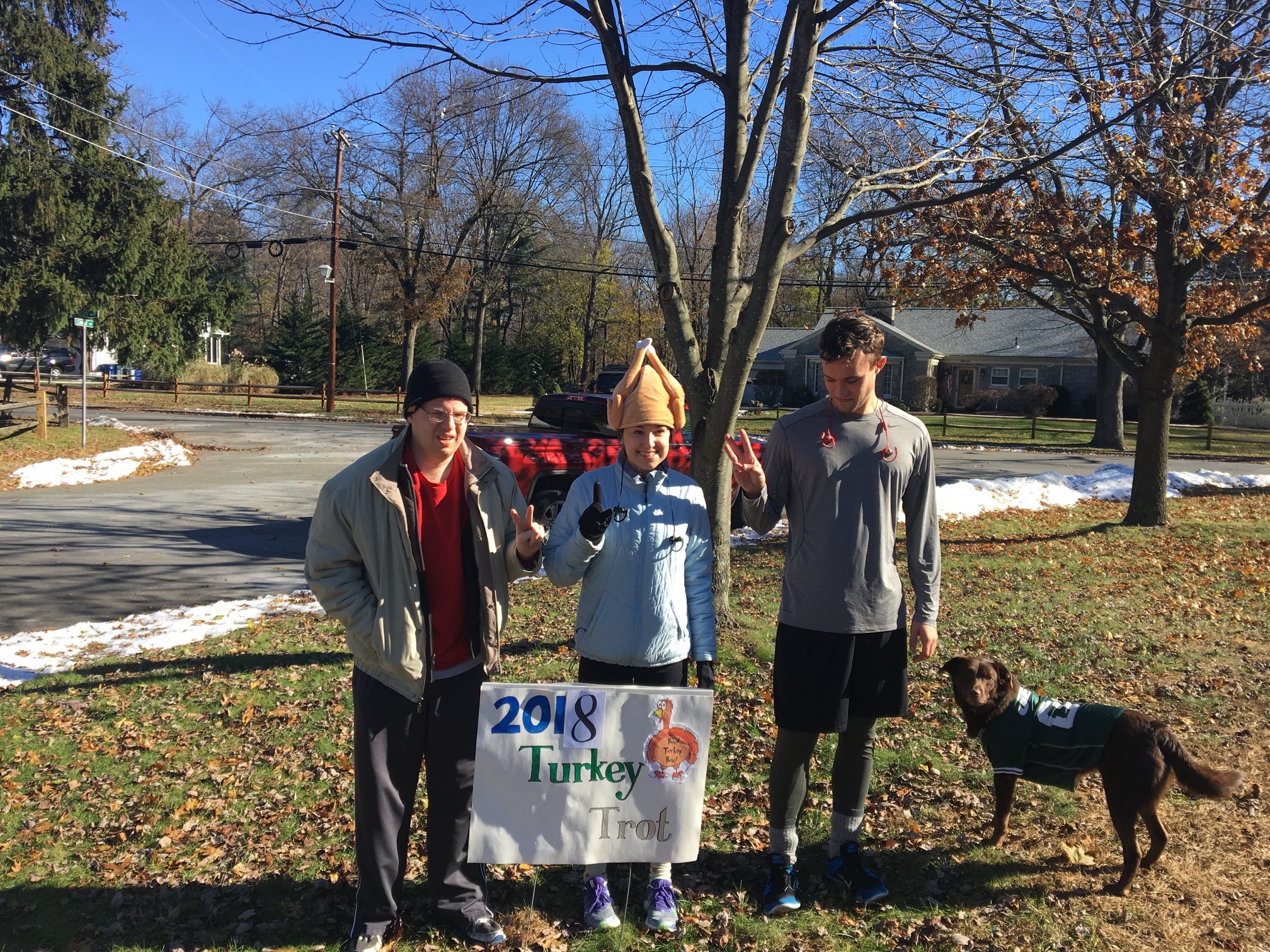 Experiments with Pie (No Math Necessary)
Emily Smith '23 and her group of family friends don't have a lot of boundaries when it comes to pie. In fact, creativity wins you extra points when you contribute to a 50-pie breakfast on Thanksgiving morning. "Everyone brings a different type of pie, often a very unique creation," Emily says. "From fruit pies, cold pies, new creations and grandmas ol' recipe, we savor all the flavors of the season and enjoy the company of those we love and those we are just now meeting."
Family Origin Stories and Thanksgiving Leftovers
Unless you belong to a Native American tribe, if you live in America you're from somewhere else. America is a nation where 98 percent of the population is made up of immigrants. On Thanksgiving, many tell stories about where we came from and how we got to be here. In honor of her Scottish heritage and in memory of her great-grandmother who immigrated to America from Scotland during the 1920s, Sydney Cooney '19 and her family make potato "skonz" from leftover mashed potatoes. She says, "We eat them piping hot by spreading huge chunks of butter or dollops of maple syrup (something my Vermont-dwelling immediate family added). We roll them up and eat them, sometimes dozens at a time."
Tokens of Gratitude
At some point during Thanksgiving dinner, it's common for families and friends to name aloud the things they are grateful for. Sometimes we're prompted by physical reminders like corn kernels. For Gordon Resident Director Sarah Welch '08, three corn kernels (either in the form of candy corn or popping corn) sit beside everyone's dinner plate for the Thanksgiving meal. "One by one, we say aloud three things that they were grateful for in that year, one for each kernel of corn," Sarah says, "I think what I loved so much about it, and still do, is that we are often so prone to share the hard things, the annoyances, the struggles. It can often feel awkward to share the celebrations, the joys, the simple pleasures of our year. In this moment, I feel like I get insight into each of my family members hearts and lives."
Share some of your own Thanksgiving traditions in the comments (for this article) on Facebook or email them to [email protected] for possible inclusion in next year's article. And happy Thanksgiving!