Bearing Music from Boston to Brazil
Every Saturday for the past three years, Massachusetts native Jinyung Suh '22 (pictured above, right) has hopped on the commuter rail with her violin to attend rehearsals with the Boston Philharmonic Youth Orchestra in the city. With members traveling from as far as Pennsylvania to play with the highly competitive ensemble every week, the music scene in such a metropolitan center can get a bit intense.
"In Boston there's so much music. And so many people grow up playing; the music community of Boston is so active and it gets very competitive so that people forget why they play. Or they just want to do it for their resumes," Jinyung says. This summer, however, the youth orchestra took a step out of its zone and traveled to Brazil for two and half weeks.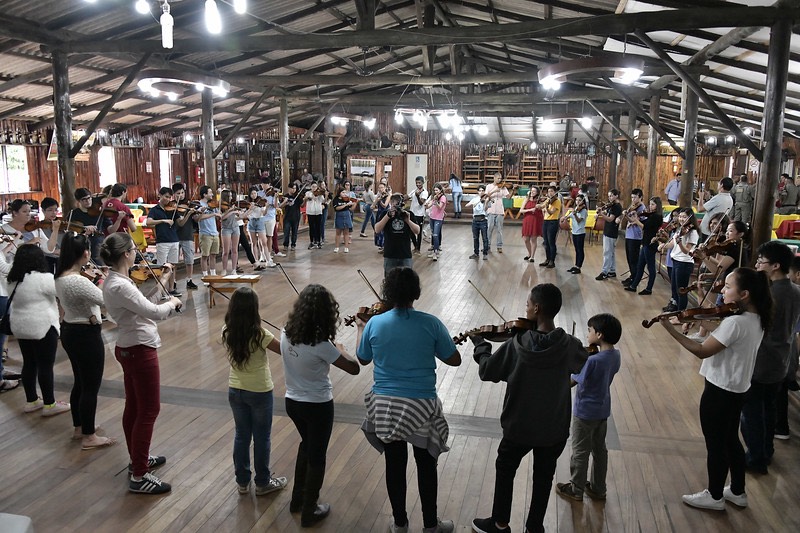 In addition to performing pieces from Shostakovich and Dvorak, orchestra members participated in community outreach, playing with other youth orchestras and teaching younger children in schools. "The people there are so enthusiastic. They want to learn. And they're just so passionate about music and sharing it," says Jinyung. "They play music because they love. And it felt there was a sense of that in every school or orchestra that we played with. It was really inspiring."
Led by conductor Benjamin Zander (pictured above, left), the youth orchestra has toured other countries over the past couple of years, including: Peru, Argentina, Uruguay, Germany, Austria, Hungary, the Czech Republic and the Netherlands. Their motto is: shaping future leaders through possibility.
But 16 days, nine concerts and eight cities can be mentally and physically challenging—especially when back-to back days begin at 5 a.m and end at 9 p.m. Even so, Jinyung found that the time helped connect her with the rest of the orchestra.
"I got to appreciate the orchestra more, because we were always moving together. We did a lot more activities that involved the whole orchestra," Jinyung says. "Typically what happens is brass players would stick with the brass players and the violins would stick with other violins. But on this tour, I met so many people that I didn't even know were in the orchestra. And, so, for a lot of people this year, lots of those barriers were broken, and collectively we all got really close. It was a very unifying tour."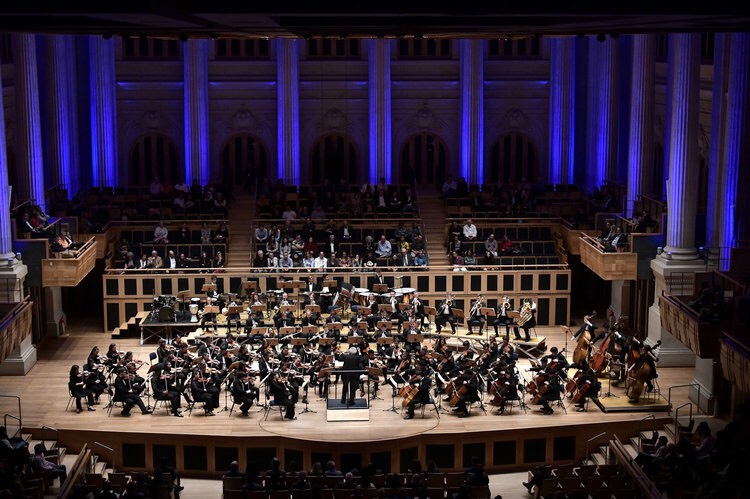 In addition to working with schools and local youth orchestras, Jinyung and her fellow symphony members had the opportunity to perform and get to know world-class pianist Anna Federova. Not only did she travel and perform the Rachmaninov Piano Concerto with them, she spent time hanging out and talking with the other musicians. "She's so kind, so humble," Jinyung says. "We got to talk with her, and that was really nice because usually soloists are a little distant, but she made it one of her priorities to interact with the orchestra."
Though she grew up in a musical family with a pianist mother, Jinyung is not planning on pursuing a career in music. This fall, she enters her sophomore year at Gordon as a psychology major and hopes to continue playing violin on the side and perhaps taking up her bow in Gordon's own orchestra. However, her time traveling with the Boston Symphony Youth Orchestra has been an education on more than just music. "It just gives you a new perspective and allows you to take a step back. And you know the world isn't turning around you," Jinyung says. "You just realize that the world is so much bigger than you make it out to be."
Article by Veronica Andreades '20, English language and literature
Photos by Paul Marotta