Brooke Fryer '15: Helping Women Escape Poverty through Fair Trade Goods
As a student, Brooke Fryer '15 dreamt of combining her love of design and fashion with her passion for justice. As a recent grad and ANUGRA visionary, she's doing just that.
ANUGRA is an outgrowth of Influence International, a nonprofit organization that has teamed up with the Good News Service Society to teach tailoring skills to more than 3,000 women from the slums of India. Many dropped out of school at a young age and found themselves in vulnerable situations, and this training enables them to secure jobs and work toward escaping poverty.
In an effort to enhance opportunities for their top seamstresses who had mastered tailoring, Influence International president Emmanuel Pothen and his aunt and uncle, national missionaries in India, decided to begin a new venture. "The idea was to start a sustainable business and train them to create high-end products—specifically home textiles. They would be paid a fair wage and receive education in the areas of personal finance and savings, literacy programs and nutrition," explains Pothen.
And so, in 2015, ANUGRA was born.
A seasoned entrepreneur and nonprofit executive, Pothen had the chops to get the new venture started—but knew he would need the help of a fashion and design expert. Enter Fryer. A former design student and intern for Return Design—Gordon's on-campus design agency—Fryer met Pothen as a junior, while designing a logo for Influence International.
They stayed in touch the following year, as Pothen launched ANUGRA and Fryer completed her senior thesis exhibition—an "exploratory venture in textile design," as she describes it. "In the back of my mind, my goal was to eventually connect design, textiles and justice."
Pothen was impressed with Fryer's exhibition. "I never knew about her textile skills, but when I saw her senior thesis about fabric designs, I knew she could do the job," he explains. He asked Fryer to come on board as one of the founding staff members of ANUGRA.
Like the logo project Fryer completed for Influence International, ANUGRA's branding was also created by Gordon students through Return Design—this time with Fryer in the client seat. "It was a neat experience to be on the other side of Return Design. I felt like I could help raise up the next class of designers while working with a nonprofit," she says.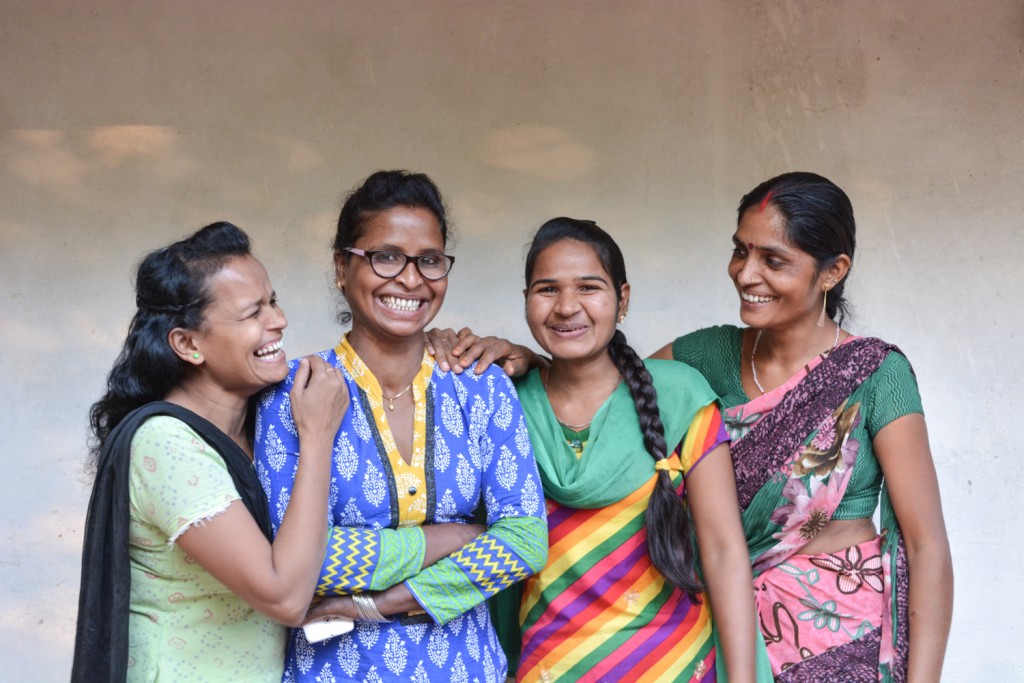 Fryer also travels to India to offer creative direction to ANUGRA's four employees in India—Nisha, Rajni, Rajkumari and Bindu (pictured L to R above). Nisha has two teenagers and loves to read—in both Hindi and English. Never without a smile, Rajni hopes to buy a house and provide a quality education for her two sons. The youngest in the group, Rajkumari lives with her parents and siblings and dreams of one day becoming a teacher. Bindu, an eager learner, hopes to pass along her sewing skills to her two daughters.
Together, these women collaborate with Fryer on product development and design for items like throw pillows and table runners, which will be available in ANUGRA's online shop this spring (follow ANUGRA on Facebook and Instagram for updates).
Fryer ensures that these products meet American consumer's preferences as well as ANUGRA's ethical standards. ANUGRA is fiercely dedicated to "healthy relationships with people and creation," says Pothen, meaning it uses strictly fair trade and organic materials. Why? ANUGRA comes from the Hindi word anugraha, meaning grace and blessing. Their vision is to be a blessing throughout the value chain—from vendors to employees, to customers.
Gordon student Christyn Herr '16 is interning with ANUGRA this year at its U.S. office in Gloucester, MA. A Christian ministries major who spent part of her childhood in Nepal and served for five months in northern India, Herr is working on research, writing, curriculum development and administrative tasks for the organization. "Gordon has been a great blessing—partnering with a college where students are excited and they're dreaming about these things," says Pothen.
Photos by Brooke Fryer '15