Gillette to Gordon: Patriots Chaplain to Speak in Chapel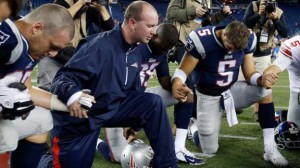 New England Patriots quarterback Tom Brady credits team chaplain Jack Easterby as one of the main reasons for the Patriots' success over the last year—including their most recent Super Bowl XLIX victory in February 2015. "He's just a great person and friend," Brady told ESPN. "You feel a special connection with him and with his genuine caring for all the people in his life."
On Monday, April 20, Jack Easterby will inspire a different crowd as he heads from Patriot Place to the A. J. Gordon Memorial Chapel at Gordon College. His message, "Masterpiece," will focus on Ephesians 2:10: "For we are God's handiwork, created in Christ Jesus to do good works, which God prepared in advance for us to do." The event begins at 10:25 a.m., and is free and open to the public.
"We're excited to have Jack Easterby preaching in Gordon's Chapel," says Gordon College Chaplain Rev. Tom Haugen. "Jack ministers to the Patriots, which is exciting to many of us living in New England. But, most importantly, he and his ministry, The Greatest Champion, encourage people to embrace the greatest champion of all: Jesus Christ. Jack is uniquely skilled to minister among the nation's elite athletes. As we educate students here at Gordon, our hope is that they, too, will lead and thrive where they are called—be it the research lab, business venture or athletic field."
After serving in several sports leadership and ministry roles around the country, Easterby joined the Patriots in 2013. The team had been shaken by the recent arrest of former tight end Aaron Hernandez and was still coping with the aftermath of the Spygate controversy. Easterby came in to rally the team—not through huddles or pep talks or bottom-line pressure, but through character coaching and extending a spirit of love.
Easterby is known for his positive and enthusiastic personality, deep care for the athletes and their families, and steady trustworthy presence in their lives. He hosts regular Bible studies and counsels Patriots players and their wives. Easterby is also founder of the Greatest Champion Foundation, which exists to increase character and value among the nation's elite athletic leaders.
Prospective students: Hear Easterby's talk as part of your Gordon Experience Day visit.