Good News for Liberal Arts Students in the Job Search
"What are you planning to do after you graduate?" The philosophy, English or history major is often asked this. The question is typically met with a hesitant pause, then perhaps a nervous laugh while they frantically search for an answer. But there is good news for liberal arts students: Major employers are actually interested in hiring students with a liberal arts background, because liberal arts graduates are known for their independent thinking, and ability to take risks and be good team players.
Last week international banking and real estate professional Albert Yuk-Keung Ip delivered a lecture at Gordon titled "The Value of Liberal Arts Education in the Global World." Drawing upon his 33 years of experience in the global marketplace, Ip outlined a number of ways that liberal arts students have an edge in the corporate world.
With his background working at the height of international banking, Ip is currently the executive director and chief executive officer of Langham Hospitality Investments. Langham Hospitality Groups is internationally renowned for its luxury hotel services and hospitality properties. In addition, his passion for education has led him to positions teaching at Lingnan University in Hong Kong, the City University of Hong Kong and the University of Macau. He is also the Executive Fellow in Asia at Washington University in St. Louis, and a research fellow of the Institute for Financial Economics at Singapore Management University.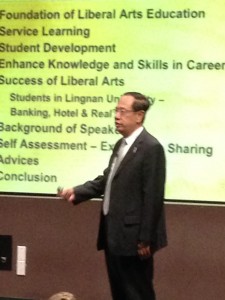 Ip's experience bridging the corporate world and universities provides him with unique insights when it comes to understanding the benefits of a liberal arts education. Completing his studies at Cornell University and Carnegie Mellon, he admitted in his lecture, he was in a track exactly the "opposite of the liberal arts."
He demystified the belief that only students on a certain track have a shot at a position in top firms: "It doesn't matter whether you went to Gordon, Cornell or Harvard, what they want to see is passion," he insists.
While at a liberal arts college like Gordon, students may take a handful of courses unrelated to their chosen field. Ip assured this diversity of subjects available to students encourages the development of creativity and independent thinking. The small size of most classes at liberal arts schools allows students to be more confident and engaged in discussion, providing the skills needed to mingle and participate on a team in the workforce. Students should seize opportunities to study or complete an internship abroad in order to gain a global perspective, he said. The emphasis on service-learning at many schools like Gordon also cultivates a sense of responsibility to local and global communities and interpersonal skills.
Ip concluded his lecture with practical advice for students in the midst of the job search: take risks, stay humble, be flexible and maintain a positive outlook.
Students can maintain a positive outlook. The vast number of opportunities to learn, grow and serve at Gordon mean the hesitant philosophy major is in good shape after all.
by Nora Kirkham '16, history and English language and literature