La Vida's Abby Stroven Captures the North Shore in a Coloring Book
La Vida Adventure Pursuits Director Abby Stroven has found a way to meld together two of her greatest interests: art and nature. Spending time in the Adirondacks with the La Vida program opened up an opportunity to create pen and ink landscape sketches. Her humble beginnings selling notecards on Etsy has led to a publishing deal of a different nature.
Stoven was approached by a fellow Etsy member, who after seeing her sketches asked, "Hey, what would you think of doing an adult coloring book?"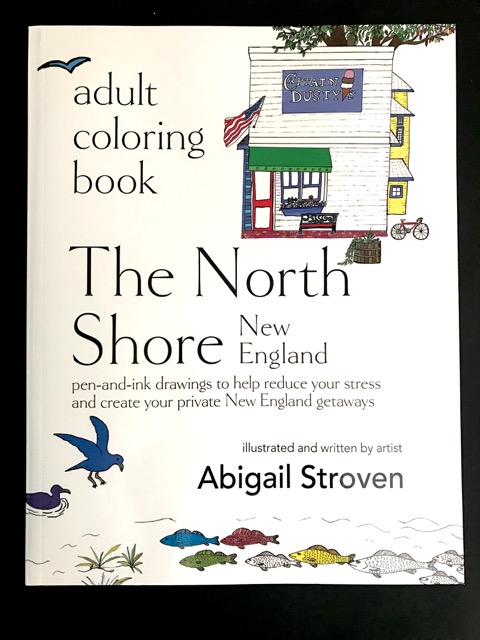 Stroven looked no further than her current home—the North Shore, an area that combines natural, manmade and historical landmarks that resonate with her zest for beauty, experience and a sense of place.
"It could be buildings you're talking about restoring," she says. "It could just be relationships between people who've been here forever and people that are new. How do all those things intersect to make something really beautiful that is both old and new?"
Well, it could begin with a visit to the most painted building in American art history, Motif #1 in Rockport, an old, red fishing shack on the harbor, adorned with buoys. Or, it could be a short trip down the road to Manchester-by-the-Sea for a photo of the familiar Captain Dusty's Ice Cream. Or, perhaps the elegant Crane Estate in Ipswich.
"I was excited to go out and visit these places and take pictures," she said. "And then I'd come back, and use that photo to draw. And, sometimes I'd add elements in there that weren't in the picture, like a seagull or clouds or birds," she said.
Since being released in October, Stroven's local coloring book has become one of Green Frog Publishing's best-sellers.
"A lot of people have good memories of either traveling here on vacation or living here," she says. "They're like, 'I remember when I lived there and visited all these iconic sites or places in the town that I used to live.'"
The coloring book is not merely meant to be a nostalgic getaway, Stoven says. Instead, it is meant to have the same effect that the book-making process had on her.
"Art is a good representation of how God created the world and how we can enjoy that," she explains. "It inspires people to get outside sometimes."
Whether it's in the Gordon Woods with the La Vida program, introducing outdoor education to the people of Ecuador (her work prior to Gordon) or creating participatory art like an adult coloring book, Abby Stroven makes a point to showcase God's creation and encourage others to appreciate it with her.
By Dan Simonds '17, communication arts