Schuyler Anderson '14: Effecting Change—One Skateboard at a Time
The day after Schuyler Anderson '14 graduated from Gordon, he drove through the night to Nashville, Tennessee, to start his new job—co-running Salemtown Board Co., a handcrafted skateboard company, with his older brother, Will.
When the brothers were growing up in central Florida, their household was known as the skateboard hub. From a young age, Will and Schuyler wielded jigsaws and drills, fashioned skateboard ramps, fixed broken boards, and helped the neighborhood kids perfect their tricks.
A couple decades later, the brothers are still skateboarding together—and using their talents to impact their community. They're stationed in Salemtown, a small, under-served neighborhood a few blocks north of downtown Nashville. "We love our city," says Schuyler. "We love the guys in our neighborhood, and we want to ultimately be working with them to effect change here."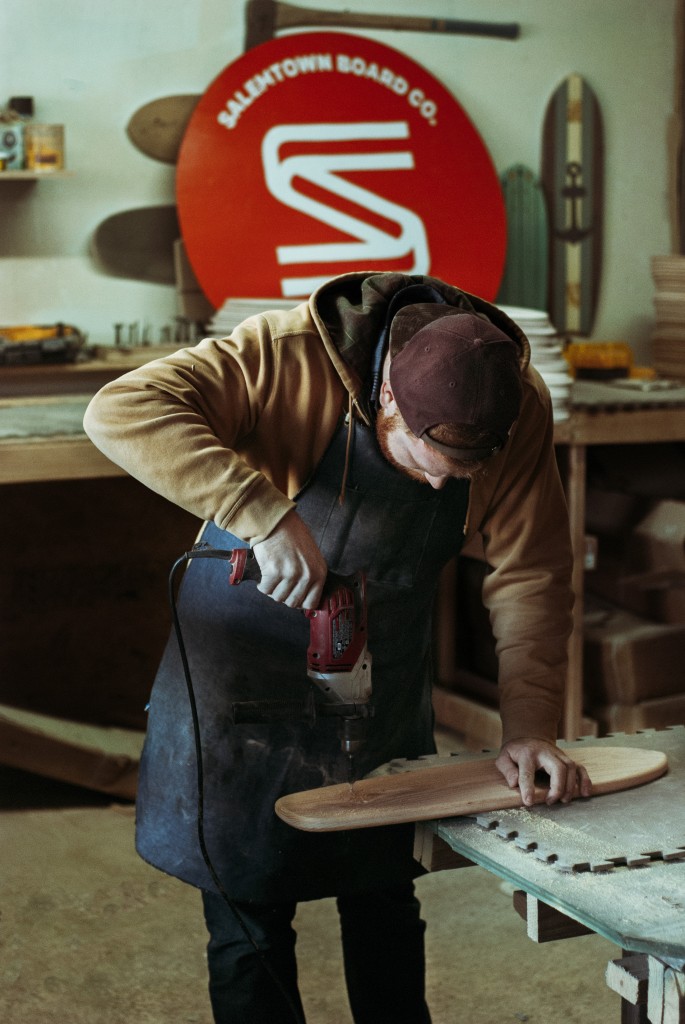 That change starts in the workshop, where Salemtown Board Co. hires local teenagers to help build their coveted custom skateboards. "What we're trying to do is teach them what hard work looks like, teach them to take pride in the work they're doing. We want to show them they have a lot to bring to the table if they choose to bring it.
"When they're hanging out with their friends, what they're bragging about isn't the money they've made from selling drugs; they're talking about the paychecks they're getting from hard work. We want to empower these kids to dream."
So, why would a recent college grad turn down other job offers to pursue this vision? "Gordon taught me to constantly be thinking about what I'm doing and why I'm doing it," says Schuyler. "How can we as a company best be loving our neighbors and best be looking out for others through our profits? That filters into every aspect of what we're doing."
Schuyler majored in business administration and minored in design at Gordon. Now as art director and CFO at Salemtown Board Co., he says, "I could not be using my degree more."
The Economics and Business faculty, particularly Dr. Kent Seibert, were influential in shaping Schuyler's understanding of the power of business to instigate change and impact lives. His internship with Return Design, an on-campus graphic design studio that creates innovative design solutions for local nonprofits, also encouraged him to think in new ways about using his talent for the greater good.
The future of Salemtown Board Co.—and its small neighborhood—looks promising. After being featured on CBS last year, the company was approached by Universal Records about partnering with country singer Kip Moore's charity, Kip's Kids, to build a skate park near the shop. People magazine announced the plans last month, and the park is scheduled to open this summer.
What's arguably more exciting to Will and Schuyler, though, is seeing the results of their hard work in the individual lives of their neighborhood employees—one of whom is heading to college this fall for computer engineering. "It's remarkable," says Schuyler. "We have seen some really exciting responses."
Though not part of the skateboard scene with her brothers, the third Anderson sibling, Alice, also attended Gordon and graduated in 2012 with a degree in sociology. She worked for International Justice Mission immediately following graduation, and is now pursuing a law degree at Pepperdine University.
Want to learn more? Keep up with Salemtown Board Co. on Twitter, Facebook and Instagram.