The Hopeful Possibility in Sudden Goodbyes
By Emily Friesen, resident assistant, Gordon in Orvieto
We gathered at the home of Program Director Matt Doll and his family in Orvieto, Italy, on Thursday, March 5 for apple cider, strawberries and cake: 20 or so students, staff and family gathering in the living room and kitchen. The mood was bittersweet; we were preparing to return to the U.S. following the increasingly grim news of the spread of the coronavirus in Italy. Students had been packing their bags for the past two days—a strange reality because we had barely finished unpacking them. Normally we would be working in the studio together or drawing in town, diving headlong into the first month's Disegno course. That week, we should have been preparing for our first program excursion to Rome. Instead, we faced a disorienting reality of goodbyes and sudden endings.
Two days earlier, when Prof. Doll and our staff sat down with the students to inform them that the program was ending early because of the global pandemic, there were many tears. A grief was born in all of us that will be slow to heal. I saw on each person's face their own particular loss: of classes and experiences in Italy, friendships cut short and hopes for travel gone. As our meeting continued, though, I was moved by the responses of our students. They asked us how we were, how our situations as a staff would change. They expressed love for each other and for the group, and gratitude that they got to be here at all. Seeing this outpouring of solidarity and friendship in such a difficult and unprecedented time, I realized that our concept of time is not always true to our experiences.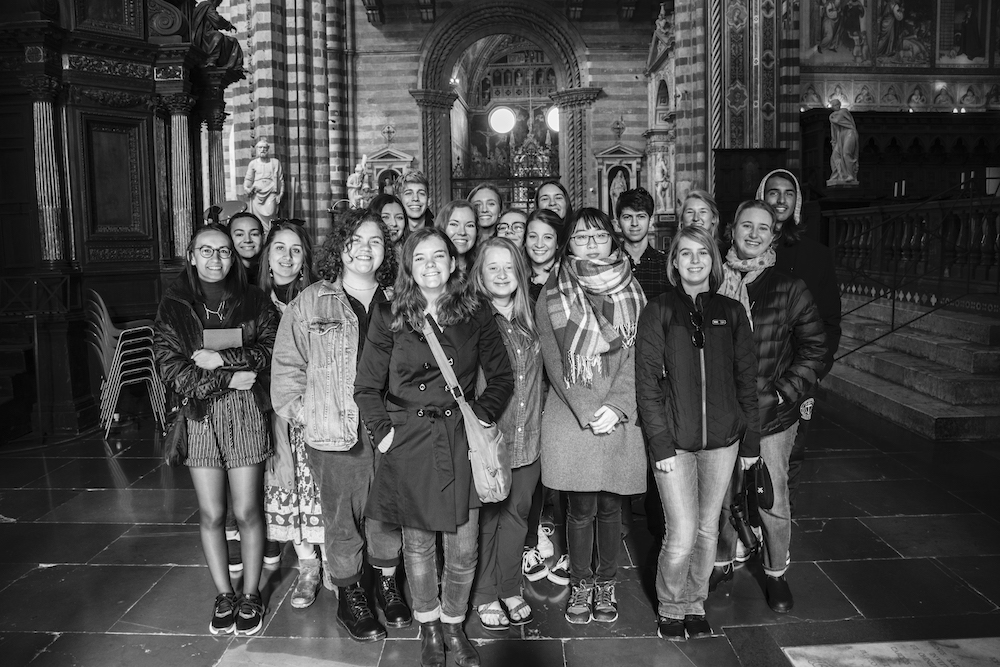 Though we only had 10 days together, the spring 2020 cohort was truly in and of Orvieto: They explored the city, encountered its history and made interesting, challenging and beautiful artwork. They came together as a community, standing with one another through many experiences and upheavals in such a short amount of time. They did so well with the time they had in Orvieto, and as a staff we grieve the time we will not have because those 10 short days promised such abundance. Did we all deserve a full semester together? Certainly. But I have hope that the "semester" we did have is a catalyst and seed of something new and completely unexpected.
A few semesters ago, I was talking with artist Ted Prescott, emeritus professor of art at Messiah College, when he came to teach Modern Art and Spirituality in Orvieto. Something he said has kept returning to me during this experience. He said that the rabbi and thinker Abraham Joshua Heschel defined human beings by their responsibility; what makes us unique as humans is our call to be responsible. I take that to mean that we are not defined by our power, control or intelligence (though certainly we sometimes have those qualities)—we are not even defined by our goodness—but by our sense of responsibility. In the midst of this crisis, this gives me not only hope but a challenge as well. How can I remain responsible in this situation? How do we all witness or experience this grief and yet acknowledge the goodness that stays so abundant? We have to be willing to tell the complicated stories of what has happened in our lives.
In our last chapter meeting, Prof. Doll read the poem "A Vision" by Wendell Berry, which ends with these words: "This is no paradisal dream. Its hardship is its possibility."
Suddenly, these questions ripple in larger and larger circles—not just our Orvieto community, but the whole Gordon community, all college students, Americans from every state and region, and people across the globe. Together, we face the painful reality of our physical vulnerability, our helplessness to fully understand and combat this pandemic. Our daily life has been upended. We fear for the health of our loved ones. Plans for the future are uncertain. But we must remain responsible in our reactions. Will we choose to care for those around us? Can we acknowledge the love and connection that seems to thrive and only grow in these challenges? How can we choose empathy instead of letting our vision stop at just our own losses? May we find a way to live well during and after this crisis. May we tell the complicated stories of what we lost, but also of what we gained. May we be willing to witness the pain and also the miraculous. And when we return to daily life, may we remain responsible to each other and to these truths.
Spring 2020 Orvieto participants: Samara Barrett, Maeve Brooks, Sophia Cannistraci, Linzie Ciarcia, Elizabeth Cripe, Emma Elzinga (Wheaton), Erika Hall, Jessican Herdrich (Westmonth), Adam Marinello, Catherine Martinez (Malone), Travis Singh, Bailey Spiegel (Taylor), Nicole Valli, Ashley Whalen, Campbelle Williams (Taylor), Kylee Wiseman (George Fox), Wen Yue Zhang
Header image by Steve Dagley '08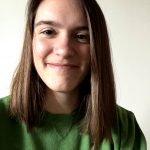 Emily Friesen is the resident assistant for the Gordon in Orvieto, Italy, program. She graduated from Houghton College with a double major in studio art and English, and was a student in the Orvieto program during the fall 2016 semester.