Above and Beyond: ELEVATE 2015
This July, Gordon hosted the third annual session of ELEVATE—a leadership lab for outstanding rising high school juniors and seniors. Through personalized leadership coaching, seminars, adventure-based learning and a charge to take real-world action in response to local problems in their communities, ELEVATE participants develop their leadership abilities in ways that are designed to endure long after the program's close.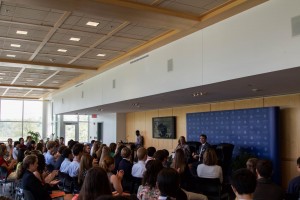 The 45 participants selected for ELEVATE 2015 came from all over the U.S. and as far as Brazil and Singapore. Throughout the span of one week these students prepared local community enrichment proposals for review by the ELEVATE staff. "I was surprised by how intelligent, caring and connected the students at ELEVATE were. They each came with issues in mind they wanted to solve in their own communities, and the amount of passion and drive they had when working toward making a change was incredibly inspiring to see," says Marin Butterworth '16, one of the program's staff mentors.
Three groups were rewarded for their initiatives and received seed funding to launch their projects. The first place group was awarded $1,500 for their start-up, "Drop It, Don't Pop It," a Beverly, MA, based prescription drug disposal program and awareness campaign. "Basically, 50 percent of prescription drug abuse happens because parents have extra pills in their cabinets. Kids take them, and use them for fun," says Talita Elizeu '17, who mentored the winning group. Their project aims to encourage and enable parents to dispose of their prescriptions in a secured drop box to cut down on abuse rates.
The first runner-up was FEED (Food Education Enhances Diet), a project focused on educating children in a Polk County, FL, neighborhood about healthy eating. The second runner-up was the Branford project, which aims to increase sex trafficking awareness in one participant's high school.
Per usual, the expertise of the ELEVATE staff is unparalleled. Si-Hua Chang '15, among others, received many heartfelt thanks from the students he mentored during the program. "I was considerably surprised by how capable and mature many of the students were. I was also quite impressed with their capacity to generate and develop interesting ideas, and with their ability to work effectively and diligently," he says. "I would say some of them are already on par with college students!"
By Jimmy Sicord '16, Communication Arts