Announcing Work Ahead: Ready for 2030
First-year students will be 30 years old in 2030, and by some estimates, more than two-thirds of them will work in careers and roles that don't exist today. To prepare students well for the future of work, Gordon College is pleased to announce the launch of Work Ahead: Ready for 2030.
Leveraging the expertise of faculty and senior advisors, the Work Ahead initiative will lay the groundwork for the College's next strategic plan and offer direction as to what knowledge, skills and aptitudes are needed in order for these students to thrive in future workplaces. The initiative's research findings will be presented in a series of TED Talk-style events hosted by senior thought leaders and advisors, including the following.
Andy Crouch | Partner for Theology and Culture, Praxis
Myron "Mike" Ullman III | Chairman, Starbucks Corporation
Mary Beth West | Senior Vice President and Chief Growth Officer, The Hershey Company
Heather Templeton Dill | President, John Templeton Foundation
Patrick Gelsinger | CEO, VMWare
Kay Cole James | President, The Heritage Foundation
Kirk Perry | President of Brand Solutions, Google Inc.
Samuel Rodriguez | President, National Hispanic Christian Leadership Conference
Diego Ruiz | Vice President for Global Public Policy and Government Affairs, PepsiCo
Baroness Philippa Stroud | Co-founder, Forum
David Stroud | Co-founder, Forum
Rosa Whitaker | Founder and President, The Whitaker Group
The kick-off event featuring Andy Crouch, Mike Ullman and Mary Beth West will take place at 10:25 a.m. on Friday, April 12, 2019, in the A. J. Gordon Memorial Chapel at Gordon College.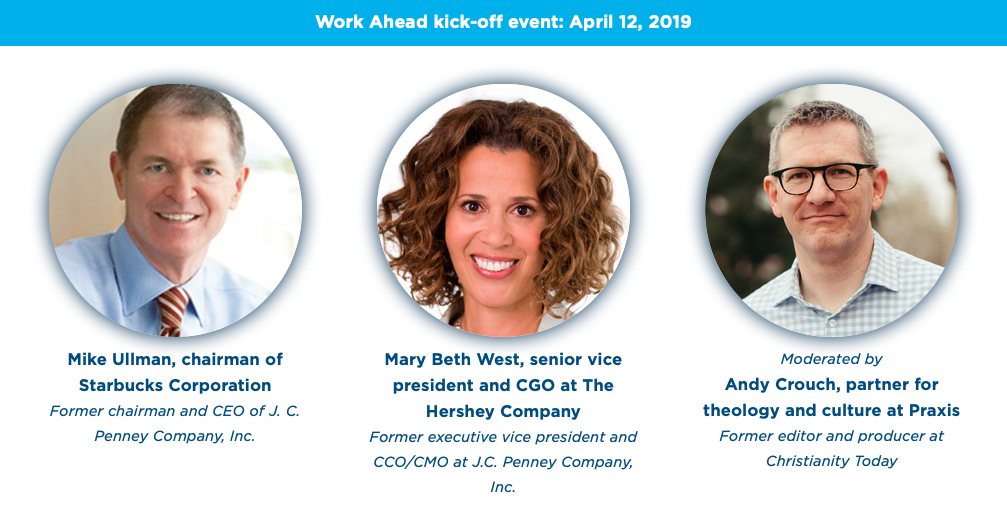 Drs. David Lee (physics) and Jennifer Hevelone-Harper (history) will serve as faculty representatives to this working group, and additional thought leaders and advisors will be announced in the months to come.
 Though the essence of skills developed through a strong Christian liberal arts education—the ability to think critically, reason analytically, communicate persuasively and act morally—are valued by employers in all fields, the Work Ahead initiative is designed to offer a framework for examining how best to ensure that Gordon's preparation of today's (and tomorrow's) graduates will be relevant well into the future.