Bone of my Bones: The Sculpture of Mark Potter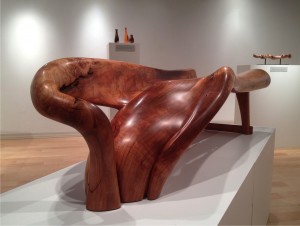 On view in the Barrington Center for the Arts through December 23, the sculpture of Mark Potter grows out of his interaction with materials, hand tools, theology, and life on his farm in Pennsylvania.
Cut and polished from beech, curly maple, English walnut, Douglas fir, cherry, sycamore and other native woods, Potter's sculpture manages to preserve the shape and contour of a given log or branch or tree trunk while discovering hidden aesthetic elements in each natural form. Each of these pieces also operates as a metaphor for some aspect of marriage. The exhibition title, "Bone of My Bones," refers, of course, to the spontaneous proclamation of the first human, Adam, when he encountered his mate Eve. The artist consciously speaks out of this same energetic "shout."
Mark Potter has crafted a lively and aesthetically rich show that draws upon biblical references and evokes the beauty and complexity of the literary and relational realities underpinning his imagery.