CCC Offensive Player of the Year: "It's a well-rounded experience"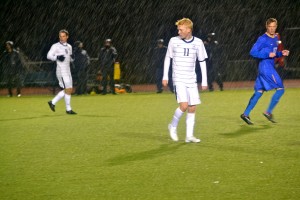 Caleb Cole '17, a  philosophy major, scored a league-leading 14 goals this fall for Gordon Men's Soccer—Commonwealth Coast Conference (CCC) championship finalists and the highest-scoring team in the league. Despite his athletic accomplishments, including recently being named the CCC Men's Soccer Offensive Player of the Year, Cole realizes there is even more to the Gordon experience.
"Soccer is your religion if you're a Division I soccer player. But here, your pursuit of God is nourished," said Cole. There's even a profound difference between Gordon and their Division III counterparts, he adds. "The people are the difference. It's a really special place. From a playing standpoint, I don't know if there's another team that has the friendships our team has."
At Gordon, Cole says, members of the Men's Soccer team—consistently present in the NSCAA regional top 10 rankings—focus on being one another's "brother's keeper." That is their team identity.
"We try to recruit top-notch players that will inspire teammates. I'm really blessed by the other guys on the team," Cole said. He attributes his team's culture to the influence of coach Derek Potteiger. "If one of us gets married down the road, and eight or ten of our teammates aren't there, [Coach Potteiger] believes he's not doing something right. So, that's kind of the goal: create relationships that last. It's not just about soccer."
Cole experienced much success as an offensive player this past season. During his freshman year Cole led the Scots in assists (9). He has now assumed the role of finisher. Cole has certainly done just that in his second year, finding the back of the net on 30% of his shots on target for the Scots' CCC-leading offensive attack (50 goals).
It is more than goals and victories for Cole, though. He likes to think "outside the box." That's why he's a philosophy major.
People said, "Do what you enjoy and be motivated to learn," Cole noted. He has taken those words to heart. His daily routine during the season consists of class, two to three hours of soccer practice, and schoolwork—making for a hectic, yet regimented, schedule. But for Cole, schoolwork and sport are intertwined. He believes that his major will benefit him whether he pursues philosophy academically after Gordon or becomes a coach, something he noted that he would like to do someday.
"I grew up loving Lord of the Rings, C. S. Lewis, Chronicles of Narnia and Greek mythology. That stuff naturally resonates with me. So I guess I just felt an urge to pursue philosophy."
The top-level forward discovered Gordon as a result of his experience working at the Gordon soccer camps over the summer in high school. "I chose Gordon because I fell in love with the campus and believe that there is a high level of education and overall Christian atmosphere," said Cole in his commitment press release as a high school senior. "I am excited about being a part of Gordon Men's Soccer, and can't imagine a better place to spend four years of my life."
Halfway through his time on the Brigham Athletic Complex turf, it's clear that Cole has already left his mark—on and off the field.
By Daniel Simonds '18, Communication Arts