CTS's Newest Four-Legged Member
If you've been in the Center for Technology Services (CTS) recently, you may have noticed a new employee who is shorter and hairier than the rest of the crew. Shadrach is a café grey ninth-generation Australian labradoodle. He's been commissioned to combat the pervasive goose problem on campus. Shadrach belongs to Chris Jones, who as associate vice president for technology and operations oversees CTS, the Mail Room, Gordon Police and Physical Plant.
Jones reports that in a recent conversation with President Lindsay and Mike Ahearn (vice president for finance and administration), "We were talking about how problematic the geese had been. Over the years we've tried all sorts of things like decoy coyotes." These invasive birds are seemingly not fazed by much. Research has established only two solutions: pesticides and dogs.
Though there are companies that rent out pursuit dogs, Jones half-jokingly offered to bring in his own dog—it would be free and consistent, he said, not to mention hypoallergenic, short-haired and well trained. The idea stuck.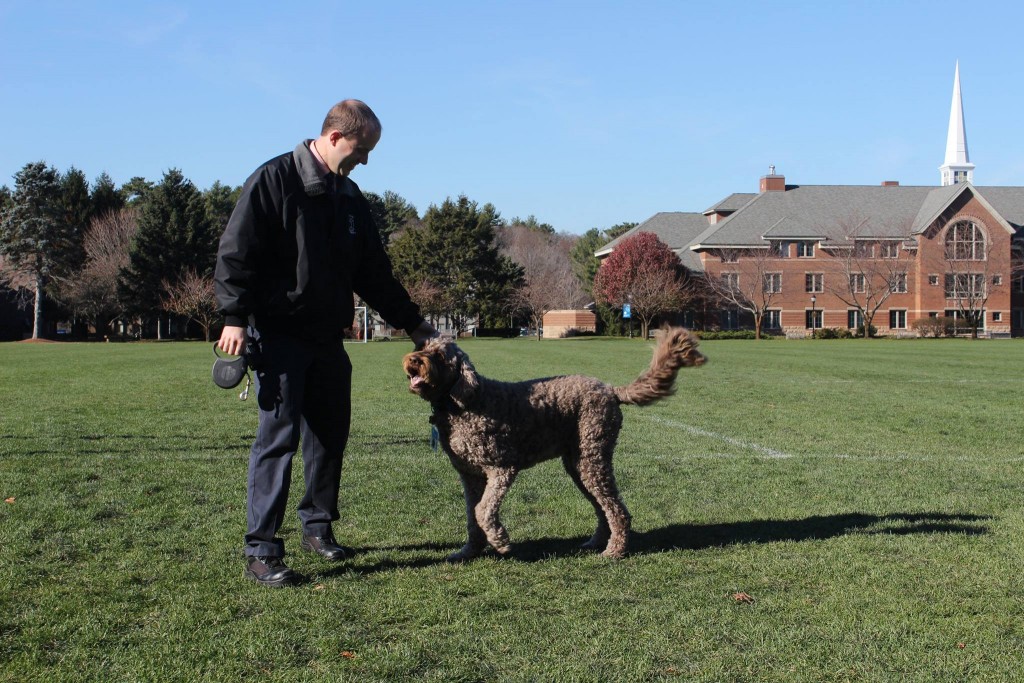 Shadrach was approved by the administration as an assistance dog, and was issued an official Gordon ID. He shares an office with Jones, and together they patrol the Quad, the baseball field and Ferrin Field every weekday. On the weekends, Gordon Police keep an eye out and inform Jones if there seem to be gaggles of geese invading any areas. As a failsafe, CTS attached one of the old coyote decoys to a remote control car so it can be set loose on the grounds when Shadrach is unavailable.
According to Jones, the Shadrach experiment is working pretty effectively. They've had to chase the geese off the baseball field frequently and from the main Quad a few times, but for the most part campus as a whole is seeing fewer feathers. "I see the geese flying around a lot," Jones says. "Just by having Shadrach on campus, I think the geese see him and it keeps them at a distance." The geese will leave for the season once the snow comes, so Shadrach will be on a break for a while.
Jones' children said that Shadrach's favorite game is (fittingly) "Ruff, Ruff, Goose." Stop by CTS to see Shadrach, or catch him on campus in the line of duty.
Watch a video of Shadrach in action >>
By Sierra Elizabeth Flach '17, communication arts and English language and literature (creative writing)
Photos by Anthony Farenwald '18, communication arts