Paving the Way for Women in Sports
Nestled up on the third floor of the Ken Olsen Science Center, Professor Valerie Gin advises students, plans lectures, and as of late, writes notable books.
With a master's degree in the social psychology of sport, she came to Gordon College fresh out of graduate school to coach volleyball and softball. Twenty-seven years later, she oversees the recreation, sport and wellness major (which falls under the Department of Kinesiology). Recreation, sport and wellness, she says, "focuses on quality of life issues in our physical realm." From recreation for children, individuals with special needs, high school or professional athletes, "we enhance the quality of life for all."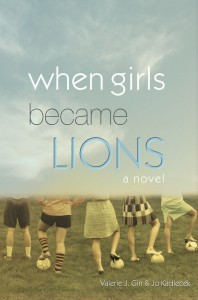 Many Gordon students know her as their professor of Sport Psychology, Sport Sociology, or Theories of Play Games and Sport course. Recently Gin also has received recognition as the co-author of a novel, When Girls Became Lions. "The book stemmed from my own coaching and playing experiences," she said, "so the personalities of people—the fictitious characters—in the book are actually based on different people that I had coached or played with."
The story was born from a real life situation. Gin said, "I had a really good friend that went to UCLA (University of California, Los Angeles) and during her freshman year, won two national championships: one with her softball team and one with her basketball team. This was phenomenal because just winning one national championship your freshman year is incredible." Unfortunately the teams won these championships the year before women became part of the NCAA (National Collegiate Athletic Association), which meant "they didn't get rings," Gin said. "They didn't get banners hung; in fact, they got very little notoriety because they were girls."
Eventually a new coach at UCLA discovered the legacy of this team and raised money to invite the championship winners back. This new coach honored these former players with rings and a game day ceremony. Gin said, "And I thought that was so cool. That's like the ending of a movie." And so began her inspiration.
Over four years, Gin and co-author Jo Kadlecek wrote the story of a fictional soccer team whose experiences are based on the UCLA team. The novel jumps back and forth between 1983 and 2008, with a new coach discovering the history of the school's forgotten women's championship team. Gin said, "I knew I wanted to celebrate women's friendships and the opportunity that women have had to play, because it wasn't always so."
Of the many books Gin has read about sports, not a single one featured a female protagonist. "I think it's about time," she said. "My hope is that we start a new genre of books." Gin's pioneering novel has received significant attention from coaches, Olympic athletes and fans around the world.
Julie Foudy, 1999 USA soccer champion, Olympic gold medalist and ESPN broadcaster, endorsed the book right away. Foudy said, "We need stories like When Girls Became Lions for the next generation of girls in sports." It has been hailed by many as an innovative inspiration that paves the way for women's sports.
The official book launch for When Girls Became Lions took place on Sunday, November 22, from 5 to 7 p.m. at the CinemaSalem Café in Salem, Massachusetts.
When she's not writing, Gin may be jetting around the world for one of her many speaking engagements on sport ethics or social psychology of sport. She recently travelled to Doha, Qatar, where she was invited to host a two-day coaches' workshop for the Qatar Women's Sports Committee in partnership with the Qatar Women's Sports Foundation and the U.S. Embassy. The following week, she and a collaborator would be at Baylor University to present a paper on The Declaration on Sport and the Christian Life. After that she was off to Orlando to facilitate an event for an international sport coalition.
If you ever visit Gin on her third floor office in the middle of a long hallway, she'll probably be advising a student or preparing for class, but she'll likely welcome you for a casual conversation on her couch. My suggestion: Go before the paparazzi find the Ken Olsen Science Center.
By Sierra Elizabeth Flach '17, communication arts and English language and literature (creative writing)