Ensembles Perform 'Treasure Chest' of Music by Black Composers
As musicians tune their instruments and audience members take their seats, all parties are about to embark not only on a journey of entertainment, but of new cultural horizons. With students eager to learn and audiences tuning in over livestream, Gordon's Department of Music continues their virtual season by highlighting music by Black composers. But instead of restricting the programming to Black History Month, faculty have made these works a priority year-round.
"Christian artists enjoy an amazing privilege of sharing works of art with our community that display and echo the abundant diversity of God's creation and God's people as part of that," says Symphony Orchestra and Symphonic Band Conductor Benjamin Klemme. "Showcasing contributions of Black composers has given us an important opportunity to consider how our music making can help advance equity in our field."
Redefining "classical"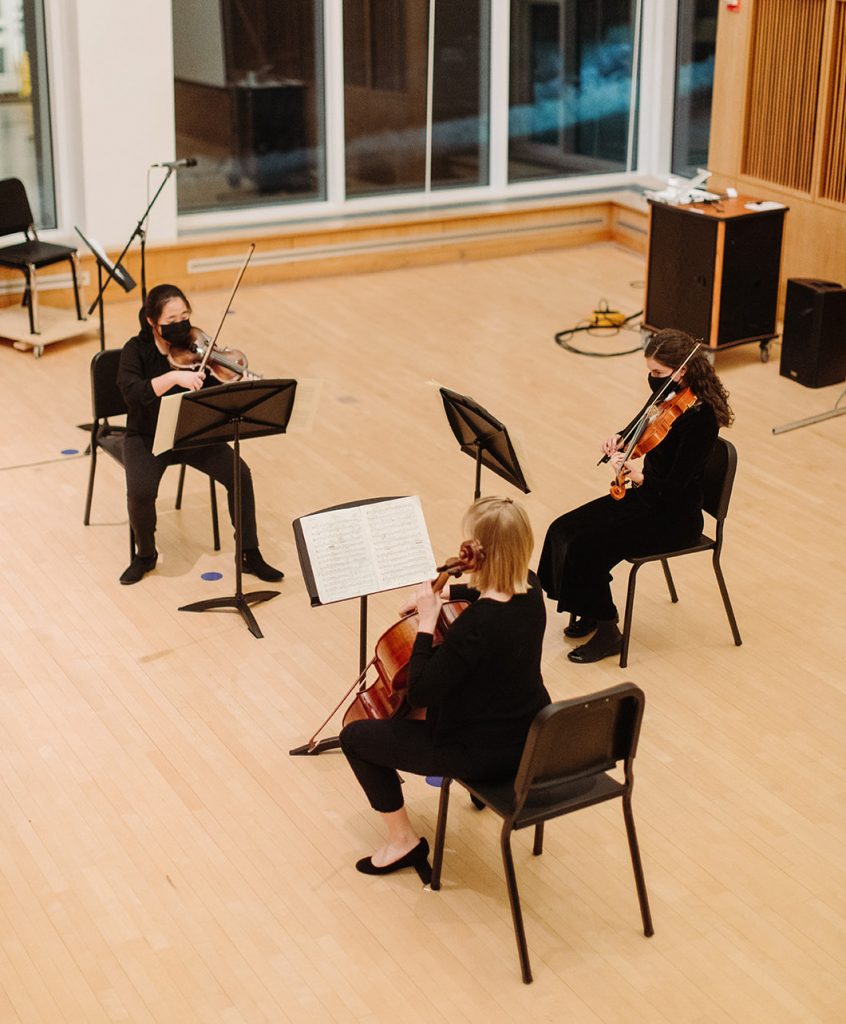 As director of Gordon's chamber music program, Adams Endowed Chair in Music Sarita Kwok selected works by 18th-century Black composer Joseph Bologne Le Chevalier de Saint-Georges, George Walker (the first African America to receive a Pulitzer Prize) and a living English-Jamaican composer, Eleanor Alberga, for the string chamber musicians to work on this semester. These will be performed on May 7. "So many of our students are going to be teaching such a wide variety of ethnicities, races, backgrounds and cultures in their classrooms, studios and in their churches," says Kwok. "We need to prepare them to understand that so many voices contributed to classical music's development."
Saint-Georges' influence is also reaching the Gordon Symphony Orchestra (GSO), who on March 27 will perform a movement from his Symphony No. 1 (c. 1771–79). Under Klemme's leadership, the program also includes music by two fellow Black composers who reflect late-19th– and 20th-century styles: William Grant Still and Samuel Coleridge-Taylor. Finally, the concert will conclude with Symphony No. 27 by Wolfgang Amadeus Mozart—a contemporary of Saint-Georges, who is rumored to have been the famed composer's roommate for a time, possibly influencing Mozart's work.
"It's my hope that by playing this music," says Klemme "GSO musicians in the future, when they go beyond the halls of Gordon . . . will remember their experience with these incredible pieces of music and . . . remember the lives of these people, and . . . then program [the composers] themselves."
A "treasure chest" of music
As a way to safely create music in-person amid pandemic, the College Choir is playing handbells. One special piece they have been preparing to record is an arrangement of A. J. Gordon's "My Jesus, I Love Thee," which College Choir commissioned Director of Worship Bil Mooney-McCoy to write.
Entering into a different location and style, Gordon's musicians are unpacking the significance of music born out of the Black experience in America, from slavery to the Civil rights movement. In College Choir, Conductor Jamie Hillman, assistant professor of music, is leading his students through the African American spiritual "Steal Away," arranged by Patrick Quigley. The virtual performance will feature soloist and Gordon music alumnus Emery Stephens '88, a professor of voice at St. Olaf College in Minnesota.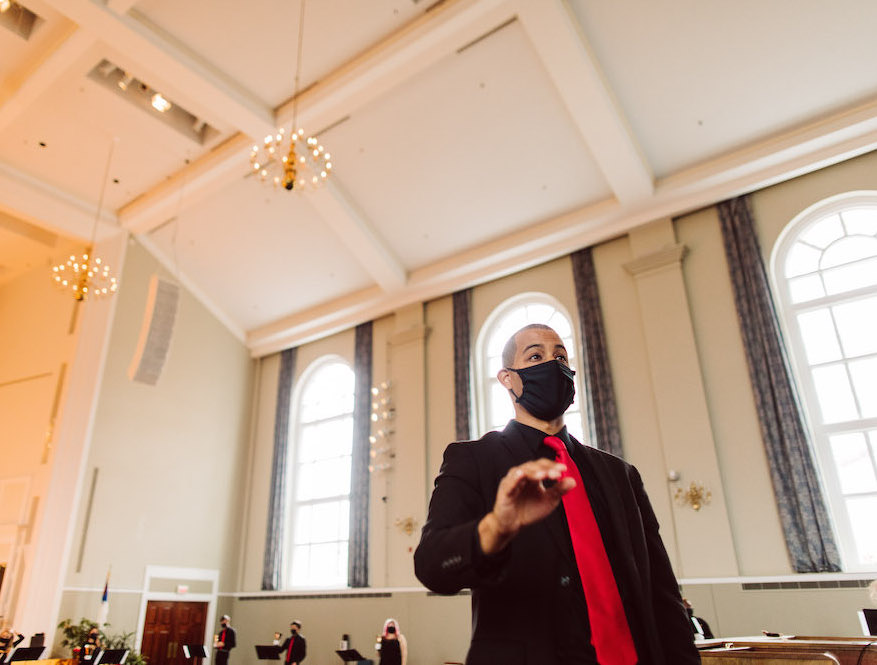 "This is American music birthed out of American history," says Hillman. "Out of something that was so negative in our history and something that was so oppressive to people in our history, out of that was born this amazing treasure chest of American music that I think is an inspiration to people all over the world."
As College Choir meditates on phrases like "The trumpet sounds within my soul; I ain't got long to stay here," they consider both the biblical and historical references of Revelation and slavery. "This music to me is sacred music," says Hillman. "Some people would call it Christian music. This is music that we should be singing at Gordon."
When the performance is released, Hillman hopes audiences will not just enjoy the students' talent but internalize the music's meaning and identify their personal connection. "A lot of people think only Black choirs should sing this music," he says. "I think the opposite. I think every choir should sing this music. I think everyone can relate to the stories and the message that is in this music."
How details reflect an experience
Like Hillman, Jazz Ensemble Conductor Gerry Dolan considers his respective style of music to reflect the nation. "I feel strongly that jazz is truly American music that grew out of the Black experience," he says. "The unique rhythms and harmonies are all derived from Black culture and have become embedded in the American experience."
Teaching jazz to English students while on a Fulbright Scholarship in England revealed to Dolan the extent of its rootedness in the American psyche and culture. "I struggled teaching the swing concept to my English students," he says. "My American students heard the rhythms and harmonies of jazz in all their cultural experiences," such as pop music, rap, hip hop, country and scores for television and movies.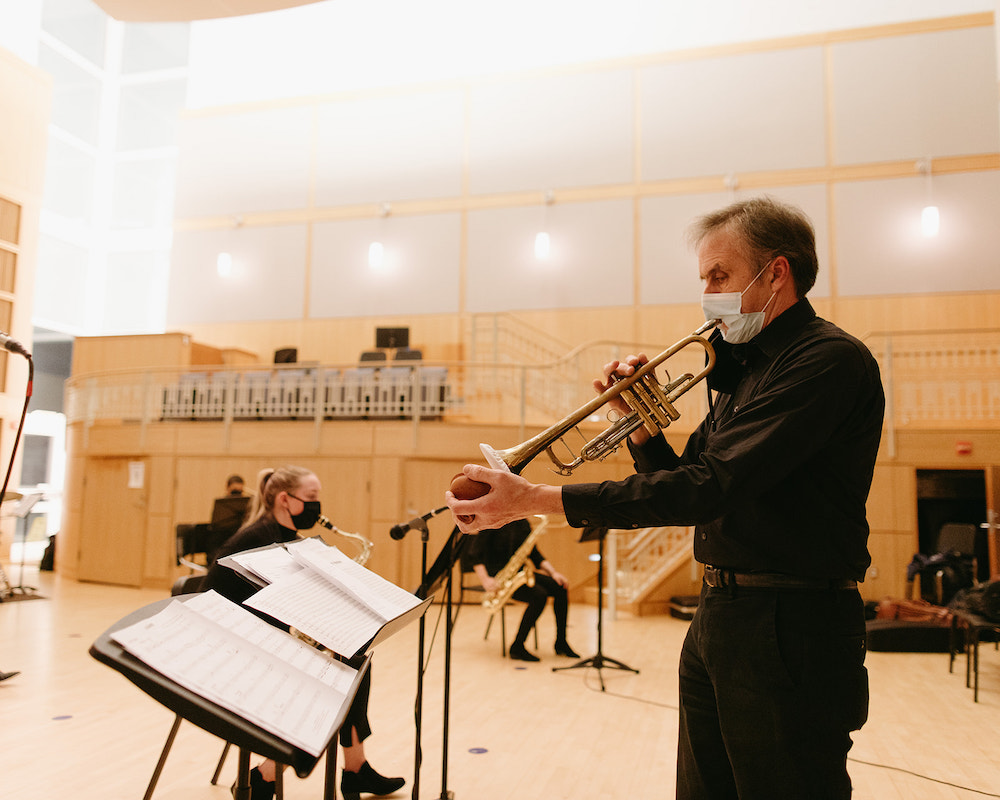 Just hearing improvisation in jazz—one of its most important components—Dolan says listeners can draw connections to history. "The freedom of improvisation was in direct contrast to the racial discrimination and Jim Crow laws that the Black musicians were experiencing in their everyday life," he says. Now, "one can find the influence of jazz and the Black experience throughout American culture."
In Women's Choir, Instructor in Music Faith Lueth and her students are walking through the art of improvisation, too, with help from Dr. Christopher Azzara from Eastman School of Music, who visited the ensemble in February. To prepare for their forthcoming virtual performance, Women's Choir is taking on the technical and artistic aspects of André Thomas's "I Dream a World," featuring text by Langston Hughes. Dr. Thomas will visit Women's Choir and give his insight into the piece.
In addition, the choir is preparing "This Little Light of Mine." Dialect is one of the important details of the piece, as it is with all spirituals, she explains. "In the West African dialects there are no diphthongs—two vowel sounds on one syllable. Thus, 'my' becomes 'mah,' for example." This detail, she says, "affects the color and timbre of the piece—just as it would in a French, Italian or German song."
Beyond Black History Month
Outside of Phillips Recital Hall and the A. J. Gordon Memorial Chapel, Gordon's music faculty extend their advocacy for Black composers in personal projects. The Arabella String Quartet, including Kwok, recently signed a contract with Naxos Records to record a set of Six Concertante Quartets by Saint-Georges for release in 2022. And in collaboration with CoSA Canada, Hillman will direct an online opera, Endymion's Dream, by Samuel Coleridge-Taylor. "Black composers have written music throughout all of the stylistic periods," says Lueth. "When we recognize these important contributions, we are saying, 'these are to be valued.'"