Fighting Climate Change, One Window at a Time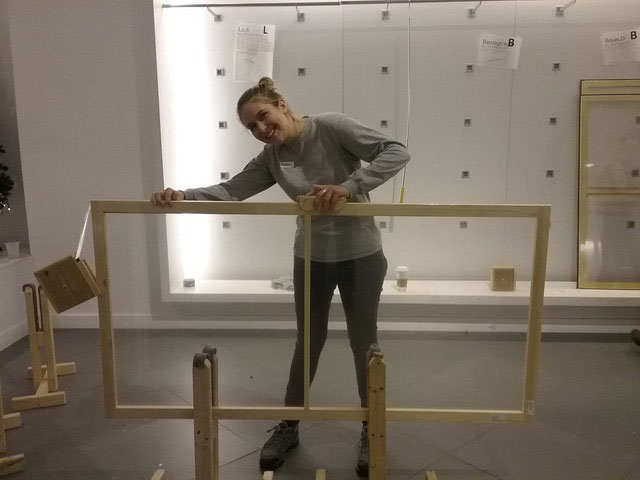 Even before Christine Seibert '18 set foot on campus, Gordon College was making an impact on her. After reading Loving the Least of These by Gordon biology professor Dr. Dorothy Boorse, Christine became eager to do something about the climate crisis. Fewer than 30 pages—on what was changing in the environment, why the increasingly temperamental weather should be a Christian concern, how it affects the poor, and what Christians should do about it—drew Christine into the work that she now has given her heart to.
"Climate change often impacts the people who are poor and who didn't have any carbon emissions in the first place," Christine explains. "If my home on the coast starts flooding, I can move inland. But if you're a subsistence farmer, you might not have that choice. In order to truly care for people, we need to work on fighting climate change while also helping people who are impacted by it."
At Gordon, Christine continued to stoke this passion, studying biology and sustainable development under Dr. Boorse and crafting an environmental outreach minor through the Kenneth L. Pike honors program. Following graduation, Christine found a position where she could both care for people and fight climate change.
"Reading that booklet made me realize how environmental issues are also human issues. And how by caring for the environment I could also be caring for people at the same time," she says. "That just totally blew my mind and made me realize: This is what I want to do. This is what I feel called to do."
Window Dressers is a Maine-based nonprofit that produces affordable window-inserts to protect homes from chilly drafts in colder months. This extra layer of protection enables families to use less fossil fuels for heating as well as keep their homes more comfortable during the winter. As a local coordinator in Orono, Maine, Christine, alongside her team of five students from the University of Maine, serves 40 clients, half of whom come from low-income households and receive the inserts for free.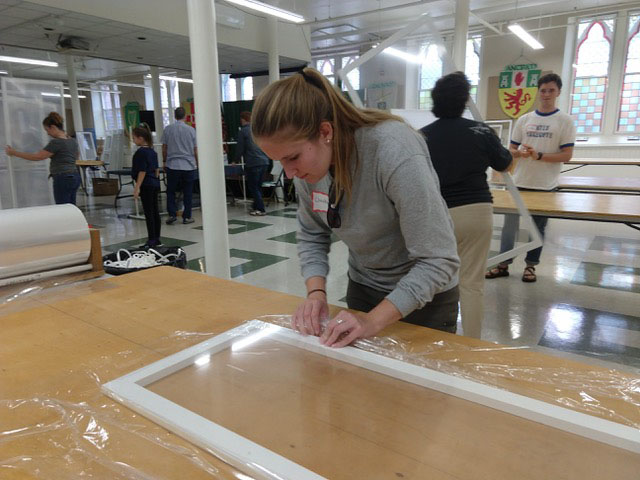 To keep the cost of the inserts low, Christine and her team hold Community Builds. Over the course of five days, more than 60 volunteers—from age eight to 85—convene in a donated space, taking shifts to assemble and distribute the inserts.
"Mainers are really resourceful people," Christine says. "They know how to get things done. And that's another reason why I think that it's a really great project for the state. Because it goes off the idea of how invested people are in their communities. They're going to work hard to get something done for everyone."
The work is also rewarding because these simple renovations make a huge difference in people's lives. Winter temperatures in Maine often dip into negative numbers, and a window insert could mean the difference between being comfortable through the winter and having your house freeze over.
"I had one client whose teenage daughter was sleeping in the living room because her own room was too cold. After the insert was put in, she was able to sleep in her room again," Christine says. "It was really rewarding to hear this, because when you're a teenager having your own space is so important."
Outside of her work with Window Dressers, Christine is bringing her passion for fighting climate change into the church. As a part of the steering committee of Young Evangelicals for Climate Action, she is a part of a nationwide group seeking to mobilize young Christians within their communities for environmental change. "There can be this conception that evangelicals, politically, might not care as much. But that's changing," she says. Despite this shift, she notes that much of the environmental movement is secular, and this has given her the opportunity for her to share why she cares about the Earth as a Christian.
Christine concludes her post with Window Dressers at the end of the summer and will move to York, Maine, where she'll be analyzing the city's greenhouse gas emissions data and helping them identify policies and ways to reduce greenhouse gas that also supports low-income members of their population.
By Veronica Andreades '20, English language and literature