"Food Truck for the Physics Mind" Visits Campus
Feeding students' intellectual appetite took on a new meaning when the Teachspin Food Truck for the Physics Mind visited Gordon's campus. The 44-foot trailer, outfitted with advanced physics instruments, allows upper level physics students hands-on experience with sophisticated equipment.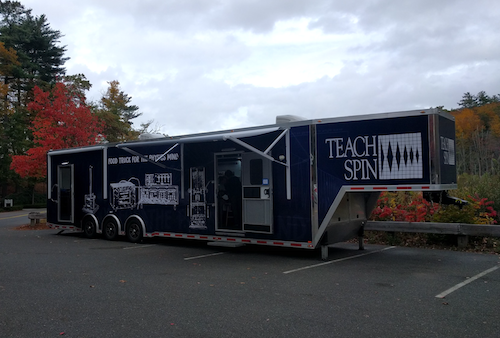 Parked behind Frost Hall for two days in late October, the Food Truck for the Physics Mind welcomed students from the Department's Modern Physics lab and Analytical Mechanics lab. Dr. David Lee (physics) described the experience as "do-it-yourself"—inviting students to "learn from exploring and making mistakes and thinking critically about what went wrong or right along the way."
In doing so, students were able to explore instruments that they wouldn't normally have access to. Lee noted, "It's very academically focused and a really novel and effective pedagogy for upper division physics."
Teachspin is the brainchild of retired State University of New York at Buffalo professor Jonathan Reichert, who, according to Lee "had a passion for developing advanced undergraduate physics lab equipment." Noticing a lack of access to upper-level physics instruments at smaller colleges and universities, Reichert started a nonprofit foundation and purchased the trailer that now functions as a mobile physics lab. The Food Truck for the Physics Mind travels around the country, visiting schools and offering interactive sessions with highly sophisticated equipment for advanced undergraduate physics students.
By Veronica Andreades '19