Gordon Alumnus Publishes A. J. Gordon Biography
"Long years ago," Kevin Belmonte '90 says, "C. H. Spurgeon wrote very eloquently of how important it was for young people, or 'the rising generation,' to hear about good and meaningful things God did 'in the old time, before them.' Such things, Spurgeon said, are apt to be forgotten 'if they are not every now and then rehearsed anew.' We truly miss so much that might prove a benison in our lives otherwise."
So, Kevin did something that hasn't been done in 121 years: he published a comprehensive biography about A. J. Gordon, founder of Gordon College and prolific 19th-century Christian thinker. Because key sources that yield rich insight have come to light since Ernest Gordon, A. J.'s son, published the 1896 biography, Kevin says "it seemed very much as though the time had come for a new biography."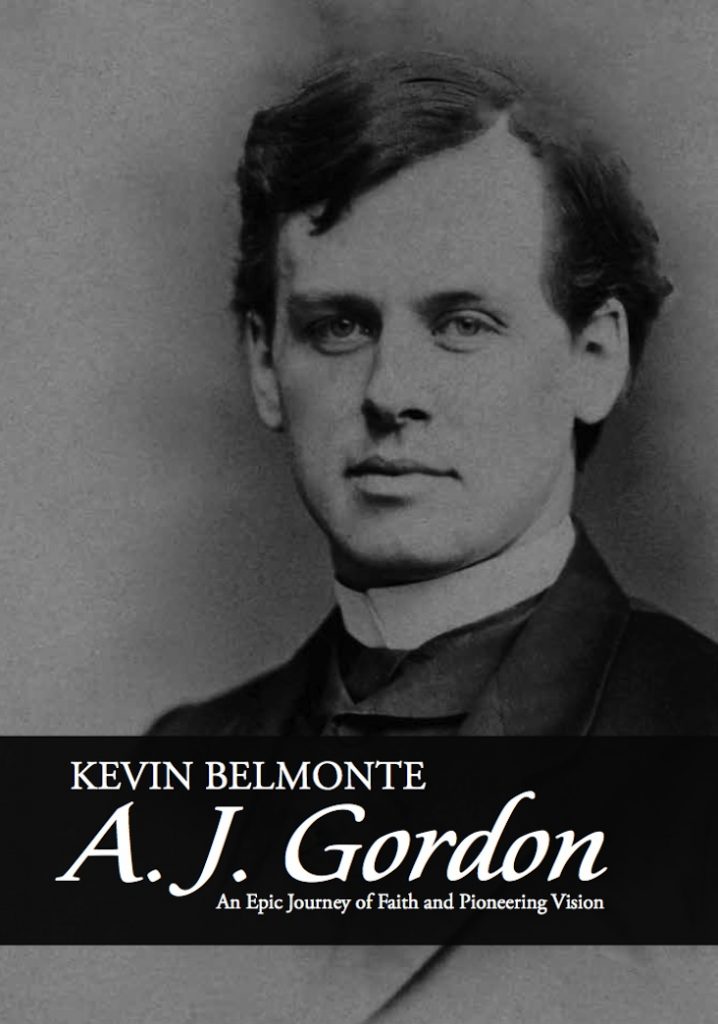 The alumnus who studied English at Gordon and earned master's degrees from Gordon-Conwell Theological Seminary and the University of Southern Maine, published A. J. Gordon: An Epic Journey of Faith and Pioneering Vision with WestBow Press in August. The publisher advertises it as a biography that "brings Dr. Gordon's world to life, charting his rise to international prominence" as "an educator, philanthropist, author, magazine editor, antislavery advocate, trustee of Brown University and the pastor of Clarendon Street Church in Boston."
The better part of three years' research went into Kevin's work on the book. It was a project largely inspired by his work as a student with the late former Library Director John Beauregard '53, and fueled by Dick '58 and Carol (Edwards) '57 Visser. These alumni from the days when Gordon was located in the Fenway district of Boston served as knowledgeable resources, stewards and advocates for Kevin. "It was their heartfelt wish to see a new, comprehensive narrative life of A. J. Gordon published," he says. "Their thoughts ran in the same channel as C. H. Spurgeon's, and they wished to do all that they could to help a project like this become a reality."
Over his time writing this biography, three things about A. J. Gordon stood out to Kevin: his love of laughter, his love of children and ability to relate to them, and his intellect and great gifts as an author. A masterful writer, Gordon penned 16 books, many of which are now housed in places like The Bodleian Library, Oxford and Ivy Leagues, Kevin says.
Had he lived today, Kevin suspects Gordon would have been a Twitter sensation. "Dr. Gordon had a sterling gift for turning a phrase," he says. Some of Kevin's favorites include "In forgiveness, the sky is swept of clouds, the sun shines once more undimmed . . ." and, appropriately, "Memory makes us neighbors to those who lived ages ago."
A neighbor in spirit to A. J. Gordon, Kevin looks with inspiration to the words in The Christian Herald magazine (in which Gordon had a recurring byline) published upon the Christian leader's death in February 1895: "Christian people on both sides of the Atlantic are mourning the loss of one to whom they have looked as a leader, a teacher and a friend. Few are there in any denomination who not familiar with the name of Dr. A. J. Gordon . . ."
"A leader, a teacher and a friend," Kevin reflects. "I can't think of a finer epitaph.
A. J. Gordon: An Epic Journey of Faith and Pioneering Vision can be purchased through Amazon, Christian Book Distributors, Barnes and Noble and other booksellers.