Gordon Produces Classic Romantic Comedy
Gordon's Black Box Theatre has undergone countless transformations in its time. Most recently, it became a 1930s perfumery for the Theatre Arts Department's production of the classic musical, She Loves Me, which ran January 25 through February 3.
The familiar yet endearing musical chronicles two employees of the fictional Maraczek's Perfumery in 1934 Budapest who, despite having similar passions and ideals, share a tense and bickering relationship. In classic romantic comedy style, however, it's only a matter of time before Georg Nowack and Amalia Balash's combustible relationship begins to take a turn.
Much of She Loves Me's success inherently stems from its cast of theatre majors and non-majors alike. Everyone involved is fiercely talented and give it their all, creating a captivating and vibrant spectacle of a show.
Hannah Allen '19 and Lucas Sousa-Ross '20, Amalia Balash and Georg Nowack respectively, shared enchanting chemistry onstage, and thrived in the emotional range their characters' relationship takes them on. From petty quarreling to sweetly awkward affections, Allen and Sousa-Ross remained compelling through it all, and their performances really brought their characters' evolutions to life.
Even though the inevitable turn in Amalia and Georg's relationship is far from a shock, the journey of getting there is what makes She Loves Me such an enduring classic. The musical is gleefully defined by a cast of strange and lovely characters, increasingly elaborate antics, and an ever-evolving ensemble of relationships that develop from contempt to compassion––and sometimes vice versa—in a way that feels both organic and fantastical.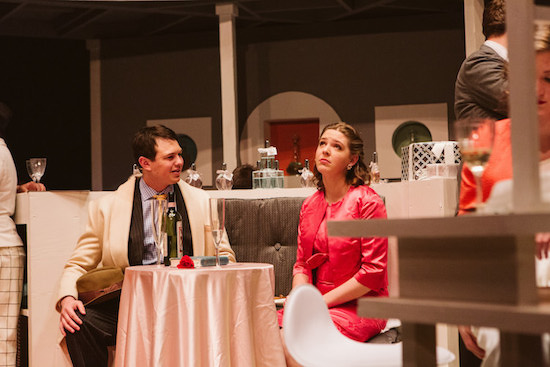 But it's the supporting cast who ultimately stole the show, as it is their riotous and often self-deprecating personalities that brought it such enthusiastic life. Nicholas Blondell's '19 smarmy womanizer Stephen Kodaly was an emphatic stand-out, and his performance oozed a charm that makes Kodaly an "antagonist" you genuinely love to hate. Blondell's chemistry with costar Olivia Neal '20––who played the naive, yet lovable Ilona Ritter––was also fantastic, and it was clear that the two bombastic performers enjoy playing off each other onstage.
While the sizing constraints of the Black Box Theatre and its stage were certainly felt during the show, the set design was clever in its ability to transition from a perfumery to a bedroom or even a romantic café. Of course, a larger theater would have only benefitted the production, but the Department takes advantage of their space, creating an intimate and welcoming atmosphere.
In his director's note, Jeff Miller referred to the annual January show as "the winter miracle" ("it's the only way one can describe how this team gets a full musical or play up in just over two weeks," he said). She Loves Me was just that. It's a charming and refreshingly unpretentious narrative, brought to life by everyone involved in the production, both onstage and off.
Gordon's Theatre Arts Department will next perform William Shakespeare's As You Like It, April 6–7 and 10–14. Learn more >>
Article by Billy Jepma '18, English language and literature, communication arts