Gordon Rowing Sprints to New Horizons
At the end of a winding, 12-minute drive from campus (or a 40-minute run through the woods if you're feeling ambitious) rests a diamond in the rough on the bank of Chebacco Lake at 19 Wood Drive. There at the boathouse on top of the hill, you'll meet Club Rowing Head Coach Maddie Hopkins '18. If she's not refurbishing boats or taking them out on the water, you'll find her out back on the pine-shaded porch, taking in the view as she plans the next race, with Rowsie the boathouse dog nearby.
This oasis in Essex, MA, is Gordon's new Club Rowing center, thanks to the financial support of an anonymous donor. Officially purchased by the College in the fall of 2018, the 7.51-acre property was once home to Camp Menorah. But when the camp closed, Director of Athletics Jon Tymann '83 and Philanthropic Advisor Brad Phillips '91 were one step ahead, their eyes already on the property where Gordon's Club Rowing team already rented boathouse space.
Years of deliberation came to a head when this donor entered the picture, formed a partnership with the College and made a generous gift to purchase the whole property at 19 Wood Drive and 12 Wood Drive.
"It's a really great story to tell that we are partnering with an anonymous donor to create a great facility for Gordon programming," says Phillips.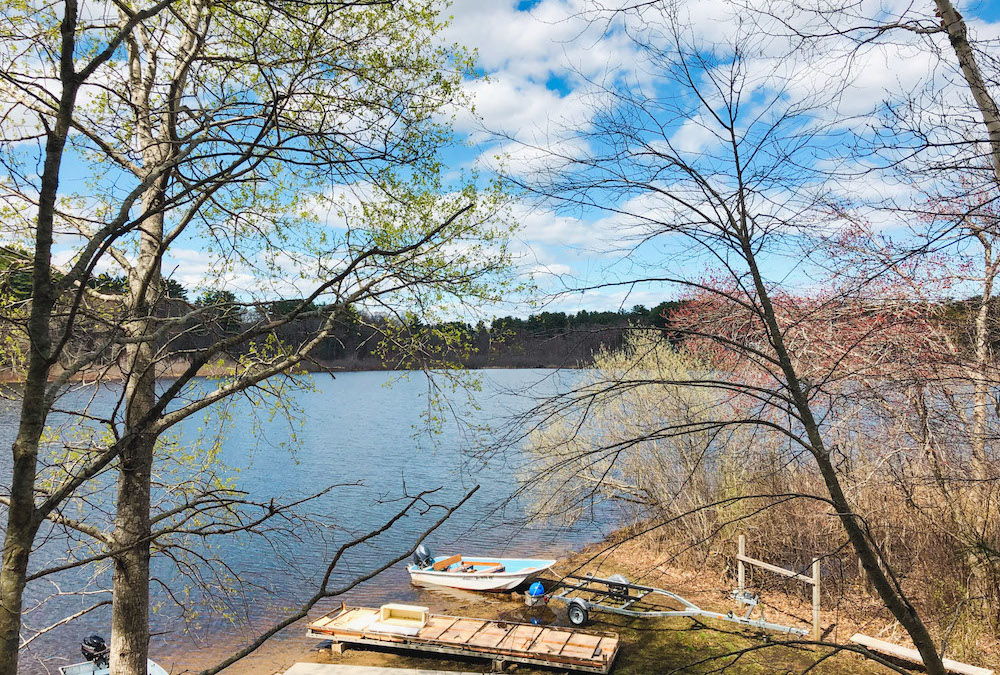 A (boat)house to call home
The College will keep roughly two acres of the land at 19 Wood Drive, including the boathouse, which will be primarily occupied by Club Rowing. It contains three locker rooms, boat storage, an office and space to exercise. The 1.7-acre property at 12 Wood Drive—a mostly vacant lot aside from a pottery shed—was sold to a friend of the College to build a home, and the remaining 3.75 acres at the 19 address will be sold to a nonprofit that benefits veterans—a partnership with Club Rowing that Phillips describes as having "great synergy."
A portion of the income from selling the land will go toward boathouse renovations, which the College hopes to complete over the summer.
"It's great for the team dynamic," says Hopkins. Club Rowing launched as a student-led club in 2015 when she was a student. The team waxed and waned early on, but doing well in races helped the program solidify legitimacy and pick up momentum. So when the boathouse property was acquired, Gordon Athletics decided to hire a full-time coach. Though Hopkins had exciting graduate school and coaching offers, she chose to stay rooted and accept the position at Gordon.
"Ready all, row!"
Now with a home base, Gordon Rowing's horizons have expanded drastically. They began seriously recruiting last summer, increasing from a team of two to a team of 14. The men medaled at Head of the Fish in the fall, and lightweight women's rowing was added, making Gordon one of only 10 schools in the United States and the only non-state or Ivy League school with a program of the sort. "That really changed everything for us in terms of how people hear about us and how we represent ourselves," says Hopkins. "Gordon is a household name for lightweight women's rowing now, and we've only been around for about two months." Having proved themselves in the niche world of rowing, Gordon regularly competes at an extremely competitive level, racing against high echelon crews from MIT, the Army and Boston University.
Today, 70 people row under Gordon Club Rowing affiliations. Boathouse storage space will be rented out to local teams from St. John's Prep, Pingree School and Endicott College. The student-athletes coach Gordon Juniors, which is a group of 30 high school athletes from Hamilton-Wenham, the Academy at Penguin Hall and Ipswich. Over the summer, Club Rowing will host an under-23 high performance training group.
"We have really nice water and we have really good coaching, so they're excited to come," says Hopkins. "It's exciting we can have the facilities to offer that."