Immersive Expressions of Holy Week
In 1741, George Frideric Handel received a fateful delivery from a devout Christian named Charles Jennens. The package contained portions of Scripture organized for the composer to set to music so that listeners could reflect on the Word of God in a new way. Handel took on Jennen's proposal, furiously scribbling the soon-to-be renown notes in a whirl of inspiration.
During the Lenten season of 1742, Handel premiered his enduring oratorio, Messiah.
Almost exactly 280 years later, Conductor Dr. Benjamin Klemme led the Gordon Symphony Orchestra and College Choir in a multimedia concert to present Handel's Messiah for Holy Week in yet another medium.
To access a new depth of the passages' meaning, Klemme commissioned three Gordon artists—Assistant Professor of Art Gregory Deddo, Emmy Delaine (Short) Kangas '20 and Director of Gordon in Orvieto Matthew Doll—to create or contribute artwork reflecting on the three soprano arias. As guest soloist Kristen Watson performed each of the pieces at the immersive April 9 concert, the artwork was displayed for audience members to take in Scripture both audibly and visually.
As Gordon College commemorates Good Friday, enjoy these creative expressions of Scripture alongside the music, and take the artwork along with you as a downloadable phone or desktop wallpaper.
Acrylic and serigraph on canvas—56 x 38 inches | Listen to "Rejoice greatly" on Spotify >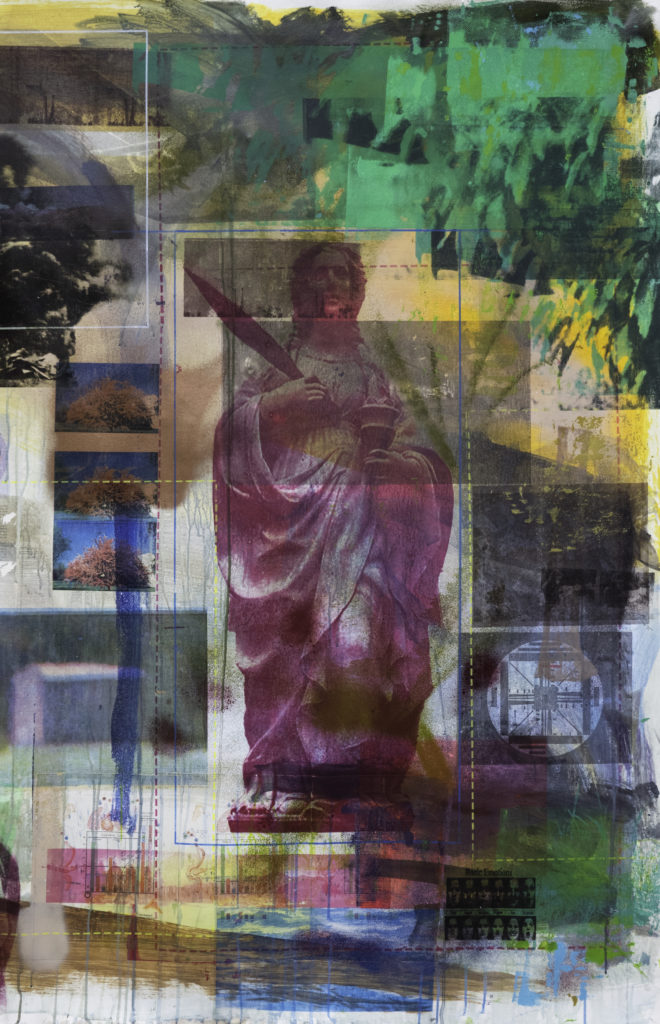 "Lucia of Syracuse (283–304), depicted in the piece, was martyred during the Diocletianic Persecution. She is associated with light, vision and victory over evil, and is often depicted carrying both a cup with eyes and a palm branch.
This piece is a meditation on faith and vision—a reflection on seeing and belief. I was interested in the ways that contemporary imaging technologies (photography, video, computer vision) have reshaped our perception of reality and our understanding of truth. In the piece I brought together an array of historical photographs with my own family photos as a way of questioning the methods we use to try to document and archive reality. The layering of paint and dozens of images is an attempt to resist 'essentializing' forms of knowledge production in order to point to our faith in the transcendent truth of God. Lucia of Syracuse became a central focus as a symbol of this tension between sight and faith, and a celebration of our hope in Christ as illustrated in the bright colors organically breaking through the hard edges of the rectangular images."
How beautiful are the feet (2022) by Emmy Delaine (Short) Kangas '20
Clay, 23k gold, moss and bark | Listen to "How beautiful are the feet of them" on Spotify >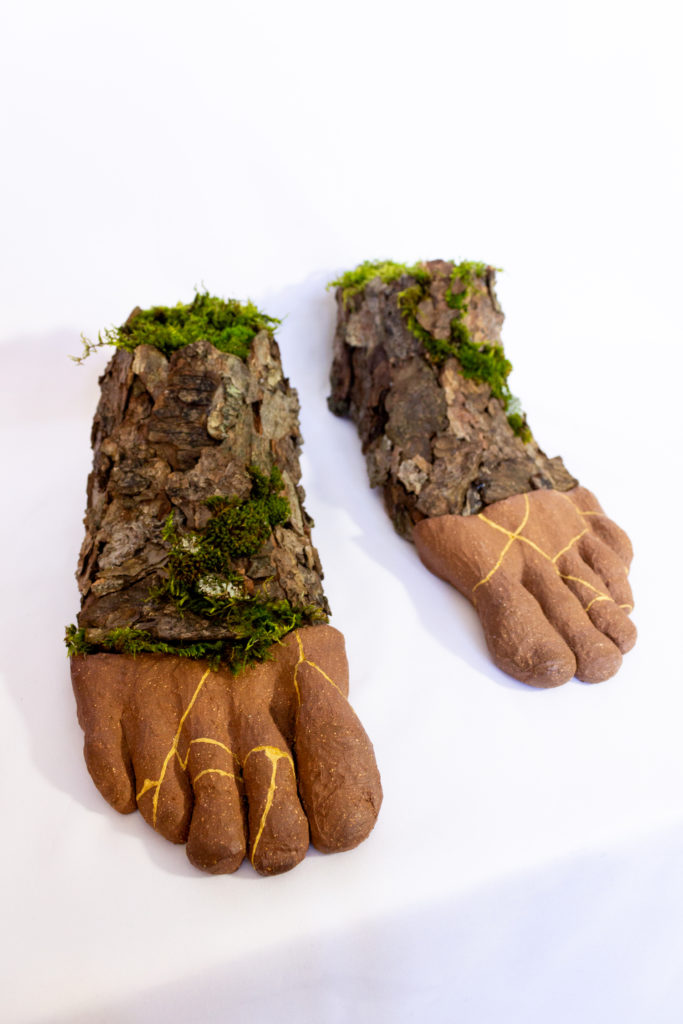 "'Beautiful' is not the first word that comes to mind for most people describing feet. However, in the context of Isaiah 52 and Romans 10, Scriptures that were masterfully illuminated in Handel's aria, the messenger is so radiant with the good news they carry that even their soiled feet are transformed by that message: The maker and Lord of all the earth is here, redeeming and recreating his broken people into a new creation.
Using this process as a framework and borrowing poetic, visual vocabulary from the Japanese art of kintsugi and moss gardens, I created a pair of feet that embody the good news of Christ Jesus, whose sacred wounds are still visible on his resurrected body. May this invite you to ponder with me the unexpected beauty of this gospel of peace."
Email [email protected] to order prints >
Night Song for My Brother (2022) by Matthew Doll
Acrylic on panel—110 x 125 centimeters | Listen to "I know that my Redeemer liveth" on Spotify >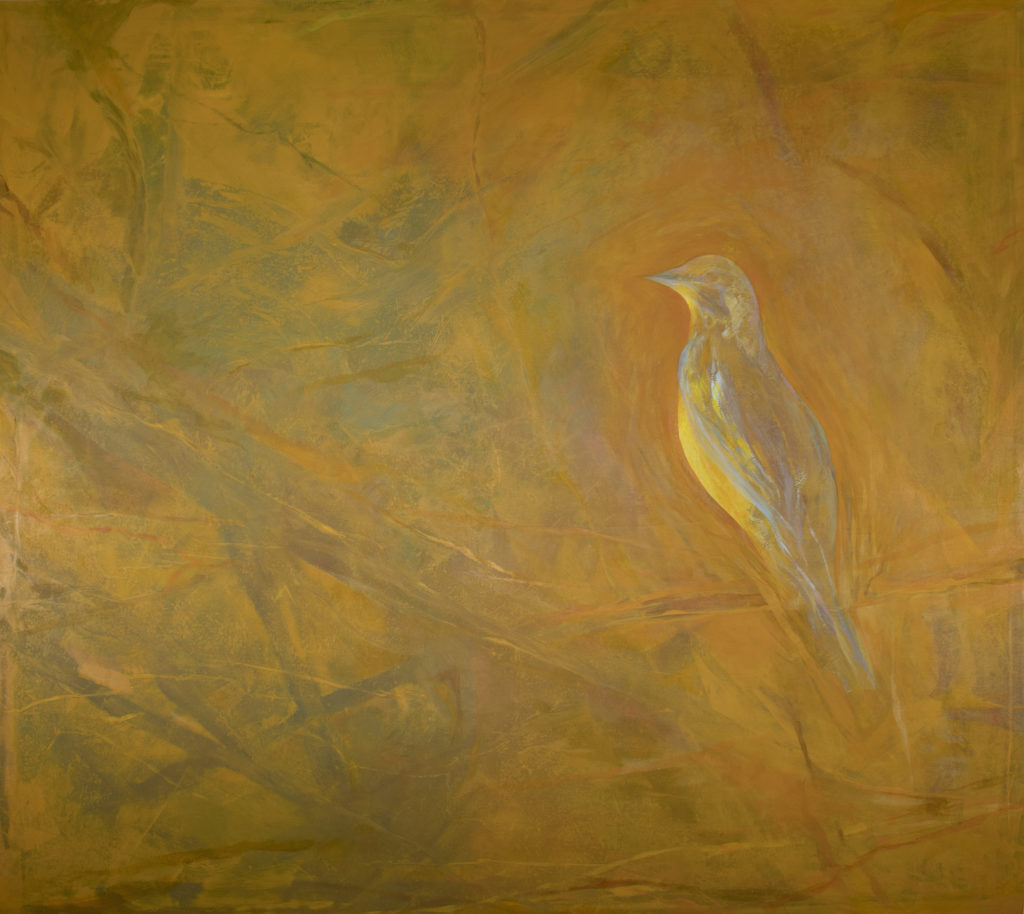 "It's easy to be swept up in storms that threaten to overtake our peace of mind and isolate our hearts against others. The narrative in Job has always been a source of significance for my work. Grounded in a nearly impossible condition of loss and lamentation, the text gives enormous scale to the relationship between God and man and creates moments of profound wonder, humility, and above all, mercy. We are reminded that our voices can be a used to diminish or they can be used to bless and honor others, and we feel how great the need is for forgiveness and redemption.
The resounding hope communicated in Handel's aria deeply resonated with me in the work I was making. Night Song for My Brother was made with others in mind. I was working on the painting as a visual song for a friend in need of hope, a friend who taught me the joy of music and who was always ready to sing. It was made for anyone caught in a difficult place or situation. It is an affirmation of our shared need for grace and mercy."