Leading with Love: Getting to Know Gordon's Ninth President
At the tail end of last month, Gordon's President-elect Dr. Mike Hammond boarded a plane with his wife and six kids at 2:30 a.m.—unknowingly joined by a blizzard that would accompany them all 850 miles from Fort Wayne, Indiana, to Boston. What the storm system lost in precipitation along the journey it picked up in wind. "We knew the new president would be a breath of fresh air," joked outgoing president Dr. D. Michael Lindsay, who has been named president of Taylor University. "We just didn't know it would be this fresh."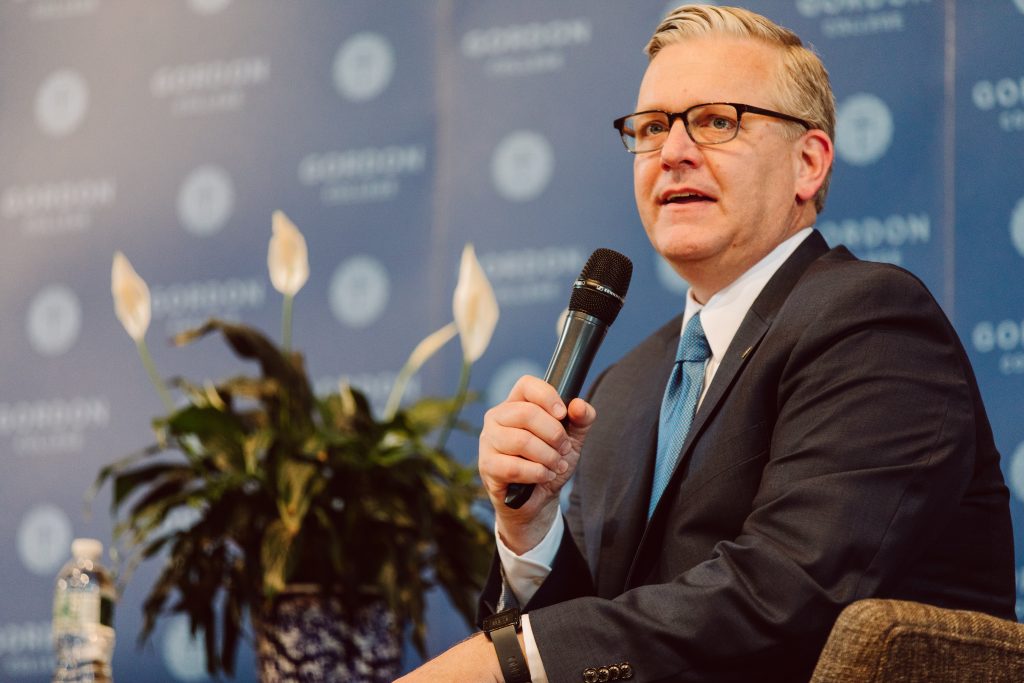 Dr. Hammond, currently the provost and executive vice president of Taylor University, spent three blustery days on Gordon's campus as the college officially announced him the ninth president on April 22, 2021. The introductory visit included multiple Q&A sessions, meetings with student leadership and campus departments, a welcome ceremony on the quad, and even a stop at the Chik-Fil-A truck that regularly graces campus. Themes of prayerful discernment, unification and expectant hope emerged, along with some playful banter over "some irony and some symmetry in our executive exchange of Michaels," as Presidential Search Committee Chair Dr. Carrie Tibbles '93 noted, "but it's a win-win for both [Gordon and Taylor]."
"I know what the rest of you are thinking," quipped Dr. Hammond. "This is some crazy sports trade. Are we throwing in a tenured faculty member to be named later? Do we have to give up an Adam Vinatieri Colts jersey to make this deal happen? We've all heard of a mic drop; this is a Mike swap. The jokes will just keep on coming." His humor and candidness were matched with a deep sincerity and anticipation as he shared with the Gordon community his love for Christian higher education, baseball and his family.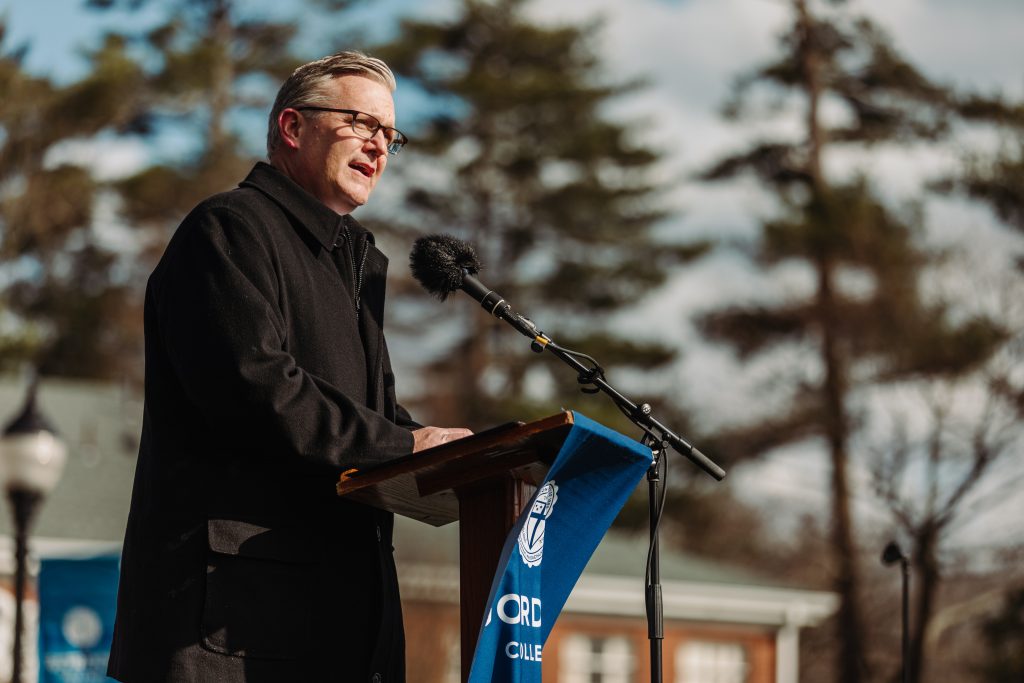 Prayerful discernment
"Reciprocal motion" is the term Dr. Sharon Ketcham '94, professor biblical and theological studies and Presidential Search Committee member, used to describe the seven-month presidential search process: "There's a push and a pull along the way. That is the motion of a discernment experience and was the experience of our search committee. People from different backgrounds, from different industries, thinking and valuing different things [all] with an aim of love and care of Gordon College." Prayerful discernment, she shared, led them to Dr. Hammond, who had been on his own journey of deciphering God's next step for him and his family.
For Dr. Hammond, working in Christian higher education fulfills his calling—and what he called his dream job—to be in ministry of some kind. He credited a handful of mentors who have helped shape his 25-year career in higher education, including the former president and provost of Taylor University who served when he was an undergraduate student there. "I wouldn't be here today were it not for their investment in me," he said. "And that's part of what motivates me to serve in leadership in higher education, is being able to give back and being able to invest in an endeavor which I think makes an amazing world of difference in so many lives."
Dr. Hammond entered Gordon's search process through nomination, but he says, "I can look back and I can say, God's really been preparing my heart and our family for a long time . . . [I am] excited to know that that calling that he placed on my life and my wife's life and our family to serve the mission of the gospel through Christian higher education is fully realized now in this location, in this place—this place with a great mission, great heritage, great tradition of outstanding academics and spiritual vitality. That's why I'm here."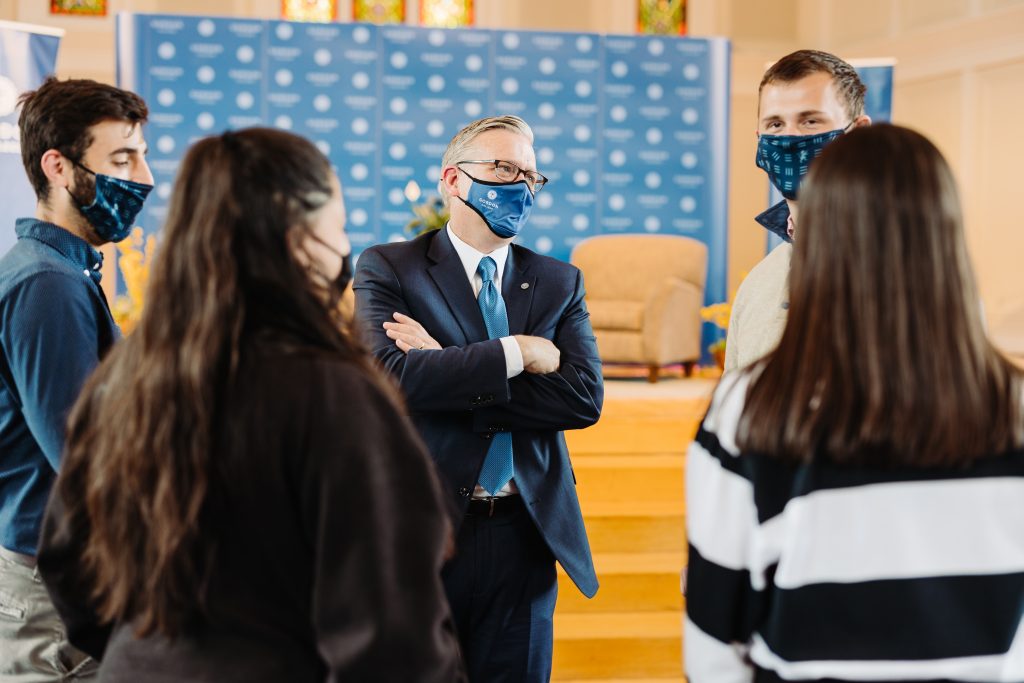 Unification
An academic himself, Dr. Hammond is no stranger to the challenges of higher education, which he views both quantitatively and qualitatively. "The quantitative side is thinking about things like budget and enrollment numbers and retention numbers—[those are] always the key indicators on the dashboard that we need to move in the right direction," he said. "But the qualitative side really is the heart of what makes those numbers move—the qualitative side of who we are as a community, how well we live out our faith, how well we live out the mission of who we are, how well we develop trust among one another. Those are vital."
"In a world marked by incivility, conflict, materialism and discrimination, we aspire to fulfill the role of grace," said Dr. Hammond. "In my experience, this happens best when communities are marked by love—a love that compels us to work through differences, patiently and with understanding. In pursuing this mission, we do not anticipate an absence of different opinions; that would stifle our ability to think. Rather in the bounds of our rich Christian faith, we celebrate the opportunity to draw close to each other, especially when we may disagree."
Presidential Search Committee member and CIO Chris Hansen sees the role of unifier as paramount for Gordon's leader. Hansen shared, "We have an amazing mission, and we need to unite around our mission to seek how the Lord is using us as a campus. This is a chance for us to take a deep breath, to stand together, to unite behind our mission and glorify the Lord with our work here."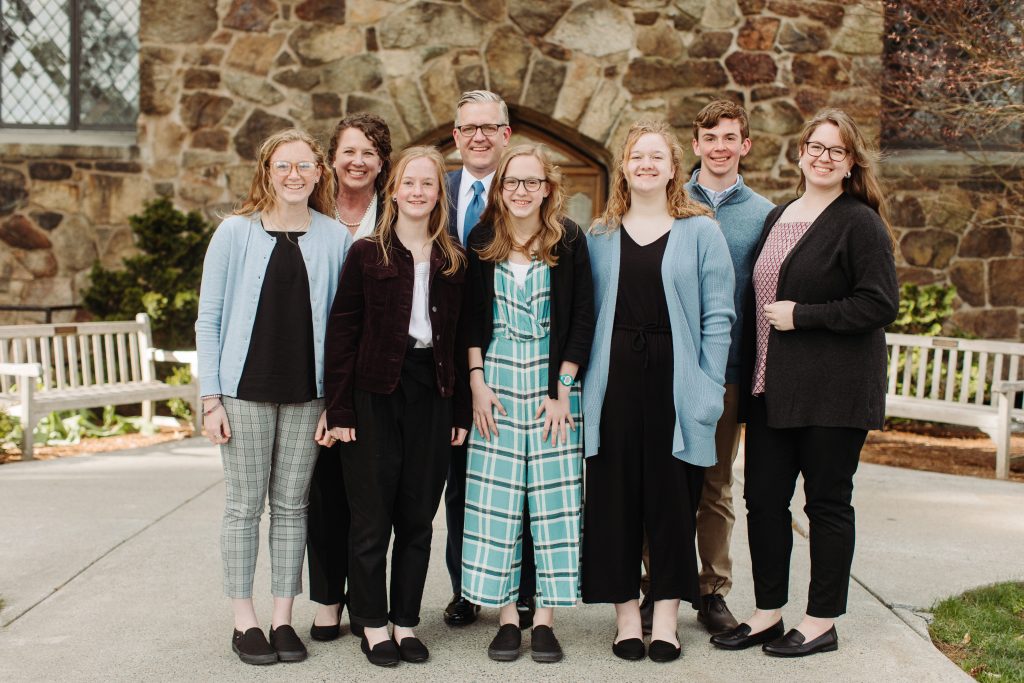 Expectant hope
"Just like that other great import from Indiana that came to Boston and made a huge difference—Larry Bird—we believe Dr. Hammond is going to make the whole team better," said trustee and Presidential Search Committee member Sam Schreiner. "We believe this is God's person for this time for Gordon College."
How? Dr. Hammond zeroed in again on love—love for Christ, love for the other. He equated his calling to lead at Gordon with his calling to serve the greatest commandment (Matthew 22). "Gordon's mission as a Christian liberal arts college is to love Jesus Christ with all our heart and our soul (our emotions and our faith), to love him with our mind (our intellect and academic pursuit), to do this in ways that transform the world around us as we also love our neighbor as ourselves," Dr. Hammond said.
Amid of the changes facing higher education, "I want to say today that I am undaunted in my belief that the Christian liberal arts, as taught at Gordon College, have an important place in the grand design of the church and the world," said Dr. Hammond. "I believe that the liberal arts, when realized well, propel students to learning marked by insatiable curiosity . . . skepticism driven by curiosity propels the learner toward a live of humble inquiry and service."
"I'm humbled to be called to this good work, grateful for your confidence and expectantly hopeful for the future of Gordon College," concluded Dr. Hammond, who will join the Gordon community on July 1, after having served at four universities under nine presidents.