Literary Collaborator for 'Harry Potter: The Cursed Child' Visits Gordon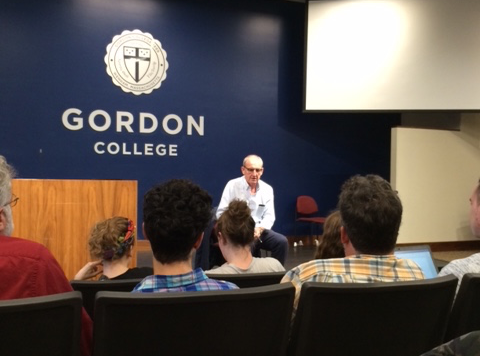 Facing the audience, he leaned in with his hands between his knees. "I didn't set out to do it," Jack Bradley said on the stage of Gregory Auditorium late on a Friday afternoon. "I became a playwright by accident, because I had a cold."
A company of students and faculty listened attentively as he shared about his life working in theater—first as a playwright, then a dramaturg in London. Bradley began the story of his career with the day of auditions at his school, when he fell ill and instead of being cast as one of the actors, he was tasked with finding the play his school would perform. However, the small town library's options were limited, so he decided to write his own.
Bradley went onto write more plays, completing his undergraduate and master's degrees at William and Mary in Virginia. His playwright profession started out humble, traveling around in a van with a few actors. But as he gained experience, he earned a rapport in the theater world, and was soon offered a job consulting at the National Theater in London.
As a dramaturg, Bradley explained, his role was to take a theater piece and ask: "Are we telling the strongest story? Why do people come to see this? And how are we telling the story?" This practice in critical, creative thinking paved the way for his later work with such brilliant writers as Patrick Marber and Zinnie Harris. His most recent project was Harry Potter: The Cursed Child, which is currently a booming success in London.
Bradley recently brought his expertise in dramaturgy to Gordon for the workshop of The Confession. He worked with director Myriam Cyr, writer Martha Bolton and music producer Dan Posthuma to develop the musical for bigger stages and larger audiences. As actors read through Bolton's original adaption of New York Times best-selling author Beverly Lewis' book, Bradley would suggest moving a scene or adding a line to make the story flow better.
Bradley's lecture was hardly a lecture; it was a delightful exchange between audience and expert, filled with entertaining stories and stimulating insight about the behind-the-scenes of the theater world.
By Veronica Andreades '19