Ed Link '15: From Bullard, Texas to a Summer Internship in Beijing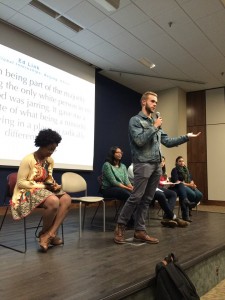 The transition from Bullard, TX to Wenham, MA is quite drastic: temperatures range from a high of 110 to below zero. But as Ed Link '15 was finally getting used to the north, he had to pack up once again, this time for a whole other continent.
Link, a political science and sociology double major, traveled to Beijing, China, as a part of the Gordon Summer Global Internship program. Students have the opportunity to work in a number of different countries all over the world. After an application and interview Link was offered an internship at Horizon Research and Development, in the firm's Global Development Power department.
The beginning of Link's placement required a fair amount of studying politics, but rather than focusing on governments he had to look at cell phone companies. The familiarity of his work helped ease the transition into a culture very different than Texas. "Going into it I was super nervous because I've never worked in business like this," said Link. "But once I got to the company I felt okay, and it felt sociological because it was research oriented."
As he warmed up to the company the culture also became less intimidating. After Link's first day of work he joined his host family for a friend's birthday party. He soon learned a valuable lesson about dining in other countries. A Lazy Susan-like machine dispersed the food, which included sushi, pork and an entire chicken head. "By Monday I stopped questioning what I was eating," Link said.
In between meals and work Link explored the entertainment Beijing has to offer. His second night featured a play that mixed Chinese tradition with modern day advertisement, which was followed by a flash-mob of street dancers. But even as the city's antics become familiar, cultural barriers remained a problem.
"I knew that when they were speaking English they were speaking it for my benefit," Link said. "They were going out of their way to speak to me. It often just felt isolating." Every other day the workers at Horizon take an hour-long snack break, where they enjoy fruit and conversation. However, Link had to sit there as everyone spoke in Mandarin until a co-worker took time out from the conversation to catch him up.
Some may see this as a roadblock, but Link regarded it as a learning experience. Last year he traveled to Romania with a Gordon missions team and was able to learn about the country from an American perspective, but with a group of other students. This year he was on his own, experiencing the Chinese way. "I struggled, but I learned a lot," he said.
Article by Jesse Steele, a senior communication arts major focusing on journalism with a minor in kinesiology. This summer he participated in the Gordon College summer seminar in Rwanda, and then interned there for the rest of the summer with the International Justice Mission.