Lauren Arzbecker '14: Putting a Double Major (International Affairs and Accounting) to Work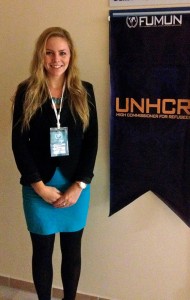 Gordon College is full of people from all over the United States, North America and the world, but how did they get there? Everyone has a reason. Lauren Arzbecker '14 wanted to explore the world beyond her hometown of Pewaukee, Wisconsin. And what started as a move for school changed into a journey of worldly travels, assisted by ambition and an accounting degree.
Arzbecker has always been interested in the world around her. She started her Gordon career with a double major in international affairs (I.A.) and Spanish. "I.A. was more the politics and economics of the world, a very practical thing to know," she said. "But I actually don't get languages. I like them, but it ended up being really hard for me."
During her sophomore year Arzbecker began exploring the business side of politics and found herself switching her Spanish major to accounting. Before long she noticed that the two majors fit together better than she thought. "Deciphering a company's financial statement can tell you so much about the business," said Arzbecker. "And I.A. taught me how to think critically, to connect the dots and just how important it is to be knowledgeable about the rest of the world."
Throughout the rest of the school year Arzbecker involved herself in other activities—the dance team, being a teaching assistant for the Accounting Department, teaching swim lessons and water aerobics at the Bennett Center, and interning with Gordon in Lynn—but her love for the international community would always call her back. During her junior year she started the Model United Nations club along with Jon Gaunya '13 and Lorenza Bronkhorst '13, and served as the club's president the next year.
With the lessons she learned from Model UN, Arzbecker was prepared for whatever came her way, including a job. Last fall (2013), before graduation, she found a position at the Boston company Ernst and Young, which was the perfect setting for her. "I knew I wanted to work for a Big 4 accounting firm, so that's where I was looking," she said. While the job comes with a real paycheck it's packaged with complete independence, the one thing Arzbecker says she wasn't ready for—but is really enjoying.
In order to be a certified public accountant (CPA), Arzbecker will need to take a series of four exams that will take about a year to complete—not that she is complaining. "I'm excited to learn new things, to pay my dues in the business world and to start making my way in the world," she said. Although she has landed a dream job, thoughts about traveling haven't left her head. "I can't stay in one place for more than two months without getting antsy," she said. "I have wanderlust and I have it bad."
Before graduation Arzbecker traveled to Istanbul with another student to lead a committee at FUMUN, the Model UN conference there. In the role of the chair of the High Commission for Refugees, Arzbecker worked with students from all over the region to debate real life issues. Experiences such as this and her summer internship in China have taught her that Boston doesn't have to be, and probably won't be, the last place Arzbecker goes with accounting.
"In five years, I see myself living in a big city across the ocean as a CPA, still working for EY as a senior manager," she said. "I think my next destination will be either Brussels or somewhere in South Africa, but who knows! I'll go wherever I can."
Article by Jesse Steele, a senior communication arts major focusing on journalism with a minor in kinesiology. This summer he participated in the Gordon College summer seminar in Rwanda, and then interned there for the rest of the summer with the International Justice Mission.