Looking Ahead: Obert in Office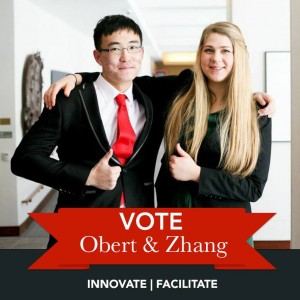 The last time a woman served as Student Government president at Gordon College was in 2005. Until now. Rising senior Anna Obert has been elected the Gordon College Student Association (GCSA) president for the 2015–16 school year. She will work alongside vice president Johnathan Zhang '17.
Obert is a history major with a minor in pre-law and interests in entrepreneurship and design. She approaches the presidency with a wide range of leadership experience at the College. Previously she has participated in GCSA as a member of the Republicans Club and the Model United Nations Club; most recently she served as the founder and president of the Mock Trial Club and the program coordinator for the College's Center for Entrepreneurial Leadership (CEL).
Looking ahead, Obert defines her projections for next year in three words: relationships, trust and follow-through. "What we are trying to achieve is a better relationship between student government and student-run organizations, as well as bridge the gap with students and the executive body of the College," said Obert. "Through innovative restructuring and data-driven representation I seek to be a servant-leader focused on facilitating the voice of the student body." Student-run organizations—like the College's freshly chartered rowing club—will be at the forefront of Obert's initiative.
"Gordon is an amazing place with so many different areas for celebration," said Obert. "I hope next year there are more things along the lines of excellence and our love for Christ to define our institution. I am excited about what God is doing on our campus."
By Rachel Kauffman '15, Communication Arts