Love at the Border: Balkans Semester Students Meet Syrian Refugees
The world has not seen a refugee crisis this enormous since World War Two.
Over half of Syria's population—up to 12 million people—have been displaced by the devastating violence in the country's ongoing civil war. Over four million Syrians have fled their homes, bound for Europe. The movement of families attempting the dangerous journey to Europe shows no sign of slowing.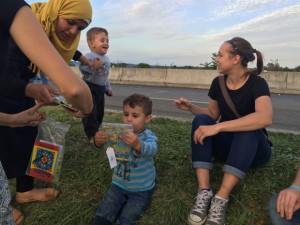 This is where the students of the Balkans Semester Program stepped in. Studying in the Croatian capital, Zagreb, the students of the Balkans Semester Program had the unique opportunity to serve refugee families at the Croatian-Slovenian border crossing.
The students had initially planned a day trip to Plitvice Lakes National Park until they received a call from from the program director explaining the need for assistance at the border, where hundreds of refugee families lacked basic items such as medicine, first-aid care and diapers.
Students rushed across Zagreb, purchasing items to bring to the families. They stopped at two border crossings to deliver needed supplies, and then arrived at a tent city where buses came to pick up families to take them across the border.
Katie Ferris '17, a psychology major, relates their remarkable experience in her personal blog: "We handed out crackers, apples, water and cookies for the younger children. It was initially shocking to be in the middle of all of this, seeing families crying, praying and hoping just to find a new home."
The team of students collected trash on-site and took the time to make conversation with mothers and play with the children. "We met an adorable baby named Mahnoor," recalls Katie. "I couldn't help but pray when I was with this baby–I wanted her to have every opportunity she can possibly have in life wherever her new home is. At just two months old her whole life has been escaping this conflict, but I am confident that her life will have new promise."
Through play and prayer, the students experienced the power of being present with their neighbors in need. Connections were made in the simplest ways.
Austin Doehler '17 (political science and international affairs double major) notes that lending a phone to a man from Iraq who needed to contact his family was a "uniquely human moment."
"Standing in a circle with some Americans whose sole purpose for being there was to help him, he could have asked us for anything—fresh food, cold water, dry clothes—but instead just asked to borrow a phone," Austin says.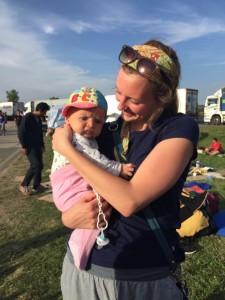 Meeting with survivors of the Syrian civil war was an invaluable part of the students' experience as they grapple with topic such as conflict, peacemaking and reconciliation on their semester abroad.
There are eight students participating in the semester program through the European Center for the Study of War and Peace this fall. Based in two of Croatia's most populous cities, Zagreb and Dubrovnik, their learning will continue to take place between textbooks, on the road and in the stranger's embrace.
The encounters are eye-opening. Katie writes, "It is easy for us to simply forget about refugees in the United States since we have never dealt with war in our homes. Very few of us can imagine what it would be like if our homes were blasted to their foundations and our only hope was to run. They don't have to do this alone—they need to have someone behind their back, they have no state behind them—it is as if they are ghosts running around the world—but in fact they are humans just trying to make a new life and they deserve that right."
by Nora Kirkham '16, history and English language and literature