Love pays attention: "Deepening the Faith" devotional 15
This installment is part of a regular devotional series, "Deepening the Faith," written by Gordon faculty and staff for the enrichment of the wider College community.
As he went along, he saw a man blind from birth . . . —John 9:1
When Jesus had again crossed over by boat to the other side of the lake, a large crowd gathered around him while he was by the lake . . . —Mark 5:21
Jesus entered Jericho and was passing through . . . —Luke 19:1
Jesus sat down opposite the place where the offerings were put and watched the crowd putting their money into the temple treasury . . . —Mark 12:41
Do you notice a theme in these accounts of Jesus' time during his ministry? Those phrases: "As he went along," "As he was passing through," "As he sat and watched."
Jesus does the work of God as he goes along. Yes, he did the big events—feeding 4,000 and then 5,000, the transfiguration, the triumphal entry, the last supper, and then ultimately, his death and resurrection. Those were some key moments. But the majority of Jesus' ministry happened as he went along. He wasn't on a mission to get to the next place so he could "do" ministry. He was always on the lookout for opportunities, to see those that others passed by.
Love pays attention. 
About eight years ago, I was traveling around India, visiting various organizations working with women and children at risk. It was near the end of my time and we were in Mumbai volunteering with an Indian organization that specifically worked with children of women in the sex industry. Mumbai is a crazy place, a city of about 18.5 million people—that's 10 million more people than New York City.
I was walking with several colleagues down a dirt road in the middle of the red-light district. The streets were lined with multistoried buildings. There were bars on all the windows, and women were standing outside waiting for their next clients. It was a devastating place to be.
As we walked, we noticed across the road, a small heap on the ground moving ever so slightly. We got closer and noticed that it was a baby, not more than 12 or 18 months old, who had just been left there, lying on a piece of burlap. He was covered in dirt and flies, totally alone. He wasn't crying—he was too weak to really do anything. His little body was like a rag doll—he was so malnourished he couldn't even hold his head up.
I was shocked. How was it, in a city of 18.5 million, no one had noticed him there on the ground? People were passing right by without a second glance.
We often think ministry is in an event. But the main place we have the opportunity to do ministry is not when we're leading worship or on a mission team or serving locally or leading a church ministry. Those are great and important things to be a part of. But it's all those other in-between times that can often have the most impact. It's in the routine of life. It's in class, your apartment, your work, or with your friends or your spouse. And it's not even just in those places, but as you're going to those places. It's in your car, it's in the grocery store, it's walking through campus. Love pays attention.
We say, "Oh, I'll slow down—later. I'll be still—later. I'll listen—later. I'll pay attention—later." But later never comes. Every day we say "later" is a day that we miss the right now.
What are you doing with the in-betweens? Are you filling them with distractions? Are you convincing yourself you'll sort it out later? Or are you slowing down, listening for God, asking him to show you what or who he might have for you right now?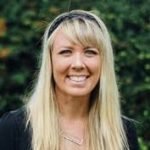 Sarah Snodgrass
Director of Local & Global Missions
Sarah is passionate about coming alongside students as they engage in issues of global justice within the context of the Christian faith. She graduated from Azusa Pacific University (B.A.) in 2007, and has her M.A. in Organizational Leadership from Wesley Seminary. Sarah recently completed a two-and-a-half-year assignment working for an anti-trafficking organization in Nepal, where she created a volunteer program for college-aged students. Among other endeavors, Sarah has visited women in the red-light districts of India, worked with children with special needs in Ukraine, taught theology students in Congo, participated in encouragement ministry to house parents in Bangladesh, and served with homeless outreaches in New York City.