Magic in the Works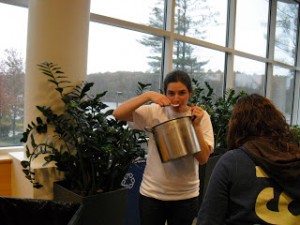 Spring has sprung and campus is radiating with outdoor activities galore. Chemistry on the Quad is a prime example—although, sadly, due to the still melting snow on the quad, the event was held inside the Ken Olsen Science Center. This annual event is held by the College's award-winning student chapter of the American Chemical Society (ACS) and took place on Saturday, April 11.
Chemistry on the Quad 2015 revolved around the theme "Science is Magic in the Works." This year's event sought to show that all science is magic and not just a random occurrence. Activities ranged from the Sneezing Dragon—a chemical reaction with messy, hot foam—to Levitating Soda Cans, an experiment that used static electricity to move soda cans without external motion.
All things considered, "everyone's favorite activity was oobleck," says ACS member Abbi Lutz. Oobleck is a mixture of cornstarch and water that becomes a non-Newtonian fluid and "acts as a solid when you hit it really hard, but when you touch it softly it acts as a liquid," says Lutz. Attendees also created ice cream with dry ice for a delicious and magical treat.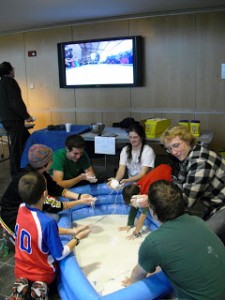 Over 80 people attended Chemistry on the Quad including college students, professors, and children from the community. The children were, not surprisingly, the most animated attendees which is a blessing to ACS as the purpose of the event is to show how fun science can be and create interest in the field for younger students. "It's also really fun to see college students act like kids and have a lot of fun, too," says Lutz.
The Gordon College student chapter of the American Chemical Society has been recognized on the regional and national levels for its scholastic activities. The chapter was recently awarded a Green Chemistry Award by the American Chemical Society and is one of two schools in New England to receive both National Honors and the Green Chemistry recognition.
By Rachel Kauffman '15, Communication Arts